Autolus (proposed Nasdaq: AUTL), a London, England, based biotechnology company, filed for a $100 Million initial public offering yesterday to further its development of next-generation programmed T cell therapies for the treatment of cancer. The company is engineering precisely targeted, controlled and highly active T cell therapies that are designed to better recognize cancer cells, break down their defense mechanisms and attack and kill these cells. Autolus has a pipeline of product candidates in development for the treatment of hematological malignancies and solid tumors.
The company has four current clinical-stage product candidates:
Acute B lymphocytic leukemia
Relapsed or refractory multiple myeloma targeting B-cell Maturation Antigen (BCMA) and the transmembrane activator and calcium modulating ligand (CAML) interactor (TACI)
Relapsed or refractory diffuse large B-cell lymphoma (DLBCL)
Peripheral T-cell lymphoma
Source: Autolus
Autolus has developed a proprietary viral vector and semi-automated cell manufacturing processes, which it is already using in its clinical-stage programs. The company uses chimeric antigen receptors (CARs) or T cell receptors (TCRs) to reprogram T cells to recognize and kill the target tumors.
Engineering T-cells to express CAR or TCR:

Engineered T cells recognize and destroy malignant cells: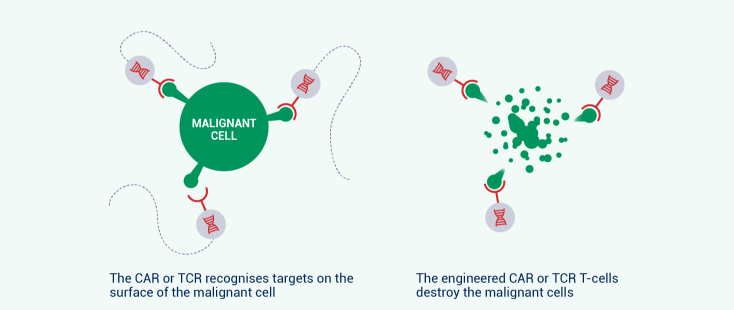 Source: Autolus
CEO Christian Itin, PhD, was formerly CEO and Chairman of Cytos Biotechnology, a public biotechnology company that merged with Kuros Biosurgery. Dr. Itin currently serves as Chairman of the merged entity, now known as Kuros Biosciences. Prior to Cytos, Dr. Itin was President and CEO of Micromet, a once Nasdaq-listed biopharmaceutical company which was acquired by Amgen in 2012 for $1.2 billion in cash. Micromet pioneered T-cell engaging antibodies and with blinatumomab developed the first approved product in this field.
Early investors in Autolus include: Syncona, Woodford Investment Management, Arix Bioscience, UCL Business, Cormorant, Nextech and GV (Google Ventures). The IPO is being led by Goldman and Jefferies.
Please email us at [email protected] to see our Case Studies and Testimonials.
Please click here for information on our new trading platform.