Source: Aurora Cannabis Investor Presentation
Aurora Cannabis loses C$1.3 billion
Last week, I covered the "retiring" of Terry Booth, Aurora Cannabis' CEO and Founder. While Booth's exit was undoubtedly news, the most critical item in the same press release was that the company was laying off close to 500 full-time employees, amounting to 17% of its workforce. Additionally, as part of its "restructuring," Aurora reported C$1 billion ($752.79 million) in impairment charges due to depreciating assets in Denmark and South America.
This week, Aurora reported their fiscal Q2 2020 numbers, and they were predictably dismal. Fueled by write-downs, Aurora's net loss amounted to C$1.3 billion for the quarter. The company's net revenue fell to C$56 million down from C$70.8 in the previous quarter, a 26% decline quarter-over-quarter. Aurora's sales tumbled due to a 77% decline in wholesale revenue to C$2.4 million, while costs rose 23% in fiscal Q2 to C$20 million. Cannabis production slowed 25% in the quarter to 30,691 kilograms (67,662 pounds).
In the discussion about the results, the company offered a familiar refrain: Health Canada is slowing down provincial sales. No one disputes the validity of this statement. Still, Aurora did itself no favors by recording C$6.1 million in actual returns and price adjustments in the second quarter as well as booking a C$4.5 million provision for future returns and price adjustments.
Product returns have plagued cannabis companies since the first day of legalization. Canopy Growth recently reported a C$26.9 million in returns. In my opinion, the issue demonstrates two things:
Legal cannabis is a nascent industry where there is natural friction between large retailers and consumers. The Ontario Cannabis Store reported damaged shipping containers and dry products were the top reasons for returning cannabis purchases;
And products are being returned because of oversupply, which Aurora and other large licensed producers (LPs) helped to create, and now they are paying the price.
Aurora's leadership also discussed rising consumer demand for lower-priced cannabis. Of all the problems on Aurora's balance sheet, this may be the most concerning. Canadian behemoths like Aurora were built to offer expensive, premium cannabis products—some may even remember a discussion of cannabis exceeding C$80 per gram— but numbers show that premium sales are evaporating. Aurora's Chief Financial Officer Glen Ibbott said premium sales in Canada fell 13% over the last six months of calendar 2019. The company was unprepared for this shift. Ibbott elaborates in the fiscal Q2 call.
Meanwhile, what we characterize as premium products went from 30% in summer down to 17% of the market in December, so hard turns. We launched our [cheaper] product that I just described Daily Special last week, and we can check into the provinces, I think British Columbia got their first batch yesterday, so it's underway. But in terms of this quarter, we're suffering by not being in that market for January and the first week or two of February.
In short, Aurora put together a cheaper brand, Daily Special, but the product is new and will not make an immediate impact. Therefore, to improve overall sales, the company is driving down the average net selling price per gram of its cannabis by 10% to C$4.76, which means lower margins.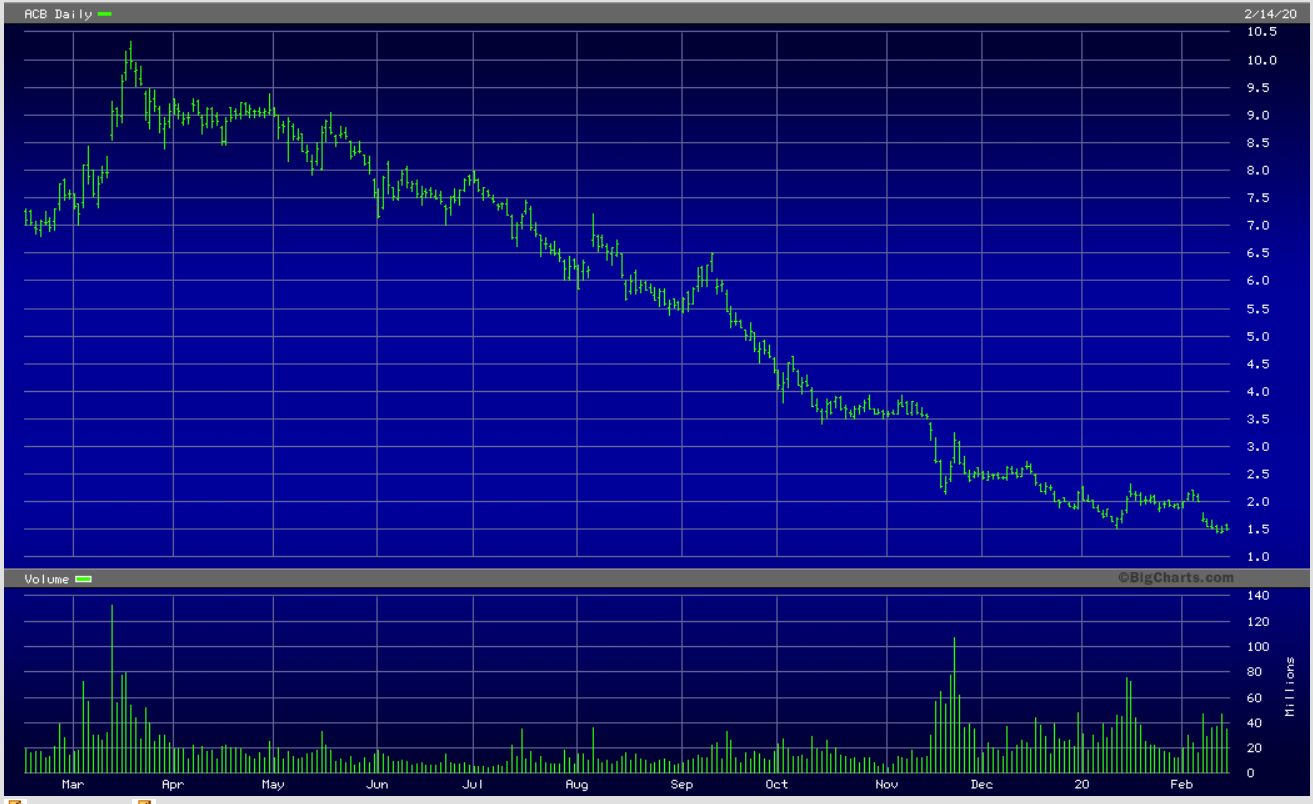 Source: Big Charts
Aurora's failure to understand its customers might cost it dearly when it comes to paying back its creditors. The company has debt covenants that call for a minimum of C$5 million of EBITDA in each quarter for fiscal 1Q and 2Q along with a minimum cumulative EBITDA of C$51 million for 2021. Failing to do so would breach the terms of C$162 million of senior secured term loans. Many analysts in the industry see these targets as being difficult for Aurora to achieve.
Aurora's share price is down 79% over the last year.
New York lawmakers consider cannabis legalization plans
In other news, New York state lawmakers are considering a sweeping plan to legalize and tax cannabis. The proposals would also give money to minority communities who have been devastated by the War on Drugs, prevalent in the 1990s. Governor Andrew Cuomo is backing the plan and pushing for a regional approach, reaching out to leaders in Connecticut, New Jersey, Pennsylvania, Rhode Island and Massachusetts for a joint approach.
State lawmakers considered similar legalization plans last year, but it was shockingly rebuffed by progressive activists who thought the measure did not go far enough to help minorities. Criticism lofted in other states points toward sales licenses that overwhelmingly have been granted to affluent white citizens without criminal records.
"For me, sometimes, incremental progress is not the answer. You have to look at what opportunities would be lost through the incremental progress," said longtime cannabis equity activist, Shanita Penny, in USA Today. "The folks that were left behind in the proposal last year were small businesses, and the communities and individuals impacted by the War on Drugs."
New York is one of the important states that is considering cannabis legalization this year. With California already legal, it has been proposed that another large state like New York could be a fundamental building block toward national legalization. To conclude, The Empire State's legalization effort has the eyes of the nation because the state has so many residents, but also because Cuomo is hoping to persuade Connecticut and Pennsylvania to implement comparable plans.
We are waiting to see what dominoes will fall.
Vaping sales have improved, but the coronavirus might stifle near-term growth
In December 2019, BDS Analytics aggregated cannabis sales across California, Oregon, Arizona, Colorado, Nevada and Maryland. Sales across the six markets totaled $607.6 million, up 3.2% from November due to recovery in the vaping category.
The virus might dampen these sales numbers next quarter as much of the hardware for vaping is manufactured in China. "The coronavirus has had a significant impact on the entire manufacturing supply chain in China, which will be felt in the coming months," said Richard Huang, CEO of Cloudious9, in MJBIZ.com. Vape manufacturers will likely be impacted the most by the virus, but other accessories in the industry like LED lighting, packaging and extraction equipment are also made in China.
_____
Equities Contributor: Stephen L. Kanaval
Source: Equities News