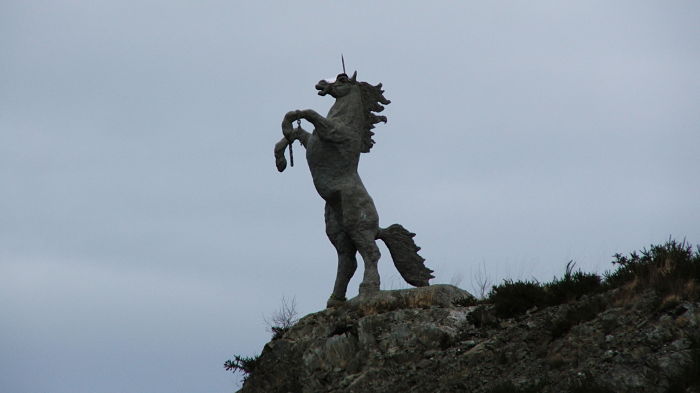 For those paying attention to the tech industry—and who isn't these days, really—there's been a noticeable cooling in sentiment toward high-flying startups lately. An air of schadenfreude is now permeating the siliconed industry, slowly but surely nudging out the cultish optimism that once smothered the space. A deluge of negative press and increased pushback on corporate narratives, accompanied by the multiple waves of down rounds and markdowns, has replaced the glowing stories and euphoric cheers for innovation. The recent spat between big data analytics firm Palantir and Buzzfeed is the latest example of this evolving relationship between Silicon Valley and the media that covers it.
Whether its private giants like Palantir, Uber, Dropbox, Zenefits, Airbnb, Evernote or any of the other 160-plus unicorns, according to CBInsights, it certainly feels as though these multi-billion-dollar startups have officially been put on notice, and have been for some time now. Since the magnificent flops from the likes of Box (BOX), Square (SQ), GoPro (GPRO), FitBit (FIT) and others which have essentially experienced their own down rounds in the public arena, unicorns now seem to be stuck between a rock and a hard place. Private investors and VC backers want their big exits, while public investors are hesitant to buy in after getting burned once too often. This setup makes them ripe for hunting, so to speak.
But this issue is primarily a matter of valuation, not necessarily one of innovation. There's no question that many of these companies (though definitely not all) truly are disruptive and do possess the ability to revolutionize entire industries. But is this comedown a result of investors having gotten ahead of themselves? Is this yet another instance of irrational exuberance playing out in the market? Evidently, yes.
But quite frankly, it's also encouraging, especially as Title III of the JOBS Act, otherwise known as the equity crowdfunding provision, is set to become effective in less than a week. As the market valuations in startups come off their ridiculous heights, and a greater call for transparency into the traditionally murky private equity and venture sectors, it's going to benefit and help protect investors, especially those interested in Title III opportunities. There's something very troubling about a market that only seems to go up, and so it's an encouraging sign to see that startups aren't impervious to corrections of their own. After all, what do investors love to do more than buying dips?
By now, concerns that the current startup correction will be a repeat of the dot-com bubble have been rebuffed. For the most part, there isn't a sense of systemic vulnerability threating the broader economy like there was before. Of course, with these types of things, it's always hard to say for sure.
But if the recent panel of VC and angel investors at last week's Milken Institute Global Conference is any indication of the industry's views, the startup and venture space is just going through a process of returning to normalcy. The panel, called How New Investors Are Influencing Venture Capital, was moderated by Court Coursey, Managing Partner of TomorrowVentures, LLC, and featured Chance Barnett, CEO, Crowdfunder; Troy Carter, Founder and CEO, Atom Factory; Founding and General Partner, Cross Culture VC; Dave McClure, Founding Partner, 500 Startups; Kara Nortman, Partner, Upfront Ventures and Chairman, Seedling; and D.A. Wallach, Partner, Inevitable Ventures. When the panel was asked how the current venture market compared to that of 2009, when the economy was still reeling from the recession, McClure summarized the state of things thusly:
What's going on is a series of mark downs from mutual funds like T. Rowe Price, BlackRock and Fidelity on some of the hottest names in the tech startup space. Since private companies aren't openly traded like public stock, valuations are pegged to the latest available reports like the ones from these large institutional firms. Wallach also helped to put things into perspective, stating:
Meanwhile, Barnett pointed to the massive sea change occurring throughout all of the finance industry, primarily driven through new legislative and regulatory changes such as the JOBS Act, as well as the advent of more Fintech products and services being introduced today.
---
---
"At the early stage of finance, you see really significant disruption," Barnett said on the panel. "Right now we see crowdfunding, it's grown from virtually nothing in 2006-07 all the way up to a $34 billion industry in 2016. That's the estimate. That's as large as VC has been on average. So you have something that didn't exist 10 years ago that's already as large as the current venture capital market. So you VC at $30-$40 billion, angel investing at $20 billion, but what happens is, crowdfunding and this new portion of crowdfunding called equity crowdfunding are now doubling year-over-year, and it's bringing not just a centralized LP capital market in, but it completely decentralized the global online economy, a new capital market online. That's creating a giant new wave of opportunities for both investors, both existing and a new class of investors, as well as opportunity for entrepreneurs…"
So as Title III gets ready to take effect, investors can benefit from the current correction occurring in the private markets. While the unicorns may be the ones in the crosshairs right now, investors can take the lessons that the large institutional investors learned the hard way and apply them to a market that's undergoing a reset of sorts in the way it evaluates opportunities.
"People coming into this market or hearing about it at first think it's all a bunch of tech startups," said Jason Best, co-founder of Crowdfund Capital Advisors (CCA) and co-author of the framework used for Title III, told Equities.com in a recent interview. "They don't understand that this a new kind of capital markets. It has the ability to have access with a broader pool of investors via the Internet and social media, and to allow people to raise money faster."
He added, "I truly believe that crowdfunding is the tip of the sphere in the private capital markets. The way deals have gotten done via VCs and angels, really hasn't changed a lot in the last 30 years. It's ironic because those are the groups that funded the disruption of virtually every other industry. But now the web–and people's utilization of the web and mobile technology–has evolved to the point in which now the private capital markets can be modernized."
As for investment advice when looking at the space, Best said investors need to understand the risks of investing in private opportunities and to invest in people and businesses that they know and use.
"This is an incredible opportunity for people interested in emerging companies that are driving innovation," he said. "It's a chance for people to truly become micro-angel investors. The ability to go into a crowdfunding platform, invest in businesses that you understand and you believe in and write a $5,000 check or a $1,000 check—as opposed to say, a $50,000 check that you'd need to join an angel investment group—that is a great way to learn about this space and about investing, and be able to then over time become a much more active investor."
As for the the VC panel, they seemed to agree that high-quality founders with good ethics, discipline and perseverance is imperative, and those only focused on an exit is a dealbreaker. But there's still a matter of valuations and not chasing a hot market.
"I think people overvalued those companies and they thought with some kind of liquidation preference and billion-dollar-valuations that they were safe, and I think people are realizing that's not true.," McClure said. "But there is still a tremendous amount of growth happening in companies that have gotten to maybe 100 people and $10-$20 million in revenue and it seems like the business model is working… I think the real opportunity is at $100-$500 million valuations, which is where [large institutional] investors are still putting money in. That is actually when a fair amount of risk is out of the model and the business model is sort of established.
"I think there's this pricing education that a lot of investors coming into the market are trying to understand. So figuring out where that is on the spectrum and investing at a proper valuation to make money is what we're kind of all going through."
DISCLOSURE: The views and opinions expressed in this article are those of the authors, and do not represent the views of equities.com. Readers should not consider statements made by the author as formal recommendations and should consult their financial advisor before making any investment decisions. To read our full disclosure, please go to: http://www.equities.com/disclaimer