According to the American Thyroid Association (ATA), over 12% of people in the US will develop some type of thyroid condition during their lifetime. While the ATA estimates that 20 million people have a thyroid disease, up to 60% may be unaware of the condition. As thyroid hormones regulate how the body uses energy, they affect nearly every organ in the body. Thyroid disease that goes undiagnosed puts patients at risk for developing potential serious conditions, including cardiovascular diseases, osteoporosis and infertility. Hypothyroidism—a condition in which the body doesn't make enough thyroid hormone—affects about 4.6% of the US population aged 12 and older, according to the National Institute of Diabetes and Digestive and Kidney Diseases (NIDDK), part of the NIH, and women are much more likely than men to develop hypothyroidism.
While hypothyroidism and other thyroid diseases generally can be managed with treatment (which can be life-long), affordable access to necessary medication became an issue last year in the wake of shortages due to the destructive path of Hurricane Irma. According to a report by WTVC NewsChannel9 in Tennessee in January 2018, Puerto Rico-based manufacturers provide almost 10% of prescription drugs used by Americans, and the island was still attempting to recover from the previous year's devastation wrought by Hurricane Maria. The report cited a Walmart Pharmacy in Chattanooga that more than doubled its prices for levothyroxine because of the hurricanes. Levothyroxine is among the most common medications prescribed for hypothyroidism.
Athenex
We've been following the progress of Buffalo-based Athenex ATNX, a multifaceted biopharmaceutical company that has a deep therapeutics pipeline in oncology in addition to specialty pharmaceuticals and contract manufacturing businesses. Athenex announced today that its Athenex Pharmaceutical Division (APD) subsidiary launched a generic formulation of Levothyroxine Sodium for Injection. APD is focused on supplying the US hospital market with specialty injectable products, including high-volume, niche and/or shortage products. MAIA Pharmaceuticals, a privately held Princeton-based company and Athenex's development partner, received FDA approval last week for levothyroxine in the three standard dosages: 100 mcg, 200 mcg and 500 mcg per vial.
We are delighted to introduce multiple SKUs of Levothyroxine Sodium Injection to the US hospital market. Our launch of Levothyroxine demonstrates the unique ability of Athenex to work quickly and collaboratively to bring needed products to our customers. We'd like to thank our partners at MAIA for matching our agility, enabling our speed to market and supporting our unwavering commitment to delivering high-quality products that can help address our customers' ongoing needs.

– Jeffrey Yordon, COO, Athenex, and President, APD.
We are thrilled with the FDA approval of MAIA's third product and are honored to work with a seasoned and exceptional team at Athenex to bring Levothyroxine Sodium for Injection to the US market leveraging their unique cross-functional capabilities across both specialty and generic medicines. They are the best in the business. Levothyroxine is the first of what we hope to be many future product collaborations with Athenex.

– Bikram Malik, Manager, MAIA
Oncology pipeline
Athenex's oncology pipeline includes small molecule, biologic and cellular therapies in various stages of clinical trials targeting a spectrum of cancer indications. The company has seven total Investigational New Drug Applications on file with the FDA, five of which were submitted within the last five years. Athenex's lead platform is based on its Orascovery oral absorption technology, which enables the oral administration of multiple anti-cancer agents that currently are only given by IV due to poor oral absorption. Oral administration of certain cytotoxic chemotherapies can potentially overcome several key challenges associated with IV administration. Most recently, Athenex reported positive results on Dec. 11, 2018, from its Phase 1b trial of Oraxol in combination with ramucirumab in gastric cancer patients who failed previous chemotherapies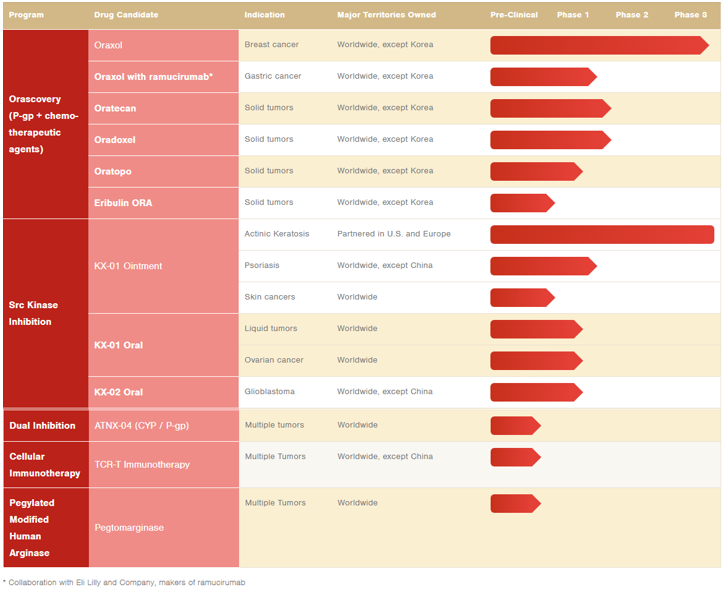 Source: Athenex
Global supply chain / contract manufacturing
Athenex Pharma Solutions is a contract manufacturing company that provides small to mid-scale Current Good Manufacturing Practices (cGMP) manufacturing of clinical and commercial products to pharmaceutical and biotech companies. Athenex Pharma Solutions also performs microbiological and analytical testing for raw material and formulated products and has expanded and begun to manufacture and sell pharmaceutical products under the FDA's 503B regulations. Athenex's Polymed subsidiary sells active pharmaceutical ingredient (API) and medical devices in North America, Europe, and Asia from its locations in Texas and China. Polymed also develops new compounds and processing techniques, and manufactures API at its China facility.
Specialty pharmaceuticals
This operating segment includes APD, which focuses on the manufacturing, distribution, and sales of specialty pharmaceuticals to customers based mainly in the United States.
Investment issues to consider
While the entire sector has obviously consolidated in the second half of 2018, we've been surprised by the relative underperformance of Athenex compared to biotech broadly. ATNX is down over 31% over the past six months vs. a decline of only 14.5% for the iShares Nasdaq Biotechnology ETF IBB. The stock hit its 52-week low of $9.83 on November 14, 2018, and held the level when it retested it last week. We expect the performance gap between ATNX and its peers to continue to narrow as we head into 2019, and see more data readouts from the oncology program.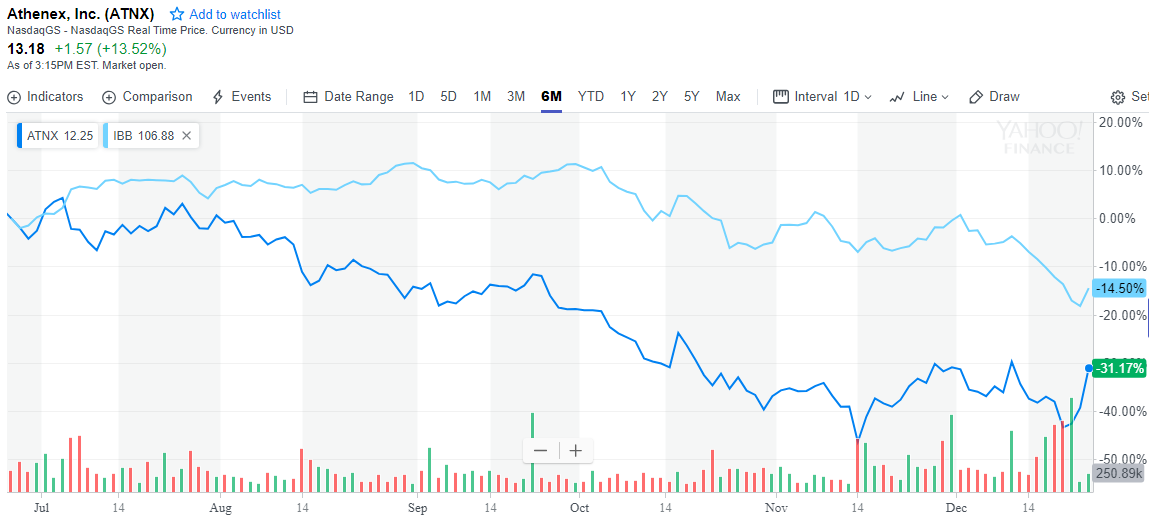 Source: Yahoo Finance
Please email us at [email protected] to see our Case Studies and Testimonials.
Please click here for information on our equity trading platform.
Please click here to receive our free daily newsletter.