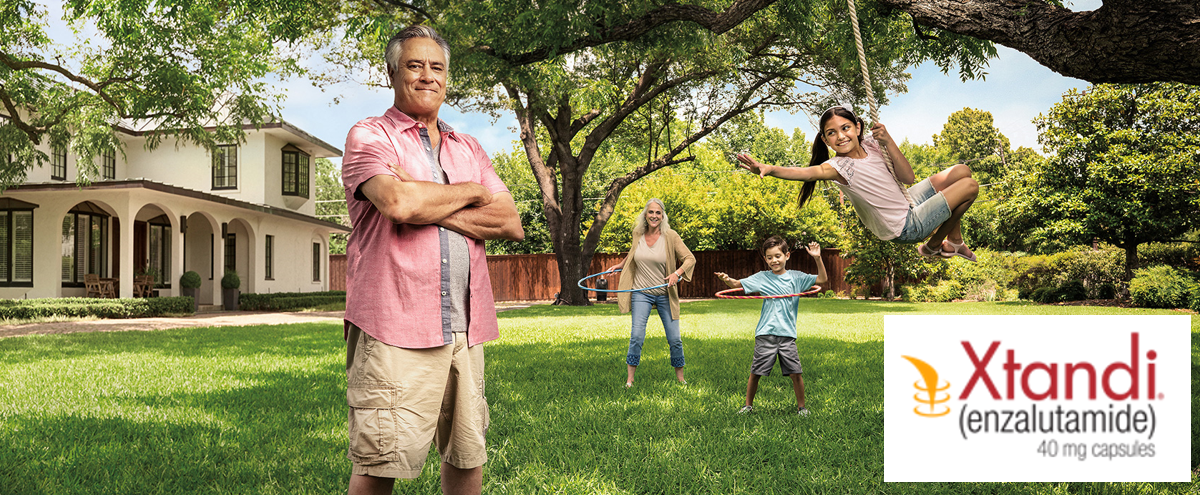 Prostate Cancer
Prostate cancer is the second most common cancer in American men, after only skin cancer, according to the American Cancer Society. About 191,930 new cases of prostate cancer will be diagnosed in 2020, and about 33,330 people will die from prostate cancer this year.
About 1 man in 9 will be diagnosed with prostate cancer during his lifetime, and about one man in 41 will die of prostate cancer.
Advanced prostate cancer can be metastasize throughout the body, commonly to bones, lymph nodes, liver and lungs.
XTANDI — Androgen Receptor Therapy
Androgens are a group of hormones, including testosterone, that help regulate the development and maintenance of male characteristics by binding to the body's androgen receptors. A class of drugs called androgen receptor inhibitors act by interfering with the connection between androgens and androgen receptors. This kind of inhibition serves to block the androgen from functioning and can slow the growth of cancer cells.
XTANDI (enzalutamide) is an androgen receptor inhibitor jointly developed by Astellas Pharma and Pfizer.
The FDA first approved XTANDI in 2012 for the treatment of metastatic castration-resistant prostate cancer. "Castration-resistant" means the patient has not responded to medical or surgical therapy to minimize testosterone.
An expanded approval was received in 2018 for the treatment of non-metastatic castration-resistant prostate cancer.
In December 2019, a further expansion was approved for the treatment of metastatic castration-sensitive prostate cancer, in which the patient still responds to a medical or surgical treatment that lowers testosterone.
Figure 1: Normal binding of androgen with its receptor: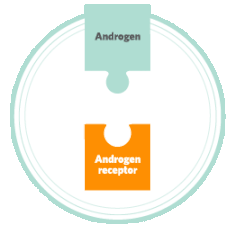 Figure 2: Interference by Xtandi, an androgen receptor inhibitor: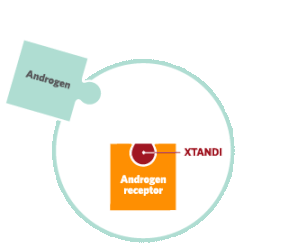 Source for gifs: Astellas Pharma and Pfizer
XTANDI Shown to Improve Overall Survival in Non-Metastatic Castration-Resistant Prostate Cancer (nmCRPC)
Astella and Pfizer announced today results of the final overall survival (OS) analysis from the 1,400-patient Phase 3 PROSPER trial, which evaluated XTANDI plus androgen deprivation therapy (ADT) vs. placebo plus ADT in men with non-metastatic castration-resistant prostate cancer. ADT is the standard-of-care hormone deprivation therapy.
The results demonstrated a statistically significant improvement in OS in patients with who were treated with XTANDI plus ADT. OS was a key secondary endpoint of the PROSPER trial, whose data was instrumental in the 2018 label expansion for XTANDI to non-metastatic prostate cancer patients. That supplemental approval was based on the primary endpoint of metastasis-free survival (MFS) that was shown to be achieved in PROSPER.
Overall survival in a clinical trial, defined as the time from randomization of the patients until death from any cause, is the key endpoint for cancer drug trials. According to the FDA:
Survival is considered the most reliable cancer endpoint, and when studies can be conducted to adequately assess survival, it is usually the preferred endpoint.

– FDA Clinical Trial Endpoints for the Approval of Cancer Drugs and Biologics Guidance for Industry.
XTANDI faces competition in the treatment of prostate cancer from ERLEADA (Johnson & Johnson's Janssen Biotech) and NUBEQA (Bayer), but we see Astellas and Pfizer in the lead. Thus far, ERLEADA has only been approved for two indications—non-metastatic castration-resistant and metastatic castration-sensitive—while NUBEQA has only been approved for the non-metastatic indication. With three approved indications in their quiver plus this latest data on improving the key endpoint of overall survival, Astellas and Pfizer may have a commanding position with XTANDI as the preferred prostate cancer therapy.
_____
Edward Kim is Managing Editor of Equities.com.
_____
Sources: Equities News