We've been tracking ASLAN Pharmaceuticals (proposed Nasdaq: ASLN), whose initial public offering of American Depositary Shares (ADSs) is expected next week. Each ADS represents five ordinary shares, which currently trade on the Taipei Exchange (code 6497). The company is based in Singapore with offices in Taiwan, Australia and China, and conducts regional clinical development programs across Asia, supplemented with data generated in the US and Europe. ASLAN is focused on diseases that are both highly prevalent in Asia and that have orphan indications in the United States and Europe. The pipeline is comprised of four product candidates targeting validated growth pathways applied to new patient segments, novel immune system checkpoints and novel cancer metabolic pathways.
ASLAN's lead program, varlitinib, is a reversible small molecule pan-human epidermal growth factor receptor (pan-HER) inhibitor that targets the human epidermal growth factor receptors HER1, HER2 and HER4. Varlitinib is currently being studied in a global pivotal clinical trial for biliary tract cancer for which the company expects to report topline data in 2019. There is also a global Phase 2/3 trial of varlitinib for gastric cancer for which topline Phase 2 data is expected in the second half of this year.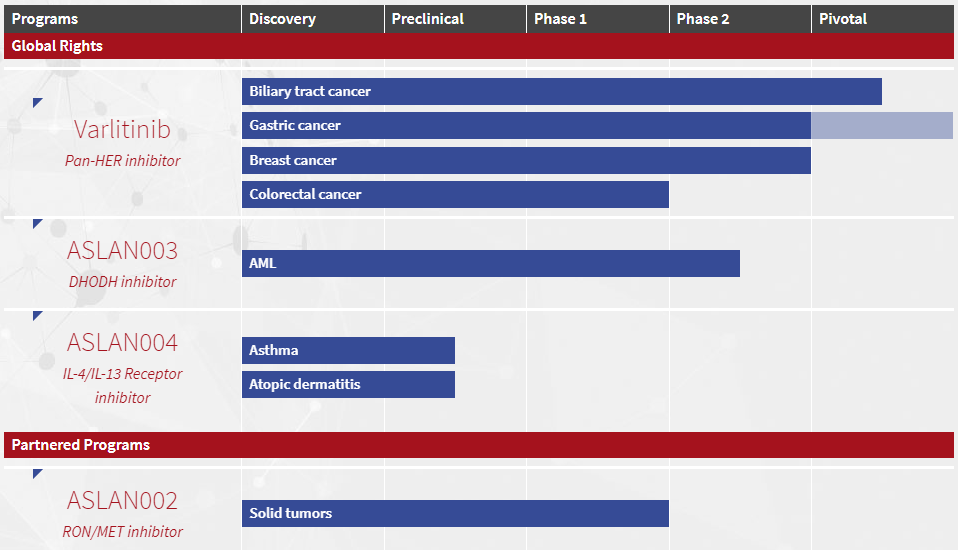 Source: ASLAN Pharmaceuticals
Biliary tract cancer and gastric are orphan diseases in the US and Europe. Although registration trials for orphan diseases may require fewer patients, recruitment for such trials is often challenging given the limited availability of suitable patients. According to ASLAN's Form F-1 filing:
Asia offers a unique opportunity to accelerate the development of novel therapies in diseases where either the cancers are more prevalent or the availability of suitable patients is greater, and we are able to access a larger population of patients more easily and cost-effectively, with fewer competing trials.
The National Cancer Institute estimates that, in 2016, there were nearly 1.69 million new cases of cancer diagnosed in the US, with about 600,000 deaths from the disease. In contrast, researchers from the National Cancer Center in Beijing estimate that there were 4.3 million new cancer cases in China in 2015 with over 2.8 million cancer deaths. According to ASLAN, there has historically been more research in cancers common in the US and Europe, such as breast and lung cancer, than there has been in other cancer types which are more prevalent in Asia, which has led to fewer treatment options for those cancers.
For example, in 2016 there were over 200,000 patients with biliary tract cancer in Asia, versus approximately 12,600 in the US, and there are no therapies approved to treat this disease. In gastric cancer, there were over one million affected in Asia in 2012, but only approximately 32,000 in the US, and there is only one targeted therapy approved for first-line treatment. ASLAN believes that its Asia development platform and understanding of Asia-prevalent cancers, in particular in its areas of focus in China, Japan, South Korea and Southeast Asia, will enable it to develop drugs for these diseases more efficiently than could be done in the US and Europe.
ASLAN has partnered with numerous companies and entities in its clinical development, including Almirall, A*STAR (Singapore's Agency for Science, Technology and Research), Array BioPharma, Bristol-Myers Squibb and a dozen others.
Based on today's close on the Taipei Exchange, ASLAN would have a post-money market capitalization of about US$280 million after this deal, which seems, at first blush, to be good value for a company at its stage of clinical development. We'll be keeping close watch on how the ADSs trade in the coming weeks.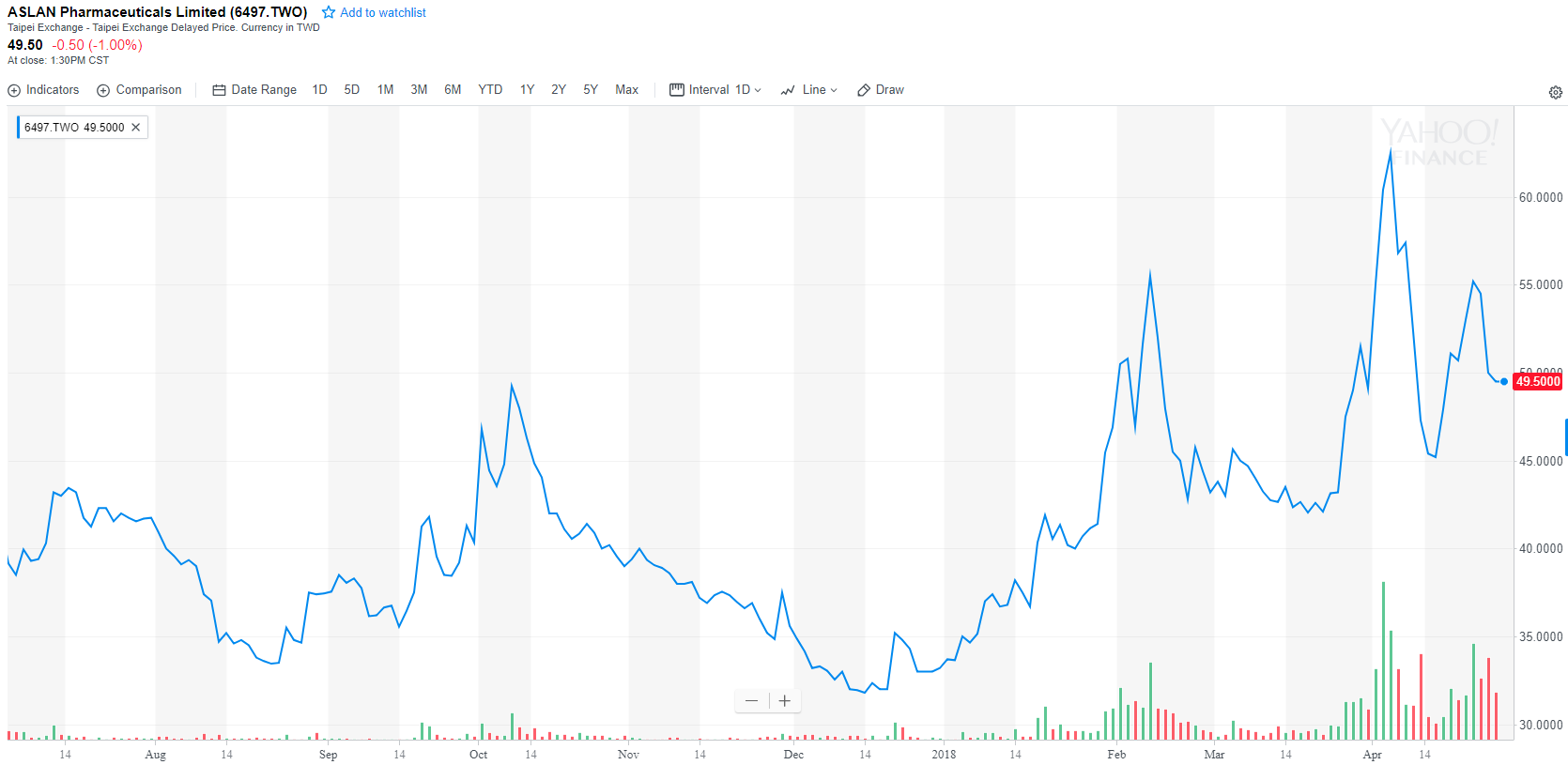 Source: Yahoo Finance
Please email us at [email protected] to see our Case Studies and Testimonials.
Please click here for information on our new trading platform.