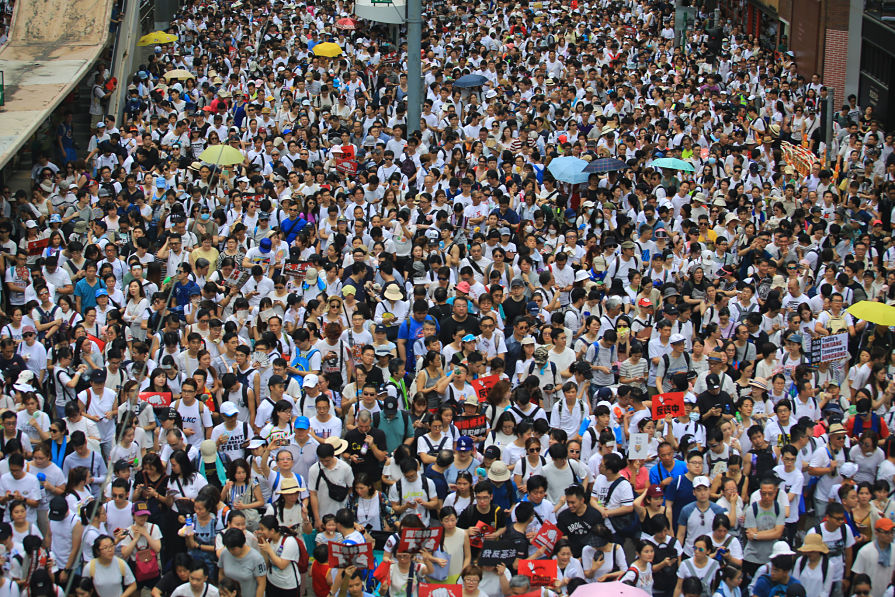 Photo credit courtesy of iStockphoto.com/user:LewisTsePuiLung
Last year, 40 Chinese companies went public on U.S. markets comprising 15% of the total American IPO market raising $8.6 billion. At the end of June, in a bustling IPO market, which has at times has singlehandedly propped up the stock market, China had only 11 companies IPO in the U.S. totaling less than $2 billion. The largest this year has been Douyu with $775 million and then Luckin Coffee following with $645 million.
To compare, IQIYI (IQ) raised $2.4 billion, e-commerce company Pinduoduo raised $1.63 billion, electric vehicle manufacturer NIO raised $1.15 billion, and Tencent Music raised $1.07 billion. Of course, there are still some godly unicorns staying quiet during the trade war. Ant Financial, Bytedance and Didi Chuxing are just a few. There are 89 unicorns in China but just jumping into the NYSE and the Nasdaq is not as simple as it was last year. Of course, there is the ongoing squeeze of the trade war and the chilly reverberation of it all. However, in the backdrop of this war, the Hong Kong Exchanges and Clearing Market relaxed its rules for tech and biotech companies allowing companies to modify share structure and to be unprofitable. The Shanghai Stock Exchange concurrently launched its new Science and Technology Innovation Board, or the so-called STAR market and the China Securities and Regulatory Commission (CSRC) have accelerated the issuance of IPO approvals. China wants to keep its unicorns at home.
Of course, in the U.S. the days of chasing Chinese growth is waning. Luckin, Yunji, Douyu and even the plastic surgery online platform, So-Young, have all largely disappointed. Wanda Sports (WSG) cut the size of its IPO almost in half from $500 million to $308 million, according to Reuters, because of tepid demand by U.S. investors. WSG, the sports company responsible for triathlon events, reported a profit of $60 million in 2018, a 31% drop from 2017.
So, as Chinese companies compete in one of the harshest markets in the world, where the reach of Tencent and Alibaba is ever present and can be suffocating if budding entrepreneurs don't play nice, the HKEx and the new STAR market will be pivotal to balance the drying up of some American money. However, the anti-government protests raging across the streets of Hong Kong have thrown a monkey wrench into the fundraising plans of many Mainland China companies and also clogged one of the world's great financial gateways.
Earlier in August, brewing titan AB InBev pulled the $10-billion IPO of its Asia-Pacific operations, citing market conditions. Listing companies have stopped marketing campaigns due to logistical headaches and general unrest. In a particularly devastating blow, Alibaba has postponed its historic offering in what will eventually be the largest follow-on offering seen in seven years. The deal should have given Chinese investors access to one of the greatest hometown success stories, but now Jack Ma's giant (who just announced he will retire from the company on his 55th birthday) has decided to stay away citing "current market conditions." Moreover, ripples are stretching far and wide across the financial industry. BlackRock Inc., the world's largest asset manager, postponed its Asia Media Forum in the city to February from September, a company spokeswoman said on Wednesday, so that "as many partners as possible" would be able to join.
There is the material impact but there is also the twist in perception. Protesters wearing masks have covered every newspaper across the world for 15 weeks. Bloomberg recently reported the city's tourism industry has plummeted to levels not seen since the SARS epidemic in 2003. Occupancy rates of hotels in some districts fell more than half while room rates decreased 40% to 70%.
"The social and political instability has had an impact on people's perceptions," said David Cho, a partner at law firm Dechert LLP based in Hong Kong told Yahoo News. "The pipeline isn't looking strong for the remainder of the year, and things could get even worse if China decides to crack down more forcefully in Hong Kong."
But as Davis Nelson noted in an article this morning, President Xi Jingping might instead be caving. "October marks the 70th anniversary of the Chinese Communist Party and the last thing they want is the focus to be on riots in Hong Kong and deteriorating trade conditions with the United States," Nelson said paraphrasing a quote from portfolio manager, Herve an Caolen. "Early on it was clear that the calculus for Xi was to push this closer to the 2020 election hoping for a chance to negotiate with someone from the other side of the aisle and maybe a more friendly voice. That may prove to be a fatal mistake."
Home Credit, a Prague-based consumer lender, is looking to raise $1 billion in a Hong Kong IPO this month. Shanghai Henlius Biotech, a biosimilar developer, is planning an IPO of up to $500 million this week. Topsports International Holdings is also beginning informal meetings for a $1 billion IPO. All of these sizeable will put the Hong Kong market to the test a few days after protesters were being pelted with rubber bullets outside the U.S. Consulate.