​As Sam Sees It: As the Dollar Rises, International Stocks May Actually Be Worth a Look
Sam Stovall Follow |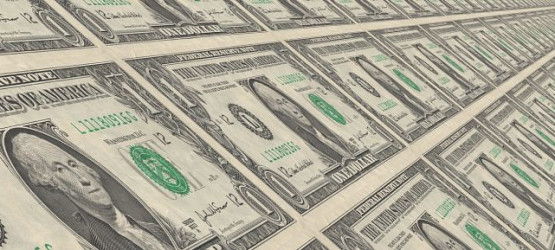 Each week, we tap the insight of Sam Stovall, Chief Investment Strategist, CFRA, for his perspective on the current market.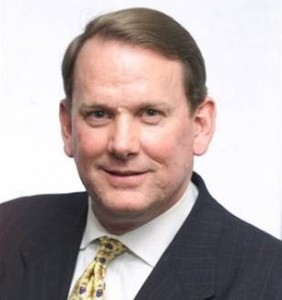 EQ: In last week's interview, you stated that a sustained move above the 2673 breakout point on the S&P 500 would leave the door open to a sustained move higher. Has this criterion been met?

Stovall: It continues to be met in that we did have a digestion of the recent advance, which was then followed by another move higher on the S&P 500. As long as we remain above that descending trendline, which is drawn on a series of lower highs, then I think investors have reason to be optimistic that the market will end up working its way above the series of resistance levels and keep this bull market alive.
EQ: Considering that we are in the sell in May period and in a midterm election year, is there a particular timeline or key level to watch?
Stovall: I think you do have to realize that there is the potential for a market decline in that six-month period leading up to the midterm elections, which has happened in 60% of the pre-election periods for first-term presidents. But it's obviously not a guarantee.
Should we find that inflation ends up picking up steam, and interest rates end up rising more rapidly than economists have predicted, then that could cause this breakout to falter and see share prices give back all of the gains experienced since that breakout.
EQ: With the earnings season catalyst now behind us, and headwinds like higher interest rates and geopolitical concerns returning to the forefront, are you surprised that stocks are continuing to hold up so well?
Stovall: In some ways, yes. I think it implies that investors really see no overly attractive alternatives at this point. The rising dollar has been putting pressure on gold and energy, and interest rates are expected to move higher, which is not making bonds an attractive alternative. So, investors are sticking with stocks because of the potential for 20% earnings growth this year and 10% additional growth next year, which continues to make valuations look all the more appealing.
EQ: As strong as the US market is looking right now, in this week's Sector Watch you pointed out that the Developed International market is actually outperforming the S&P 500 this year—at least until very recently. What is driving that outperformance?
Stovall: Right now, what we're seeing is the domestic stocks and International stocks running a neck and neck race. On a year-to-date basis through May 15, while the S&P 500 is up 2.1% on a total return basis, the S&P Developed International index is up only 1.33% after surrendering its recent leadership position, as it has done in seven of the last 10 years.
What was driving the outperformance through early May, however, was the belief that there could be a reversion to the mean since the Developed International stocks had underperformed US stocks in seven of the last 10 years. In addition, earnings growth was expected to be up close to 10% for the Developed International index, and we are looking at not only absolute P/E ratios that are below their long-term averages, but relative P/E ratios—relative to the S&P 500—which have been lower only once since the 1970s, and that was in September 2008.
So, the Developed International index of equities is trading at a very attractive relative level to that of the large-cap US marketplace, and our belief is that it could become an attractive incentive for investors to look overseas for investment opportunities.
EQ: For quite some time now, US stocks have been considered "the only game in town." Could this be an early sign that a rotation is potentially in play to overseas markets?
Stovall: Possibly, but certainly not to be initiated by the shot of a starter's pistol, mainly because with the yield on the 10-year note now rising above 3% here in the US, it has become a very attractive income source for foreign investors. As a result, that strengthens the value of the US dollar and causes many US investors to believe that their international holdings will be adversely affected.
What's interesting is that in 78% of all years since the 1970s in which the Developed International index beat the S&P 500, the year-on-year change in the value of the US dollar (DXY) was actually higher. So, while the value of the dollar might be inferred to hurt international investments, actually it's the underlying valuations, combined with earnings and economic growth that really are the drivers of these investments.
EQ: Where should investors look to if they are considering adding more to their international exposure?
Stovall: Investors could be looking first off simply at the descriptions of your Developed International stocks, such as the MSCI EAFE Index (EFA) or the S&P Ex-US Developed BMI (Broad Market Index) (SPDW). Or, they could look to the Emerging Markets indices, like the MSCI Emerging Markets Index (EEM) or S&P Emerging BMI (SPEM).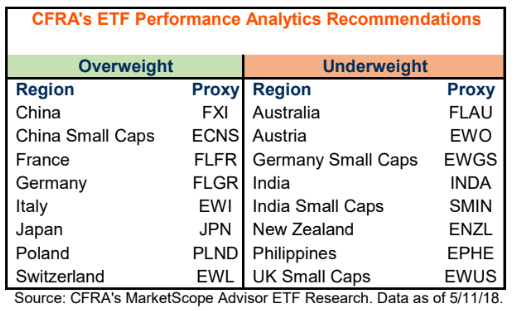 They could take it one step further, however, and look at individual countries as found in ETFs trading actively on exchanges today. CFRA Research offers ETF and Mutual Fund research on thousands of investment vehicles, driven not just by the trailing 36-month relative risk-adjusted return, but rather focusing on the underlying buy, hold and sell recommendations for the stocks within these country ETFs as well as risk considerations, such as the quality rankings of the companies in the index and the average bond ratings for these company components.
We then come up with overweight, marketweight and underweight recommendations for regions and countries around the globe that investors could use as a guide for investment opportunities if they wanted to dig a little bit deeper than the much broader developed or emerging market indices.
DISCLOSURE: The views and opinions expressed in this article are those of the authors, and do not represent the views of equities.com. Readers should not consider statements made by the author as formal recommendations and should consult their financial advisor before making any investment decisions. To read our full disclosure, please go to: http://www.equities.com/disclaimer
Companies