​As Sam Sees It: As the Bull Market Eyes a Key Milestone, Should Investors Be in Celebration Mode?
Sam Stovall Follow |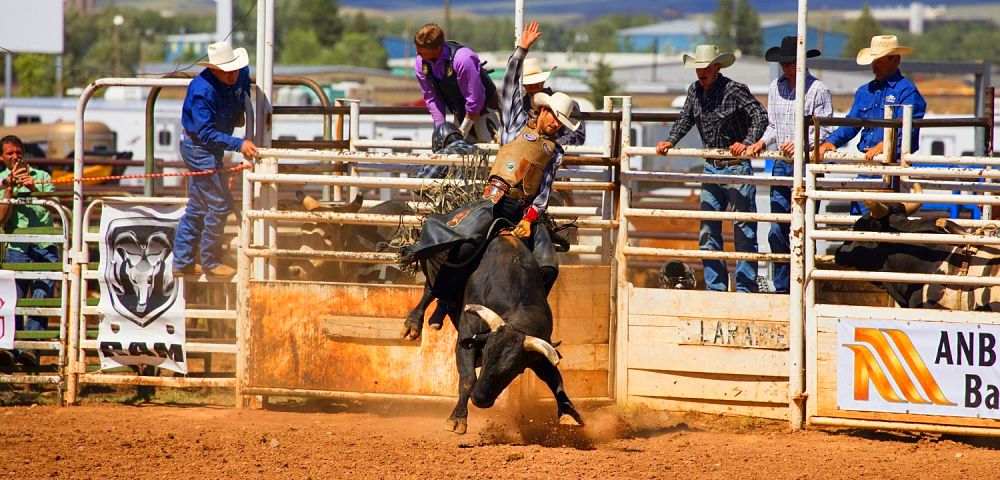 Each week, we tap the insight of Sam Stovall, Chief Investment Strategist, CFRA, for his perspective on the current market.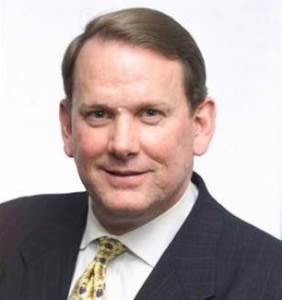 EQ: The S&P 500 is one week away from becoming the longest-running bull market in history. Yet, that claim seems to be debatable on a few fronts. In this week's Sector Watch, one of the main ones you covered was the contested duration of the 1990 through 2000 bull market. What is the issue here?

Stovall: The issue is, when did the bull market that ended in 2000 actually start? Some people say it started on Dec. 4, 1987 because they regard the decline in 1990 as being no more than the deepest of corrections since it fell by 19.9%- and did not fall by the full 20% that they believe is necessary to be regarded as a true bear market.
I remember being on the Investment Policy Committee back in 1990, and we as an organization voted to classify this as a bear market because, when rounded, it did indeed fall 20% and it also retraced more than 50% of the advance that was seen in the bull market that ended with the great crash in October 1987. So, for those people who are absolute purists, and look only to a full 20% price decline, they might be correct in that regard, but our belief is we do count 1990 as a bear market.
EQ: If you were to take the purist's point of view, how much longer would this bull market have to last to become the longest?
Stovall: Well, if you were to adhere to a purist's definition of a bear market being a decline of 20%, then we would be going back to Dec. 4, 1987 for that bull market, which would mean we would have to wait until April 3, 2021 before we could say that this current bull market was the longest since World War II. By the way, whether you believe the purist's view or that the current one will take over as the longest bull market since WWII, we still have to hit a new all-time high on or after Aug. 22 for any of this to matter. Otherwise, we would consider this bull market to have officially ended on Jan. 26, 2018.
EQ: If this current bull market is able to retake the January 2018 high to close the current correction, how does it stack up against other bull markets in history in terms of performance?
Stovall: Well, in terms of percent change, it would be the second biggest at 326% gain versus the 417% rise that we saw back in the bull market of 2000. In terms of time, obviously, it would be number one, just eeking out the bull market of 2000 at 3,452 days. The average duration of a bull market going back to WWII was 1,779 days, substantially below the count we're looking at now.
But if you look at other measures, such as valuation, then things are relatively expensive. The average P/E at bull market tops has been 18.4 on a trailing 12-month GAAP basis, which is second only to the peak that we saw back in 2000. Year-on-year inflation was actually running very low at less than 2% back in January versus 4.1% being the average since WWII.
Another scary statistic is we were trading at the S&P 500's market cap to nominal GDP of 127% versus the average of 68% going back over the past 50 years. The other highest number was equal at 127% back in the first quarter of 2000. So, yes, there are a few measures that imply this bull market is a bit expensive. So, we'll see what happens.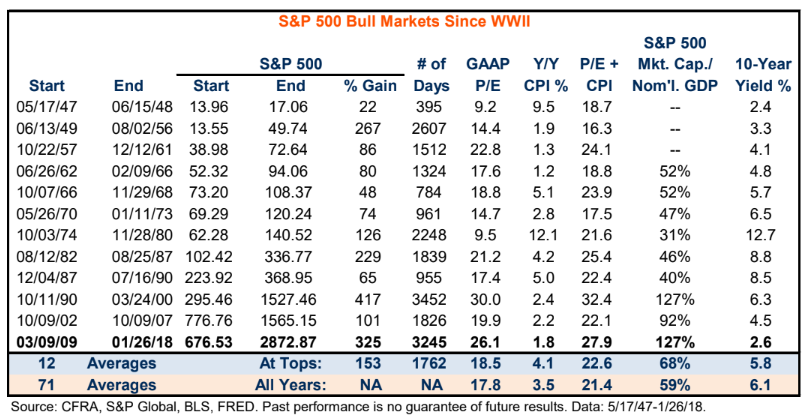 EQ: This current bull market also had its own deep correction back in 2011, falling 19.4% at its trough. What separates that deep correction from the 1990 bear market in terms of classification?
Stovall: I guess here, we're just splitting hairs. On a rounding basis, 19.4% becomes 19% and 19.9% becomes 20%. So maybe the real question should be, why differentiate at all? I think the reason people do is because, first, humans are compartmentalizers and we like to put things into their proper place for proper perspective.
Also, I think it has to do with what kind of an advance would be required to get back to break-even. If you have a 5% decline, then we need a 5% advance to get back to break-even. If we have a 10% decline, then we need an 11% rise to get back to break-even. A 20% decline requires 25%, and so forth. The best example of course is that a 50% decline needs a 100% advance just to get back to the starting point. So, I think the reason we come up with pullbacks, corrections, and bear markets is because of the magnitude required to get back to break-even. But does it feel any different falling 19.9% versus 19.4%? I don't think so. I think they both hurt quite a bit.
EQ: While the US market and economy remains strong, it does seem that investors have become more sensitive to geopolitical concerns, most recently the currency issues with Turkey and China have weighed on US investors. This has re-introduced the dread "C" word to market fears. How much contagion risk do you see this presenting to stocks?
Stovall: Well, talking to our economist and taking them at their word, it doesn't appear as if we have a similar contagion-like setup with Turkey today that we did back in 1997 with Thailand and their currency implosion. But when I think about history as a guide, obviously it's never gospel, back in 1997, investors underestimated the contagion associated with that Thai baht implosion as well. The crisis started in July 1997, but the S&P 500 hit a new all-time high in early August, before zigzagging between new highs and then a pullback of 6%, getting back to break-even, then a correction of 11% and then getting back to break-even by the end of October.
In comparison, the emerging markets topped out in late-August 1997 and continued to decline for nearly 12 months, giving back more than 50% of its value as it never fully recovered from the contagion that spread to Asian currencies, as well as being caught up in the Russian and Brazilian debt crisis that occurred early in early 1998.
EQ: Is it possible that the low volume trading environment of the summer doldrums comes into play?
Stovall: Yes, I think that's a possibility. Also, looking at the VIX volatility indicator, it shows that investors seem to be very complacent about it all. Usually, when complacency prevails, it sets up investors for disappoint. That's why we recently advised clients to become vigilant and to not assume that things are going to work out just fine.
DISCLOSURE: The views and opinions expressed in this article are those of the authors, and do not represent the views of equities.com. Readers should not consider statements made by the author as formal recommendations and should consult their financial advisor before making any investment decisions. To read our full disclosure, please go to: http://www.equities.com/disclaimer