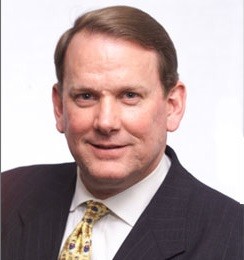 Each week, we tap the insight of Sam Stovall, Chief Equity Strategist for S&P Capital IQ, for his perspective on the current market.
EQ: In last week's interview, we discussed that investors have taken more of a defensive stance in the market as evidenced by the activity on a sector and sub-industry level. Investors were moving toward defensive high yielding stocks. Does this open up their portfolio to certain vulnerabilities to moves by the Fed?
Stovall: Yes, it does. In January, the three best-performing sectors were Utilities, Consumer Staples, and Health Care, which are the three poster children for defensiveness. But also, for Utilities, investors are attracted by their high dividend yield. Five of the 10 best-performing sub-industries for January were real estate investment trusts (REITs), which also sport relatively high yields and have done very well as the Fed has kept its foot off of the brake.
However, when the payrolls report came in stronger than expected on Feb. 6, it caused investors to accelerate when they believe the Fed will begin its rate-tightening program, and many of these high fliers in January ended up taking it on the chin. They recorded declines typically seen in a month, not in a single day.
The S&P 500 Utilities sector was down by more than 4%, whereas the general REIT index for the U.S. was down nearly 3%. I think a lot of investors who entered into these sectors in January probably realized that they were getting closer to the end of the run than the beginning.
EQ: The market has continued to surprise those that have been expecting interest rates to have risen higher by now. What is the likelihood that the Fed does not raise interest rates this year because of factors like a strengthening dollar and aggressive stimulus around the rest of the world?
Stovall: Standard & Poor's Economics still believes that the Fed will still tighten for the first time at the June meeting. Action Economics also points to June as the starting point. But I would say that consensus estimates believes that the first rate hike will take place late in the third quarter and we are increasingly seeing economists project that the first rate increase won't happen until the end of 2015, if not in the end of the first quarter in 2016.
So I think investors are pointing to still-very low inflation readings here in the states. They're mentioning the U.S. dollar has strengthened by nearly 20% over the past year or so, and certainly does not need additional impetus to strengthen as would be the case should the Fed begin to raise rates. I think more and more prognosticators are expected that the Fed will, themselves, practice a little patience before they start raising rates.
EQ: If rates are indeed going to rise by the second half of this year, what areas should dividend investors stay away from?
Stovall: What I find is the interest-sensitive areas are the ones that typically have been hurt the most by rising interest rates. For instance, the higher-yielding groups as we had mentioned, such as the REITs and the bond proxies like Utilities. That's one of the reasons why we have an underweight recommendation on Utilities because our expectation for rates to be rising starting around mid-year. In addition, we find that the values for Utilities are very stretched because it has been really the only game in town for income-oriented investors looking for higher returns.
I would just say that, in general, investors want to be careful about some of the higher-yielding investments they have. It doesn't mean that they have to bail out of them, but just make sure that they're not too expensive. If you're looking to add to holdings, make sure these are companies that do have positive investment recommendations, have good track records of raising their earnings and dividends, and if possible, have a lower volatility measure in the form of a beta that is below 1.
EQ: What are a few examples of companies that fit that criteria?
Stovall: I used S&P's MarketScope Advisors and screened for companies that have four or five-star recommendations, which means a buy or strong buy rating by S&P analysts. I also looked for above average track records for raising their earnings and dividends in each of the last 10 years as found in a quality ranking of A-, A, or A+. Of course, they also had to have a beta of less than 1.
I came up with 10 stocks, and a variety of them came from different sectors. You can see them in the chart below.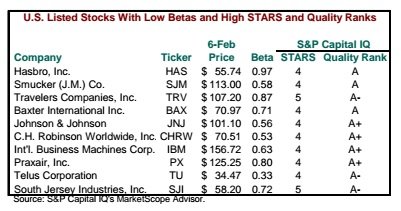 For more from S&P Capital IQ, be sure to visit www.getmarketscope.com.
DISCLOSURE: The views and opinions expressed in this article are those of the authors, and do not represent the views of equities.com. Readers should not consider statements made by the author as formal recommendations and should consult their financial advisor before making any investment decisions. To read our full disclosure, please go to: http://www.equities.com/disclaimer