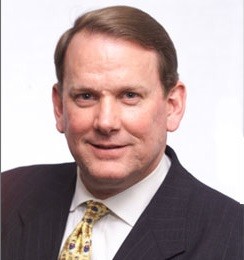 Each week, we tap the insight of Sam Stovall, Chief Equity Strategist for S&P Capital IQ, for his perspective on the current market.
EQ: The S&P 500 has finally gotten the long-awaited correction now as stocks have officially pullback over 10%. As you've typically said, stocks tend to take the stairs on the way up but use the elevator on the way down. Despite the steep drop we've seen the past few days, has this correction looked any different to you than a typical one?
Stovall: The funny thing about most corrections is that despite hoping earlier in the year for a correction, in order to get in at more attractive prices, a lot of underexposed investors are now wavering, citing potential game changers. So I can't help but wonder, without these game changers, why would prices have declined in the first place? You need people to question their forecasts in order for prices to either stall or to decline.
Right now, I think that the question on most investors' minds is whether the slowdown in China, lower oil prices, earnings recession and so forth are really translating to either a domestic or a global recession. That's what investors are trying to figure out. So it's not unlike corrections or even bear markets in the past because they traditionally are driven by the threat of recession.
EQ: On Tuesday, we saw a relief rally that turned south in the last hours of the trading day. What would you tell investors trying to spot a bottom here?
Stovall: I think that until the market does end up finding a bottom, it's going to be second guessing itself. We had the end of day sell-off on Tuesday mainly because investors were not convinced that the factors that caused the decline had been resolved. I think that we'll probably be going through just a countertrend rally over the next couple of days that then again will be pushed lower as investors try to feel out the ultimate bottom.
Usually, you don't end up with a v-shaped bottom. You end up experiencing some sort of a retest along the way and I think that's what most investors will be watching out for.
EQ: In this week's Sector Watch, you discussed the characteristics of the market's pullback and why it suggests that we're more likely to see just a correction and not another bear market. What are some indicators that's working in the market's favor?
Stovall: It took the S&P 500 92 days to eclipse the 5% threshold, which was actually the longest since World War II. A decline that takes longer than two months to occur historically gave investors enough time to figure out what is going wrong with the world and to figure out what's causing them to feel that prices need to come down. When a decline does take its sweet time, we've predominantly had pullbacks and an occasional correction, but we've never had a bear market. Of course, that's no guarantee that we won't see one this time around.
But then I look to such things as the improvement in employment trends, housing starts, and inflation as well. Traditionally, a sharp decline in housing starts has been needed to precede a recession here in the US. When I also look to the yield curve, even though some investors might think as being masked by an overly accommodating Fed, going back to 1948, we have never seen an inverted yield curve whenever inflation has been below 2%. So I tend to think that inflation, interest rates, employment and housing starts gives me the feeling that we are not likely to fall into a new bear market.
EQ: For the most part, it seems that there's no clear catalyst for a bear market. What are some potential things to watch for in case we do slip deeper?
Stovall: Yes, first off I do think that we will probably end up trading lower than the 12% decline that we've already experienced on the S&P 500. One reason is because we simply have gotten back down to the median P/E ratio on forward 12-month earnings going back to the year 2000. We're currently trading at a discount to the median P/E on trailing earnings over the past 25 years. But usually markets tend to overshoot to the upside and to the downside, so I think I would feel a little more confident that this correction has run its course when P/E ratios become even more attractive.
That said, I also believe that China does pose enough of a threat that investors at least could believe the economy around the globe could be going through a pronounced slowdown. China is the second-largest economy in the globe and is the third largest trading partner with the US, however, it is predominantly one-sided. American imports are about four times the amount of our exports to China. So a slowdown in China probably will not have the kind of effect that some people anticipate, although it's enough of a concern because there's so much "smoke and mirrors" surrounding the data is that released by China.
For more from S&P Capital IQ, be sure to visit www.getmarketscope.com.
DISCLOSURE: The views and opinions expressed in this article are those of the authors, and do not represent the views of equities.com. Readers should not consider statements made by the author as formal recommendations and should consult their financial advisor before making any investment decisions. To read our full disclosure, please go to: http://www.equities.com/disclaimer