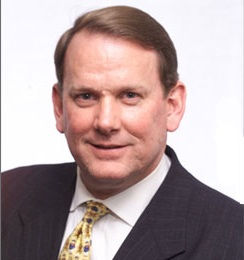 Each week, we tap the insight of Sam Stovall, Chief Equity Strategist for S&P Capital IQ, for his perspective on the current market.
EQ: There was a bit of a sell-off in the market that started between the Christmas and New Year holidays. While we've only fallen a little over 4% from the peak to Tuesday's close, are there any reasons to believe that this is anything more than just noise in the market?
Stovall: We believe it's noise right now, but I do have to tell you that when you look to oil prices declining as precipitously as they have, and you then overlay that with the realization that S&P 500 earnings estimates have also come down substantially, you do start to wonder if there's more to it than simply a supply-demand imbalance.
The forecast for S&P 500 EPS at the end of 2015 was as high as close to $132 per share as of early October last year, which was just before the third quarter earnings were released. Today, however, the number is below $125 per share. We're also seeing that expectations all 10 sectors in the S&P 500 have seen reductions (anywhere from 2% to 25%) for the fourth quarter of last year.
EQ: So the fundamentals have raised some flags. Historically, we also didn't get the Santa Claus rally this year, and that was the first time that's happened since 2007. Is this a major bearish signal when you combine that with the fundamental concerns?
Stovall: Well, I wouldn't say it's a major bearish signal, but it does confirm the concerns that investors do have. Investors look to these old adages such as, "If Santa Claus should fail to call, the bear may come to Broad and Wall," which was popularized by the Stock Trader's Almanac.
Obviously, it's based on history, and while history is a great guide but never gospel, it's also something to keep readers interested from week to week. I don't think we can totally ignore them, but at the same time, we can't let our investment lives be ruled by them either.
EQ: In this week's Sector Watch report, you took a closer look at the idea that small-caps outperform large-cap stocks in the month of January. Did that theory prove true historically?
Stovall: Historically, it did. A lot of times I've heard people talk about how January is such a great month for small-cap stocks, implying it's the best month for small caps. However, it is, in fact, not the best month for small caps. If you look purely at the magnitude of average price increases, we find that other months such as April and December have done a better job.
When we look to the frequency with which the market has risen, January is greater than 50% of the time, but we also find that March, May, November and December did better. Finally, when you look at what months do well as compared with the S&P 500, again you find that other months do even better. In all, what I found was December and February tend to be the better months based on frequency of outperformance, frequency of advance, and magnitude of outperforming large issues. So it is sort of surprising that January is the month that gets all the credit.
EQ: Relatively speaking, small-caps had a rough year in 2014 as compared to the S&P 500's performance. On the flip side, it beat the S&P 500's impressive return in 2013. Could this be a comeback year for small caps or is the current environment going to continue to pose a significant challenge?
Stovall: Small-cap stocks have beaten large-cap issues in 12 of the last 15 years. So they had a pretty good run, and they stumbled in 2014. I would normally think that maybe 2015 could be a good year for them because they did poorly last year, but even though they underperformed large-cap issues and did relatively well in the beginning of 2015 as well as the most recent Santa Claus rally, we find that the valuations still look relatively stretched.
The relative P/E for the S&P SmallCap 600 versus the S&P 500 is a 38% premium versus a more historical norm of 22% premium, even with the recent underperformance. I believe they really haven't come down enough to make me feel as if they are likely to be outperformers for the full year.
EQ: How much do earnings have to grow in order for fundamentals to justify a comeback year for small caps?
Stovall: I think they'd have to have a fundamental improvement that is substantially greater than that of the S&P 500. Right now, we're basically looking for the S&P 500 to increase earnings by about 6.6% this year but small caps are expected to post an increase of more than 30%.
I think that's a bit of a stretch, but in order for valuations to not look excessive, meaning to have a P/E on 2015 estimates that is equal to 18 versus 16 for the S&P 500, we need to have that kind of outsized earnings growth to justify it. Again, historically, we've never seen that kind of outperformance.
DISCLOSURE: The views and opinions expressed in this article are those of the authors, and do not represent the views of equities.com. Readers should not consider statements made by the author as formal recommendations and should consult their financial advisor before making any investment decisions. To read our full disclosure, please go to: http://www.equities.com/disclaimer