Each week, we tap the insight of Sam Stovall, Chief Investment Strategist, CFRA, for his perspective on the current market.
EQ: October was a rough month for investors, but the market was able to close it out on a high note. Are you seeing signs of a potential rally into and after the midterm elections, or is it still too soon to say?
Stovall: I think there is potential for a rally into the seasonally strong final month of the year. Since World War II, whenever the S&P 500 was down by 3% or more, November was higher by 0.7% and December was up 1.9%. The market itself was higher in November about two out of every three years. So, I think the odds favor the market being higher at least in November and then a carryover into December if we look at the historical probabilities.
With that said, I don't think the issues have been fully resolved just yet. So, don't be surprised if the market has to go through a final retest before the bottom is finally put in.
EQ: Looking at the midterms, of all the political scenarios, the market has historically performed the worst under a Republican president and a split Congress. That's the likely scenario based on projections of the upcoming elections. Do you think that's being factored into the market yet, potentially contributing to the volatility we've been seeing?
Stovall: Not really, because I'm not sure many people know that the worst political scenario is a Republican president and a split Congress. Since 1900, that type of split has happened 14 times with 10 of those times having come under a Republican presidency. The worst performance of any scenario was a Republican president with a split Congress in which the market gained only a 3.5% on average. So, essentially what history would tell us is, don't expect anything good. At the same time, however, most of the people that I tell this statistic to are quite surprised.
EQ: Is that because of the misconception that gridlock is good for the market?
Stovall: Exactly. People assume gridlock is good because the government is doing nothing to get in the way, and that may be true for bonds where they don't continue to elevate the deficit, but it's not true for stocks because our leadership is not providing any leadership in that instance.
EQ: In this week's Sector Watch, you discussed the peak earnings growth we're seeing in the final quarters of 2018. Considering guidance for 2019 is moving in the opposite direction of the rising estimates for 2018, what implications will this have for investors in the year ahead?
Stovall: Well, I think it is adjusting the anticipated angle of ascent. We've had very strong earnings gains in 2018—expectations are for a 23% for the full year, with three of the four quarters are expected to be above 20%. Well, that's hard to beat. So, looking into 2019, except for the fourth quarter, every quarter is expected to show a sub-10% earnings growth rate.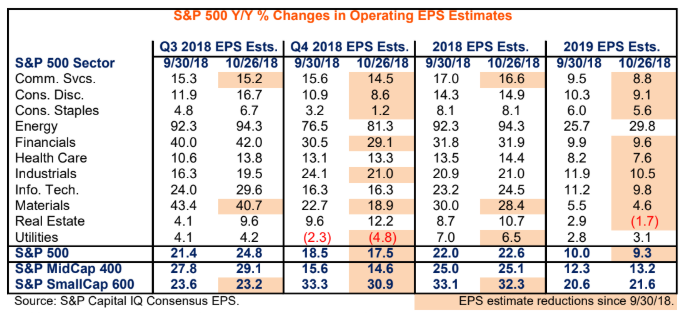 Not surprisingly, in this third quarter, while nine of 11 sectors are seeing earnings increases, the reverse is true when looking out to all of 2019 with nine of the 11 are showing earnings reductions. So, I think analysts right now are going through the exercise of paring back their enthusiasm, and the only question is how far down they're going to go, and as a result, what overall kind of impact we could see on share prices going forward.
EQ: You also noted that there are potential turnaround triggers that could drastically alter the market dynamic. Can you elaborate on some of these possible catalysts?
Stovall: I think share prices are being pressured by PEs (politics and earnings). From a political perspective, I think most people believe the Democrats are going to regain control of the House of Representatives, which would mean that tax cut rally part 2 is dead on arrival and maybe other spending programs are also no longer likely to be in the cards.
Well, what if the pollsters are wrong, as they were before the presidential election and as they were before the Brexit vote? They could be equally wrong before midterm elections and maybe the Republicans retain control of the House. If that's the case, I think the market shoots higher.
Also, there is the worry of the trade tensions deepening between the US and China. Well, the G20 meeting takes place at the end of this month and there's always the possibility that President Donald Trump and President Xi Jinping decide to meet and come up with some sort of a face-saving agreement that will allow this trade tiff to simmer down.
In addition, the Fed will be meeting in December. We think they will raise rates in December, but could end up sounding a less hawkish tone, which I think would be favorable for equities moving forward.
Lastly is earnings, where maybe we find that the analysts have reduced their expectations too much, especially if we don't see a worsening trade war between the US and China. That could allow earnings expectation to elevate a bit. Even though the bar is still high—full year 2019 earnings are now expected to be up 9.2% versus 10% at the end of the quarter—maybe it could end up coming back closer to that 10% level.
EQ: In terms of valuation, are stocks positioned well to move higher if any of these triggers are realized? Or would it be further stretching overextended fundamentals?
Stovall: No, I think there is upside potential. I look at something called the Rule of 20, which looks at earnings estimates combined with inflation expectations. When looking at this Rule of 20 figure right now, based on the 9.2% growth in earnings next year, we think that our 3,100 target on the S&P 500 is still attainable.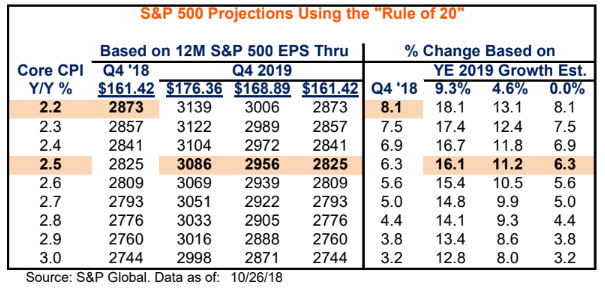 If, however, earnings come in at half that growth rate at 4.6%, well then maybe we end up with 2,955 for the S&P 500. The only way in which we end up really feeling it is if we get no earnings growth, and in that case the market's fair value is around 2,825. So, it all depends on what kind of earnings we're going to see in the year ahead.