As Sam Sees It: Buy the Rumor…Sell the Earnings Beat?
Sam Stovall Follow |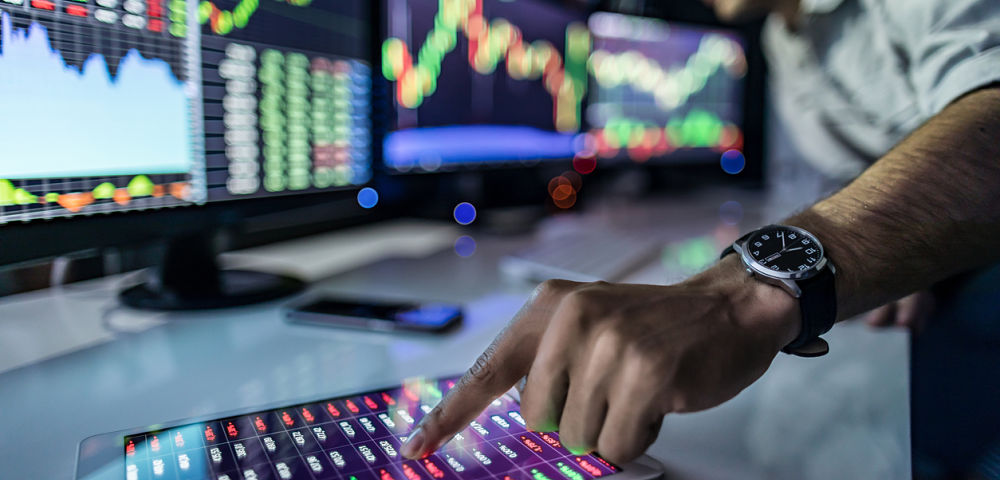 Each week, we tap the insight of Sam Stovall, Chief Investment Strategist, CFRA, for his perspective on the current market.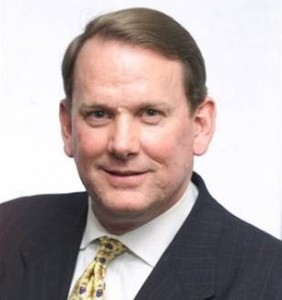 EQ: In this week's Sector Watch, you stated that peak earnings is no reason for investors to panic. Despite that, investors seem to be more apt to sell shares of companies with strong earnings than to buy them. What could be causing this market behavior?
Stovall: I think investors realize that trees don't grow to the sky, and when companies report stronger-than-expected earnings but then give very measured guidance, it causes investors to individually say, "Well, maybe I've wrung enough out of this opportunity. Let me move on to something else." That said, I don't think that is the case for the entire market.
Yes, first quarter earnings are expected to be 600 basis points higher than what was forecast at the end of the quarter. Also, full-year earnings are expected to be up by 20% in 2018, but it's not as if we're going to be heading into a new earnings recession. Earnings were expected to rise by 10% in 2019, and history shows that 70% of the time, the market has continued to rise for at least three quarters after the peak in earnings growth. If history were to repeat, and there's no guarantee it will, that would imply that there could continue to be smooth sailing for the rest of this year.
EQ: So, earnings don't have to peak in order to be doing well?
Stovall: A peak in earnings does not imply a peak in price appreciation as well. I think what we have seen over the last quarter is that earnings are coming in as investors had anticipated, and that's why we have not seen a move higher since then. It's like the old adage of buy on rumor, sell on fact. Well, now that we are getting the fact in that earnings have been pretty good for the first quarter, I think investors were breathing a sigh of relief, but at the same time, looking to take profits while they could.
EQ: From an economic standpoint, you pointed to investors being increasingly concerned about the end of the Goldilocks scenario. In seems that the US economy is heating up but the global economy overall could be cooling down. What could this mean for the equity market going forward?
Stovall: Well, the concern that the global economy is slowing is very different from its reality. We are of the mindset that the economy is not really slowing down. We did have Q1 GDP growth in Europe come in a little softer than anticipated. However, it is still looking at a pretty healthy growth for all of 2018. So, I think that what we're going to be looking for this year is 4% worldwide growth as compared with 3.8% last year.
While the US is going to be a big contributor at 3.1% growth this year, we are looking at 2.4% growth in the Eurozone, which is higher than the 2.3% seen last year. Emerging markets is expected to show a 5% growth in earnings versus 4.8% last year. So, it's not as if we're going gangbusters or that growth trajectory is going parabolic. However, it does not imply either that we are headed for a decline.
EQ: On a technical level, the S&P 500 has been rangebound for some time. What key areas do traders and investors need to watch for to see where the market is heading, one way or the other?
Stovall: The key is the 2673 level on the S&P 500. As I wrote in this week's CFRA IPC Notes:
Today, all market observers appear to be technicians, as they anxiously await an S&P 500 close above the downward sloping trend line connecting the series of descending tops traced out since the market high on January 26. After probing above the 2656-2673 resistance area earlier in the day, traders watched for signs that this open door of opportunity would once again close prematurely. As long as this area continues to act as resistance, rejecting attempts to pierce and close above, the index remains vulnerable to a renewed move lower. Indeed, i10Research reminds us that should intraday rallies continue to be sold into, this action would favor another test of the 2575 level and then a possible further slip toward the 2552/2531 zone. However, an extension and establishment above the 2673 breakout point would leave the door open to a sustained move higher, which the Nasdaq and Russell have already initiated.
On Wednesday, we crossed above that downward sloping trendline, and if we stay above this level over the next several trading days, I think that would signal the "all clear" that we are in a pattern that will end up continuing this bull market.
EQ: You also highlighted certain groups in the S&P 1500 that have been rising in rank. Is this showing that the market rotation of sectors is beginning to produce new leadership? Or is it too soon to say?
Stovall: Well, we're seeing some new market leadership, but at the same time, I think we are seeing some continuation of existing market leadership. What I mean by that is, there are 145 sub-industries in the S&P Composite 1500 index, and market leadership is made up of those areas that have moved up into the top 30% of trailing 12-month relative strength rankings.
Once they move into the top 30%, that shows sustainable momentum. Once they move into the top 10%, then that flashes green on momentum investors' radar, and it tends to offer some very good near-term price appreciation potential.
Gold has moved into the top 30%, as has Steel, and Trading Companies & Distributor. We've also seen improvement in Oil & Gas Drilling, as well as Oil & Gas Equipment and Services.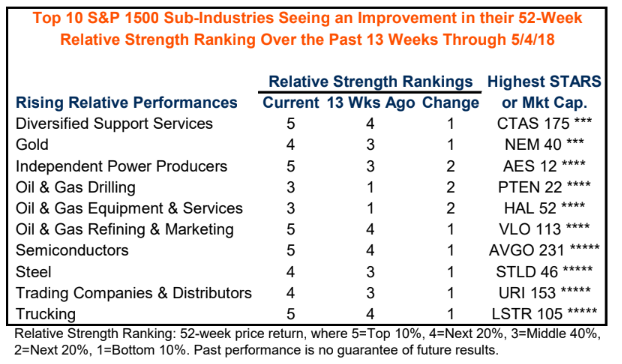 Those areas that already looked good but now look even better include: Independent Power Producers, Oil & Gas Refining and Marketing, Trucking, and one that would probably be a surprise to many, is Semiconductors.
I had mentioned on Monday that Semiconductors was an area that has continued to hold up and has actually picked up in terms of its momentum. That is despite what I've heard several times in the financial media that this group was falling out of bed, when in fact the implication from my model was that you would want to stick with this group, and possibly even buy into it because of its improving relative strength ranking.
DISCLOSURE: The views and opinions expressed in this article are those of the authors, and do not represent the views of equities.com. Readers should not consider statements made by the author as formal recommendations and should consult their financial advisor before making any investment decisions. To read our full disclosure, please go to: http://www.equities.com/disclaimer