​As Clickbait Content Grows on Youtube, Grom Social is Building a Media Platform that is Safe and Educational for Kids
Stephen L Kanaval Follow |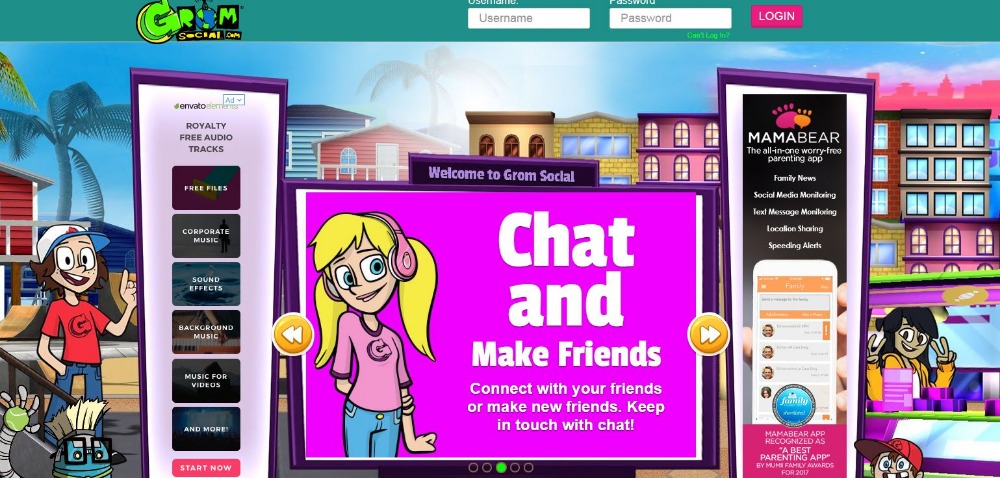 Image from the Company Website
If you are still a person unaware of "Baby Shark," then I won't ruin the good thing you have going. But, for the rest of us, this wholesome anthem from the Korean entertainment company Pinkfong has become a cultural craze and should serve as a reminder of the growing industry of children's content.

Much of this content is digested on Youtube (children make up billions of views on the site) by a global audience - just reflect on Pinkfong's rise to a US Top 40 Billboard hit - produced at various budgets that is algorithm-tailored and SEO-crafted with two-dimensional cutesy flourishes and exuberant mishmashes. These Youtube content machines span from Chennai, India for ChuChu TV; London, England for Little Baby Bum; Animaccord Studios in Moscow, Russia; Videogyan in Bangalore, India and Billion Surprise Toys in Dubai, UAE. And those are just a few of the most attention-grabbing children's media outlets on Youtube, which doesn't count the ever-present Sesame Street, which was born out of children's entertainment reforms in the 1970s.
Keeping Children's Attention, While Ruining Their Vocabulary
However, the key difference between these video makers and Sesame Street - which has demonstrated to improve learning as the program regularly works with academics and educators - is that these videos are not your typical educational videos, but more for sheer entertainment. They are designed to hold children's attention through Youtube analytics and quantified analysis.
Looking to break these troubling trends, a company here in the United States is looking to step in and make more educational content for this generation that parents can monitor with certainty. Grom Social Enterprises, Inc. (GRMM)and their wholly-owned subsidiary, Top Draw Animation, are working to create quality entertainment for children across network TV and social media alike.
To demonstrate this commitment to children, GRMM was recently accepted into the United Nations Global Compact, which is an initiative over 10,000 companies strong where businesses pledge to be a "force for good" and work toward broader societal goals.
"As part of our continual commitment to children; their safety, social and educational growth, Grom Social was founded on values that the UN Global Compact promotes, CEO Darren Marks said in the company press release. "We're honored to be part of the incredible network the UN Global Compact represents, and pledge our support to the UN Global Compact's 10 principles."
Grom truly has a platform to work towards these big goals (the company also has a partnership with the Child Rescue Coalition) as the company's award-winning subsidiary Top Draw works with some of the largest media companies - Hasbro, Nickelodeon, Warner Bros., Cartoon Network, Disney and Netflix - on some of the most high-profile cartoons, such as: The My Little Pony Movie, The Tom and Jerry Show and George of the Jungle. In addition, since the start of the year, Top Draw has signed $3 million in new animation contracts. These new contracts are coming as part of a US expansion effort to bring high-quality educational entertainment to a new demographic of children.
Tweet
Currently, Top Draw employs over 500 artists in its 30,000 square foot, state-of-the-art studio in the Philippines. The Company produces more than 250 half-hour episodes of 2D animation each year and has an accumulated production of more than 2,000 half hours under the Top Draw banner.
A Safer Social Media
Grom Social is uniquely prepared for this venture as the company was founded by teenage entrepreneur, Zack Marks. Marks built Grom Social, a moderated social media alternative for children that is safer and designed exclusively for younger minds, after his father fatefully kicked him off social media. The platform now can claim over 17 million users with over $30,000 in 12-month revenue ending in August of last year. Furthermore, Grom Educational Services netted $826,000 during that same span, while Top Draw entertainment added the lion share of revenues with $7.2 million.
"We created Grom Social as an alternative social media site exclusively for kids where they can connect, share, create, and have fun while learning how to behave on social media properly. Our goal is to help kids be aware of their social responsibility and become good digital citizens," Marks told the California Business Journal.
Grom Social comes with a parent portal allowing full monitoring of their child's online activity as well as all content being designed by professionals well-versed in education. The site alleviates aggressive behavior, bullying and internet trolling, which has over the last few years led some teenagers to suicide.
"You can make friends, post pics, chat, and stream original content and play games. What makes Grom Social different is the whole site is geared for kids. The difference is that all of our content is kid-friendly, the messaging and the good digital citizenship prompts and reminders are like road signs along the way to help remind and guide kids to develop good online practices. We really focus on offering positive and inspiring stories and encourage the Groms to share their online experiences," Marks told The Deal last year in March.
Zach works closely with his father Darren who is listed as the Chairman, President and CEO. The two have an ambitious goal in mind to broadcast high-quality educational entertainment to kids everywhere and the company has been working to get plugged into school systems and beyond this year.
DISCLOSURE: The views and opinions expressed in this article are those of the authors, and do not represent the views of equities.com. Readers should not consider statements made by the author as formal recommendations and should consult their financial advisor before making any investment decisions. To read our full disclosure, please go to: http://www.equities.com/disclaimer
Companies