The 2004 Nobel Prize in Chemistry was awarded to Aaron Ciechanover and Avram Hershko of The Technion – Israel Institute of Technology and Irwin Rose of UC Irvine for for the discovery of ubiquitin-mediated protein degradation. Ubiquitin is a protein that is now known to be involved in nearly all cellular functions. Its critical role in protein degradation and cellular signaling pathways has been a focus of significant research in the progression of cancer, metabolic syndromes, neurodegenerative diseases, autoimmunity, inflammatory disorders, infection and muscle dystrophies, as outlined cogently in a paper published in Nature in 2014 by Doris Popovic and Domagoj Vucic of the Goethe University School of Medicine and Ivan Dikic of the University of Split School of Medicine.
New Haven-based Arvinas is developing a new class of drugs that leverage the body's natural ubiquitination process to target cancers and other difficult-to-treat diseases. The company believes that its PROTAC (Proteolysis-Targeting Chimera) protein degraders may provide multiple advantages over existing small molecule inhibitors, which can require high systemic exposure to achieve sufficient inhibition, often resulting in toxic side effects and eventual drug resistance. Arvinas (proposed Nasdaq: ARVN) filed its Form S-1 yesterday for a $100 million initial public offering via Goldman Sachs, Citigroup and Piper Jaffray.
Source: Arvinas.
Arvinas raised a $55 million Series C round in April 2018, led by new investor Nextech Invest, with participation from additional new investors Deerfield Management, Hillhouse Capital and Sirona Capital. All existing investors also participated, including Canaan Partners, 5AM Ventures, RA Capital Management, OrbiMed and New Leaf Venture Partners. Canaan and 5AM are the largest holders of Arvinas with 18.52% each.
The Arvinas PROTAC platform is an elegant, novel therapeutic modality that circumvents delivery challenges associated with existing therapeutic approaches to eliminate protein function, and Arvinas has proven to be the clear leader in developing a new era of targeted medicines using its protein degradation technology.
– Jakob Loven, PhD, partner, Nextech Invest, and board member, Arvinas (from the Series C press release).
The company has generated $73.5 million so far from its partnerships with Genentech RHHBY, signed in 2015 and expanded in 2017, and with Pfizer PFE, signed in January 2018, and may potentially receive up to an aggregate of $1.4 billion in additional milestone payments plus sales royalties.
John Houston, PhD, has been President and CEO since September 2017, following eight months as President of Research and Development and Chief Scientific Officer. Prior to Arvinas, he served as Senior Vice President of Specialty Discovery and R&D Site Evolution at Bristol-Myers Squibb BMY. Before 18 years at BMS, Dr. Houston was head of the Lead Discovery Unit at Glaxo Wellcome Research and Development GSK.
Craig Crews, PhD, founder and Chief Scientific Advisor of Arvinas, is the L.B. Cullman Professor of Molecular, Cellular and Developmental Biology, Chemistry and Pharmacology at Yale. A novel compound developed in his lab served as the lead asset of Proteolix, which was acquired by Onyx in 2009 and subsequently acquired by Amgen AMGN in 2013. That compound became Kyprolis (carfilzomib) which received FDA approval for relapsed/refractory multiple myeloma in 2012.
Arvinas expects to initiate a Phase 1 for its lead compound in metastatic castration-resistant prostate cancer in the first quarter of 2019 and a Phase 1 trial for a second compound in metastatic ER+/HER2- breast cancer (estrogen receptor positive, human epidermal growth factor receptor 2 negative) in mid-2019.
Pipeline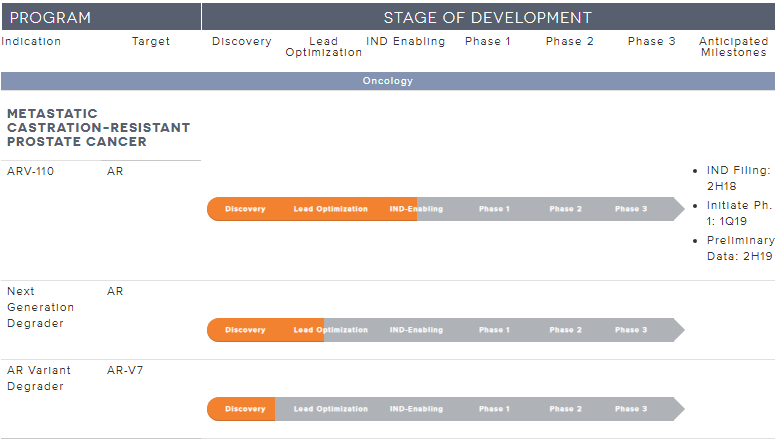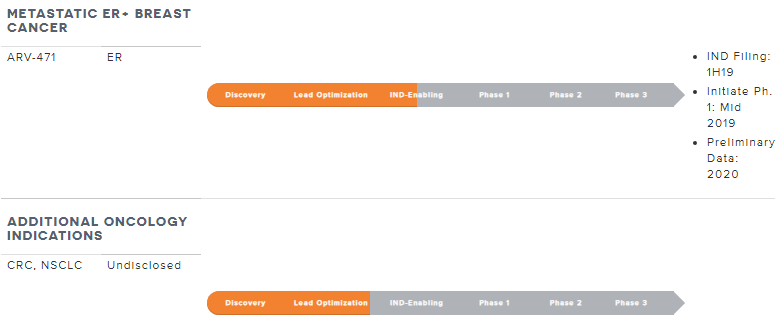 Please email us at [email protected] to see our Case Studies and Testimonials.
Please click here for information on our new trading platform.
Please click here to see our daily newsletter.