Over 1.2 million people in the US are living with melanoma, according to the National Cancer Institute's 2015 estimates, with the number of new cases steadily increasing. NCI estimates that 91,270 Americans will be diagnosed with melanoma in 2018, and the American Cancer Society estimates that 9,320 deaths from melanoma will occur this year—or more than one every hour.
Melanoma occurs when unrepaired DNA damage in skin cells triggers mutations that may lead them to multiply and form malignant tumors. Metastatic melanoma, the most serious and life-threatening type of skin cancer, is associated with low survival rates. The most common mutation is known as BRAF gene mutation, which is found in about half of all metastatic melanoma cases. The MEK gene is another critical driver of the pathway involved in cancer cell growth and proliferation, and the FDA has approved individual therapies that inhibit either BRAF or MEK.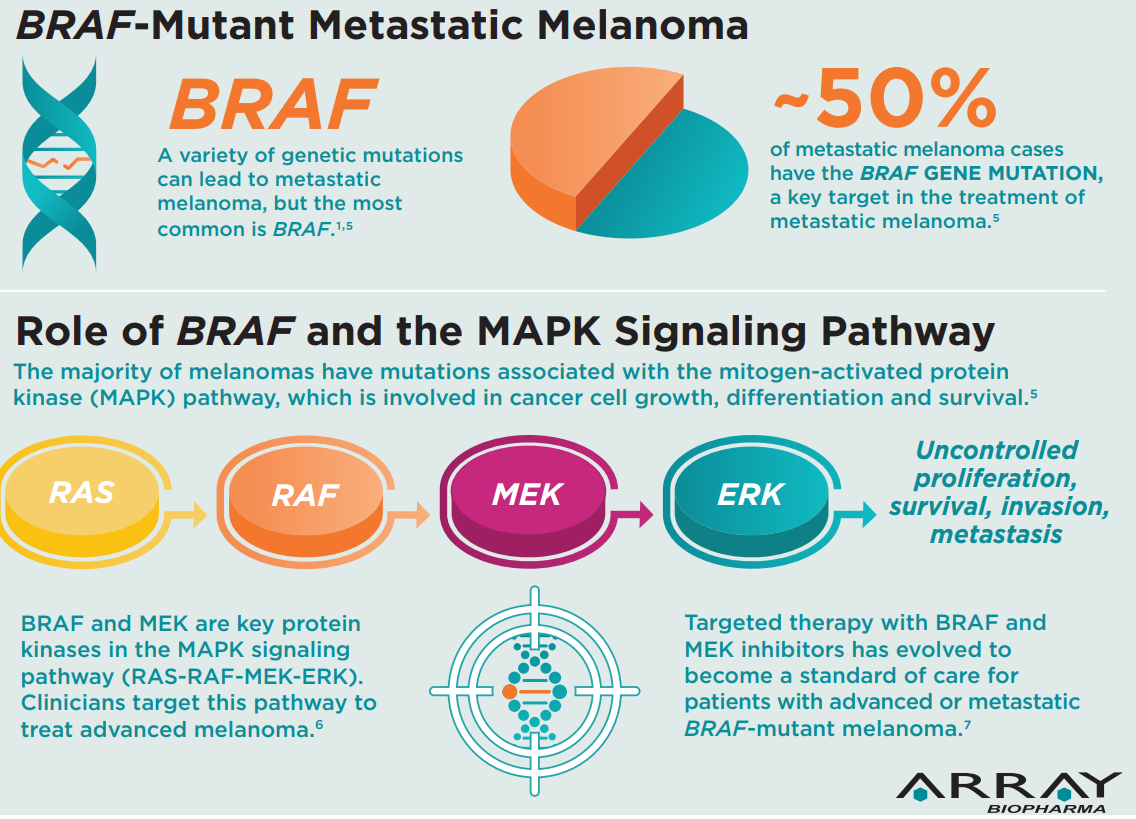 Source: Array BioPharma
Array BioPharma ARRY received FDA approval yesterday for a combination therapy of two drugs—BRAFTOVI (encorafenib) and MEKTOVI (binimetinib)—for the treatment of patients with unresectable or metastatic melanoma with a BRAFV600E or BRAFV600K mutation. The drugs are already available to order through select specialty pharmacies in the US, and Array offers a $0 copay for eligible, commercially-insured patients.
The approval of the combination therapy was based on results published in March 2018 from the Phase 3 COLUMBUS trial, which demonstrated the combination showed median progression-free survival by patients of 14.9 months, compared to just 7.3 months by patients on vemurafenib (Genentech's Zelboraf) alone. Previously, in February 2018 and updated subsequently in June 2018 at the American Society of Clinical Oncology (ASCO) annual meeting, Array announced results showing median overall survival of 33.6 months for patients on the combination therapy, compared to 16.9 months for patients on vemurafenib.
We are thrilled with the approval of BRAFTOVI + MEKTOVI, which help fill a critical unmet need for patients with advanced BRAF-mutant melanoma, a serious and deadly type of skin cancer. As presented at ASCO, BRAFTOVI + MEKTOVI is the first targeted treatment to demonstrate over 30 months median overall survival in a Phase 3 trial. These products represent a new standard of care for BRAF-mutant melanoma patients and we sincerely thank the patients and dedicated researchers who participated in our clinical program.
– Ron Squarer, Chief Executive Officer, Array BioPharma.
Source: Array BioPharma
Despite recent advances, there remains a significant unmet need for treatments that are both effective and well-tolerated for patients with BRAF-mutant melanoma. Now, physicians and patients have the option to consider treatment with BRAFTOVI + MEKTOVI, which has been shown to delay disease progression, improve overall survival and is generally well-tolerated.
– Keith T. Flaherty, MD, Director, Termeer Center for Targeted Therapy, Massachusetts General Hospital Cancer Center and Professor of Medicine, Harvard Medical School.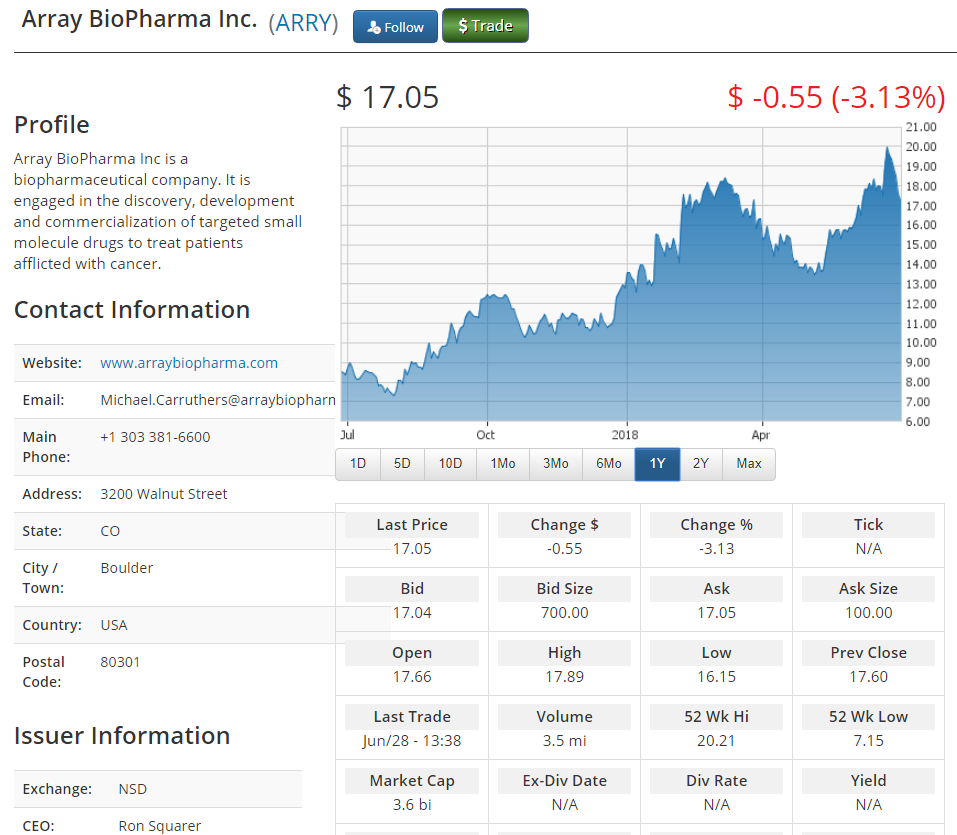 Please email us at [email protected] to see our Case Studies and Testimonials.
Please click here for information on our new trading platform.
Please click here to see our weekly newsletter.