Recently, the US stock markets have been very bullish. The selloff in the 4th quarter of last year has been completely rebuked, and as we approach April, the markets have started to reach toward the top achieved in September 2018. The bond markets and the stock markets have diverged a bit, and we are now starting to see a potential trouble signal in fixed income.
S&P 500
Looking at the S&P 500 cash index, you can see that we have retreated to the 2800 level. This area is where we had seen so much in the way of resistance for several months, but it was recently broken above.
This, of course, begs the question: "Is there market memory here? Is what was once resistance now going to be support?" This makes sense on its own, and there is a natural proclivity for traders to look at it as such. All things being equal, this is how most will trade.
However, last week's close showed a lot of negativity, even finishing at the lows as well. This is an ominous sign typically, but the question is: "Are there other warning signs?"
Enter the ZB (30-year bonds) contract
One of the ways you can measure fear and strength in risk assets is to look at the opposite factors out there, such as the bond markets. The "big bond," or the 30 year, is a good look at the longer-term outlook and sentiment for the global economy. The US bond markets are the most liquid in the world and have the ability to absorb massive amounts of trading. This makes them the most important in the world.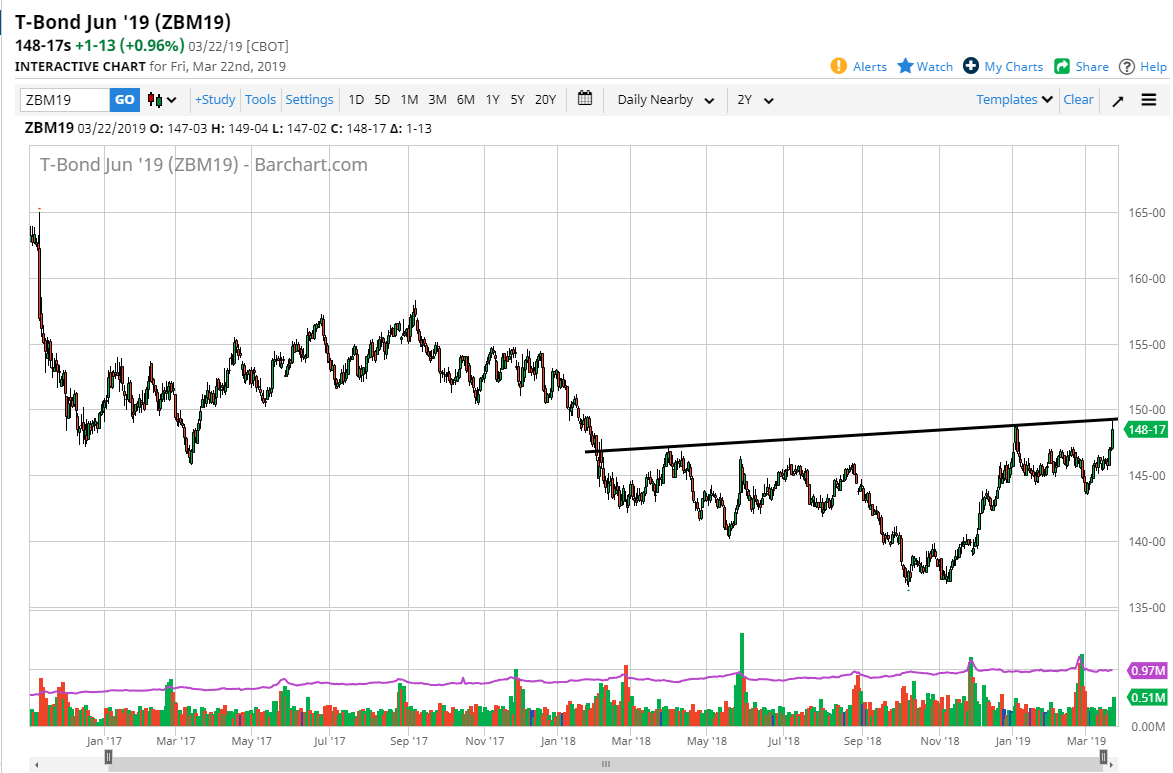 Looking at the ZB futures contract, you can see there is a potential inverse head and shoulders pattern appearing on the longer-term charts, with the neckline drawn. The March 22 session featured the ZB slamming into that potential neckline. If we break above it, that is a technical buy signal.
So what would this mean? It would mean that the bond yields are dropping as a result of higher prices. This means that large amounts of money are being pushed into safety, which by extension typically means that the same money won't be looking to get into stocks.
What is even more concerning – possibly – is that the move is measuring for a potential 12 handles which is a big move. If this kicks off, it's possible that we will see a massive influence on the equity markets as a result.
The question will be whether it is possible that people are running for cover. If so, stocks won't be a place where the money will go typically, other than into typical defensive sectors.
Something has to give
It is rare that both stocks and bonds will be able to rise at the same time. Simply put, the markets tend to operate on conflicting principles. That being said, it is likely that there should be some kind of resolution going forward, and it is completely possible that there could be a big move coming.
While we do not know which direction yet, it is obvious that the market is trying to figure out whether or not we are getting ready for a major "risk off" move in general, as all markets are correlated these days.
The idea that safety is being sought can not only have a major influence on stocks, but also there are other assets that can be moved. For example, the dollar-denominated Treasury markets rising, of course, could drive the value of the US dollar higher.
This will have an effect on the currency markets overall, as the US dollar is the most traded currency. This also can bleed into a lot of commodities markets, as most are denominated in dollars also. If the dollar is stronger, it typically will take less of those dollars to buy a bushel, barrel or ounce.
With all of this going on, it is imperative that you pay attention to the bond markets, and what they may be trying to say. It's possible that the correlations don't hold, but then again – most trading desks these days watch everything, and place positions accordingly.
However, if the bond markets roll over and drop lower, it's possible that the "animal spirits" will return in the markets overall, allowing the stock markets, emerging market currencies, and commodities to flourish. Either way, we need to pay attention to potential warning signs.
Alexander Voigt, founder of daytradingz.com