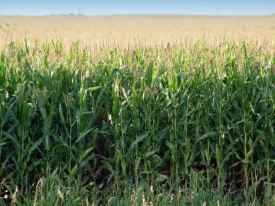 The corn market's decline from roughly $5.25 down to $3.20 may have been the single steadiest trade of the summer. Unfortunately, trend trading isn't my forte. Therefore, when we did in fact sell corn near $5.20 based on a sell signal from our discretionary model, I was lucky to hold on as long as I did. You'll notice on this Commitment of Traders corn futures chart that our first buyback didn't trigger until the first week of June.
The corn futures market has rallied about 15% off of its lows while following its typical seasonal harvest pattern. We had some serious concerns about how oversold this market had become and wondered if it may even breach the $3.00 per bushel level. Obviously, the market hasn't fallen below $3.00 and the market's decline was fully supported by long hedgers looking for bargains below $3.60 per bushel. Long hedger support and the oversold nature of the market put us on the buy side for the recent rally which you can see on the chart above. However, as the market has rallied, so too have commercial traders' expectations changed.
Our trading in the corn market this year has been very much a case of eating the crust and leaving the pie. That being said, I believe there's a bit more crust left on the short side of this market. Commercial traders appear to be using this bit of a rally to lock in the crops they didn't hedge earlier in the year. In fact, commercial traders have sold more than 82,000 contracts since the middle of September. The heavy selling shifted our commercial trader momentum indicator into negative territory for the first time since the May highs.
The combination of commercial selling pushing our momentum indicator into the red along with October's rally driving the corn market up above our overbought threshold has created a classic discretionary Commitment of Traders sell signal. When we add in yesterday's inside day, we have the perfect setup. We've sold corn at yesterday's low on an entry stop at $3.705 and placed a protective buy stop just at the recent swing high of $3.81. Considering that first notice day isn't until November 28th, there's still plenty of time left in the December futures contract.
DISCLOSURE: The views and opinions expressed in this article are those of the authors, and do not represent the views of equities.com. Readers should not consider statements made by the author as formal recommendations and should consult their financial advisor before making any investment decisions. To read our full disclosure, please go to: http://www.equities.com/disclaimer