Arcutis Biotherapeutics Files $100 Million IPO for Dermatological Pipeline
Edward Kim Follow |

Hundreds of millions of people worldwide are affected each year by dermatological diseases such as psoriasis, atopic dermatitis, seborrheic dermatitis, hand eczema, alopecia areata and vitiligo, creating a significant impact on physical and emotional well being and quality of life, and constituting a potentially heavy economic burden. Although there are approved topical and systemic treatments for these conditions, a large market opportunity exists because of their significant limitations, including modest response rates, side effects, patient adherence, application site restrictions, limits on duration of therapy and limited patient applicability.
Arcutis Biotherapeutics
Arcutis Biotherapeutics, in Westlake Village in Los Angeles County, has been developing treatments for dermatological diseases with high unmet medical needs. The company's pipeline comprises topical treatments with the potential to address immune-mediated dermatological diseases and conditions, or immuno-dermatology, delivering a differentiated clinical profile that addresses major shortcomings of existing therapies.
The company filed for a $100 million initial public offering yesterday (proposed Nasdaq symbol ARQT) via Goldman Sachs, Cowen and Guggenheim Securities.
Arcutis has raised over $160 million since its founding in 2016, most recently closing on $94.5 million in Series C financing in October 2019 in a round led by HBM Healthcare Investments which included additional new investors Vivo Capital, BlackRock, Omega Funds, Pivotal BioVentures and Goldman Sachs. These new investors accounted for more than 50% of the total Series C investment, with the balanced coming from existing investors including Frazier Healthcare Partners, Bain Capital Life Sciences, OrbiMed and RA Capital Management.
Pipeline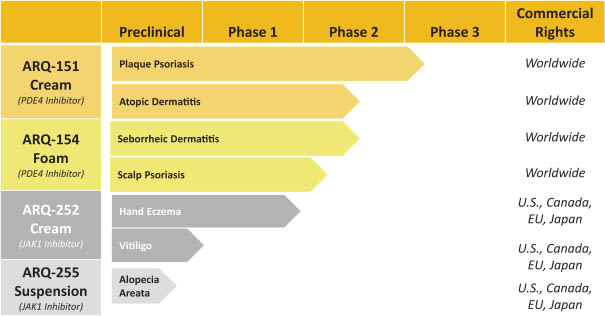 PDE4 Inhibition for Plaque Psoriasis
The company's lead candidate, ARQ-151, is in Phase 3 clinical trials for plaque psoriasis, the most common form of psoriasis, a condition that affects 125 million people worldwide, according to the World Psoriasis Day consortium. ARQ-151 is a topical cream containing roflumilast, a phosphodiesterase type 4 (PDE4) inhibitor. PDE4 is an enzyme that regulates the production of pro-inflammatory and anti-inflammatory cytokines and cell proliferation. Roflumilast is currently FDA-approved for systemic treatment to reduce the risk of exacerbations of chronic obstructive pulmonary disease, or COPD, and has shown greater potency than other PDE4 inhibitors, including the active ingredients in Eucrisa and Otezla.
Arcutis believes ARQ-151 has the potential to offer symptomatic improvement similar to high-potency steroids, a favorable tolerability profile, the ability to treat chronically and little to none of the application site skin reactions associated with many existing treatments.
The initial FDA approval for roflumilast was received in 2011 by Forest Pharmaceuticals, which was subsequently acquired by Actavis (now part of Allergan) in 2014. AstraZeneca acquired the rights to roflumilast from Actavis in 2015, and in July 2018, Arcutis licensed worldwide rights from AstraZeneca.

Promising Phase 2 Results
Arcutis has completed two randomized, double-blind, vehicle-controlled Phase 2 studies in plaque psoriasis with ARQ-151, including a 331 patient multinational, multi-center Phase 2b study and an 89 patient multinational, multi-center Phase 2a study. Both studies demonstrated significant reductions in the signs of plaque psoriasis, and the Phase 2b study also demonstrated significant reductions in the signs of psoriatic plaques in the intertriginous regions, where two skin areas may touch or rub together.
Topline data for the Phase 3 trial is expected in the first half of 2021.

Arcutis Biotherapeutics will be among the first biotechnology IPOs of this new year, and we are encouraged by the size of the addressable market, the Phase 2 results of ARQ-151, the money raised to date and the pedigree of early investors.
Edward Kim is Managing Editor of Equities.com.
_____
Source: Equities News
DISCLOSURE: The views and opinions expressed in this article are those of the authors, and do not represent the views of equities.com. Readers should not consider statements made by the author as formal recommendations and should consult their financial advisor before making any investment decisions. To read our full disclosure, please go to: http://www.equities.com/disclaimer.
---
Discover: Trending Events
---