Arcus Biosciences (NYSE: RCUS), which went public last month, presented positive Phase I data today for its lead compound, AB928, a dual adenosine receptor antagonist that is being developed as a cancer therapeutic. The data was presented in a poster, titled "Clinical Pharmacokinetic-Pharmacodynamic Relationship for AB928, a Dual Antagonist of the A2aR and A2bR Adenosine Receptors," at the 2018 American Association for Cancer Research (AACR) Annual Meeting in Chicago, Illinois.
Adenosine is a powerful immunosuppressive substance produced inside tumors as a result of rapid cancer cell turnover and, in some cases, in connection with certain anti-tumor interventions, such as chemotherapy and radiation. Arcus Biosciences' AB928 is an antagonist of the adenosine receptors known as A2aR and A2bR, which are expressed on the surface of immune cells and which are known to mediate the immunosuppressive effects of adenosine. According to the company, AB928 is the only drug currently in development that is able to block both of these adenosine receptors.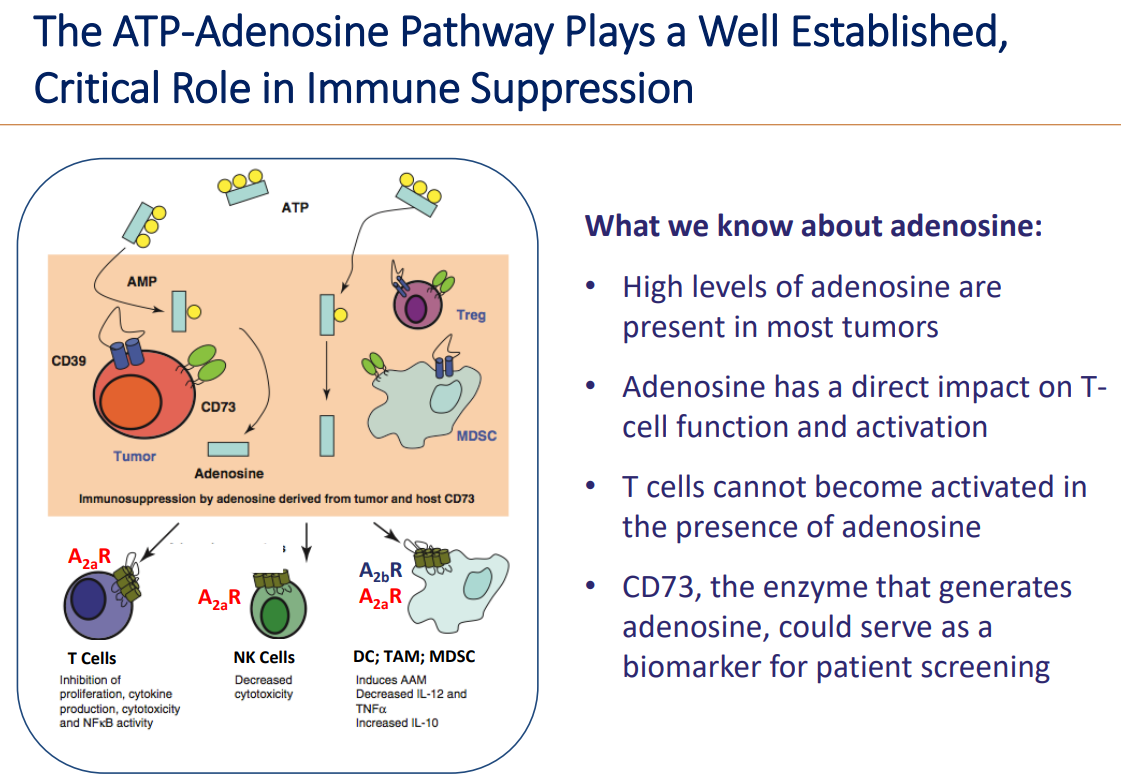 Source: Arcus Biosciences
We are extremely encouraged by the results from our ongoing Phase 1 trial of AB928. The compound has been shown to be safe and well tolerated at all doses evaluated and achieves near complete inhibition of A2aR adenosine receptor activation in blood samples from healthy volunteers. Importantly, we achieved this level of inhibition under conditions that we believe are representative of the large concentrations of adenosine found in the tumor microenvironment. These results have informed the selection of the starting dose for our clinical trials of AB928 in combination with other anti-cancer agents, and we look forward to starting these trials shortly.
– Terry Rosen, Ph.D., Chief Executive Officer at Arcus
Based on these results, Arcus is preparing to initiate clinical trials to evaluate AB928 in combination with three different chemotherapy regimens and in combination with AB122, its PD-1 antibody, in cancer patients. The company has a pipeline of cancer indications it is pursuing and expects multiple clinical trial initiations and data readouts by the first half of 2019.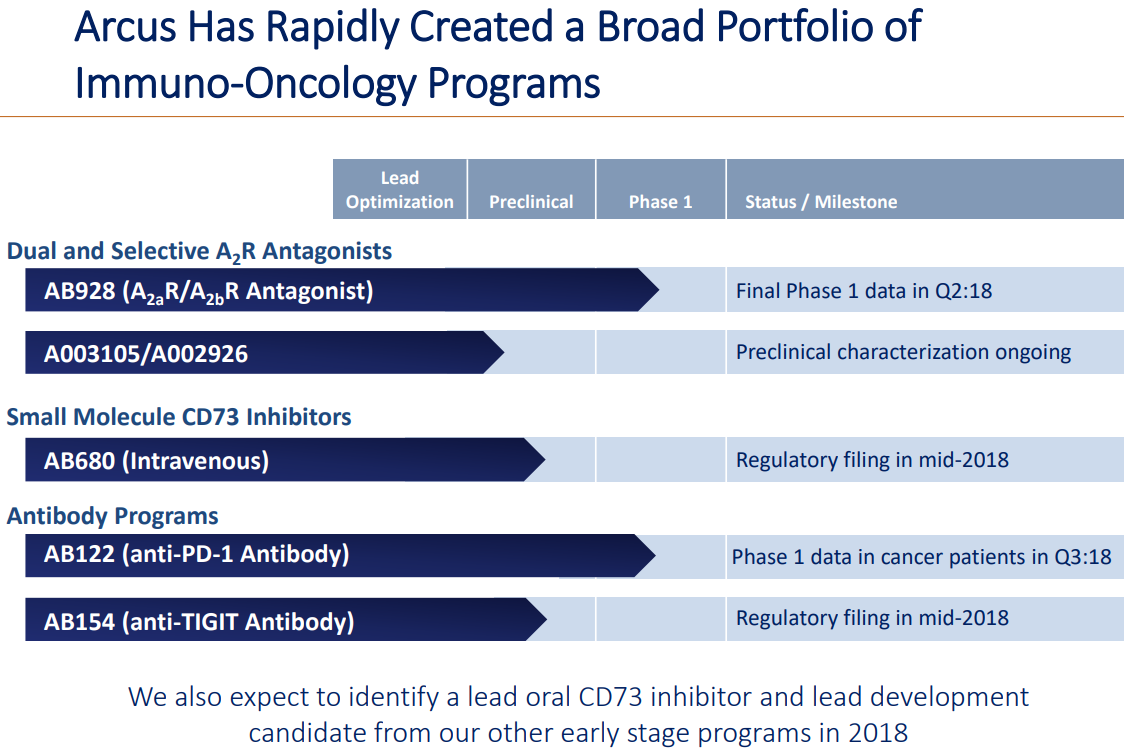 Source: Arcus Biosciences
The stock is trading $2 above its IPO price of $15, which was the high end of the filing range. While the company obviously faces a significant clinical trial gauntlet in the coming years, we're encouraged by the Phase I data on AB928 and by the track record of this management team, led by CEO Terry Rosen, PhD, who co-founded Flexus Biosciences. Flexus was acquired by Bristol-Myers Squibb (BMY) in 2015, only 18 months after initial funding.
Please email us at [email protected] to see our Case Studies and Testimonials.
Please click here for information on our new trading platform.