~ First oral film formulation of clobazam, for adjunctive treatment of seizures associated with Lennox-Gastaut syndrome ~
Lennox-Gastaut syndrome (LGS) is a rare, severe and often debilitating form of childhood-onset epilepsy characterized by multiple seizure types, cognitive impairment and abnormal electroencephalogram (EEG) readings, according to the LGS Foundation. It's one of the most difficult forms of epilepsy to treat and is also a physically dangerous epilepsy syndrome of childhood because of the frequent falls, injuries and cognitive impairment that can severely limit quality of life. LGS constitutes between 1-4% of pediatric epilepsies and has a prevalence of about 12,500 children in the US and between 39,000 and 48,000 total US children and adults.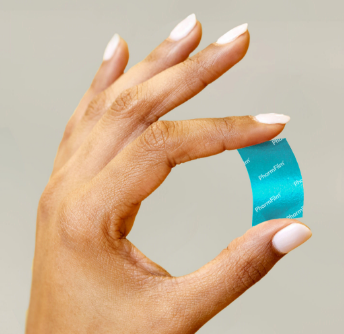 Warren, New Jersey, based Aquestive Therapeutics AQST is developing orally-administered treatments as clinically differentiated alternatives to standard of care treatments for diseases of the central nervous system. Similar in size and thickness to a postage stamp, the company's PharmFilm drug delivery product can provide potentially faster onset of action, improved dosing accuracy and water-free administration—attributes that can significantly improve patient compliance and adherence, particularly with children.
Aquestive announced today that it received final FDA approval for Sympazan, an oral film formulation of clobazam for the adjunctive treatment of seizures associated with LGS in patients 2 years of age or older. Sympazan is the first and only oral film approved by the FDA to treat seizures associated with LGS. Tablet and oral suspension formulations of clobazam are marketed by Lundbeck HLUYY under the Onfi brand name. Aquestive had received tentative FDA approval in August 2018 but had to wait on final approval until the expiration of Lundbeck's orphan drug exclusivity period for Onfi, which just occurred in October.

Source: Aquestive Therapeutics
Aquestive Therapeutics is pleased to bring SYMPAZAN to the LGS community. Treating LGS can be difficult; patients may have a hard time swallowing oral medications. We're optimistic SYMPAZAN can help address unmet medical needs and be an important treatment option for this patient population. SYMPAZAN is the beginning of a meaningful CNS franchise for Aquestive. We are actively working to advance more redesigned, proprietary treatments that can offer meaningful improvements for patients and caregivers who live with epilepsy and other complex conditions.

– Keith J. Kendall, CEO, Aquestive Therapeutics.
Clobazam has been a trusted adjunctive treatment for LGS since it received FDA approval in 2011, having been shown to reduce the frequency of drop seizures by 41% (low dose) to 68% (high dose) vs 12% for placebo in 238 LGS patients who were part of a Phase 3 study. Multiple pharmacokinetic studies were conducted to compare Sympazan with Onfi, and Sympazan oral film was demonstrated to be bioequivalent to Onfi tablets and have comparable safety profiles.
Aquestive plans to commercialize Sympazan this month and has engaged Ashfield Healthcare, a company specializing in commercialization services, to build and train a highly qualified, national sales force focusing on pediatric neurologists and epileptologists. Sympazan is berry flavored to aid tolerability and will be offered in 5 mg, 10 mg, and 20 mg dosages
Many LGS patients have a hard time swallowing pills and suspensions. This can make administering medication hard for caregivers. We believe SYMPAZAN will be welcomed by patients and caregivers impacted by LGS and searching for treatment solutions.

-Christina SanInocencio, Executive Director, LGS Foundation.
Aquestive just went public in July 2018, raising $74 million in gross proceeds via BMO and RBC. The stock is trading today at $17.50, above its $15 IPO price, with a market capitalization of $436 million. Sympazan has the potential to generate meaningful revenue for Aquestive to complement its existing commercialized and development-stage partnered products. (Lundbeck achieved sales from Onfi of DKK 3.34 billion (US$ 510 million) in the 12 months ended June 2018, and said it expects 40% to 50% decline in Onfi sales because of the introduction of Sympazan and generic formulations of clopazam.) Additionally, the FDA's approval of Sympazan provides further validation for Aquestive's PharmFilm technology and could be a welcome harbinger for the company's proprietary development portfolio.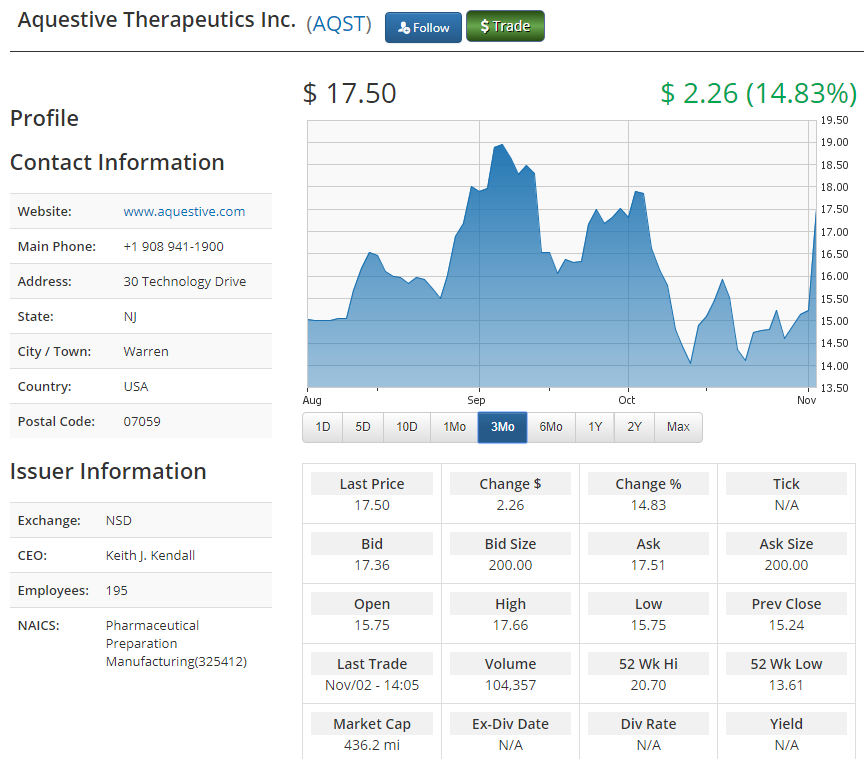 Please email us at [email protected] to see our Case Studies and Testimonials.
Please click here for information on our new trading platform.
Please click here to receive our free daily newsletter.