100 million US adults suffer from chronic pain, according to a 2011 report from the Health and Medicine Division of the National Academies of Science, Engineering and Medicine, "Relieving Pain in America." The report placed the annual economic burden associated with chronic pain at between $560 billion and $635 billion. Those numbers have been trending higher and are undoubtedly larger in scope today.
We've been following a company called Aptinyx (proposed Nasdaq: APTX) that has been developing small molecule therapies for the treatment of brain and nervous system disorders, with its lead product, NYX-2925, in two Phase 2 studies of chronic pain indications: painful diabetic neuropathy (DPN) and fibromyalgia. According to the company's presentation currently posted on Retail Roadshow, Aptinyx's initial public offering is "expected to price on or about June 20, 2018," so check your screens in the morning.
According to the American Chronic Pain Association, painful DPN is one of the most common complications among people with diabetes. It often causes pain or loss of feeling in the toes, feet, legs, hands and arms. People with painful DPN report the experience of burning, electric or stabbing pain, and may also suffer from increased sensitivity to pain or even a pain response to an otherwise non-painful stimulus. Fibromyalgia is a condition of chronic widespread pain associated with fatigue, sleep disturbances, cognitive impairment and depression. Individuals suffering from fibromyalgia often display symptoms without an apparent associated cause such as tissue inflammation or other damage. The systemic nature of fibromyalgia symptoms suggests that it is a centralized pain disorder with a dysfunction in pain processing within the brain.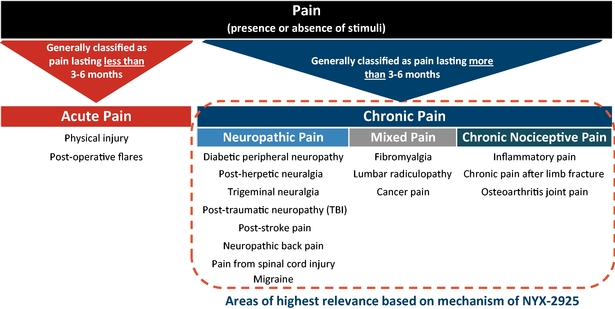 Source: Aptinyx Form S-1/A, June 11, 2018
Aptinyx is offering 5,333,333 shares between $14 and $16 per share via JP Morgan, Cowen, Leerink and BMO. At the midpoint of the filing range, an $80 million offering would result in a post-money market capitalization of $472 million. Aptinyx was spun out of Naurex after that company was acquired by Allergan for in 2015 for $560 million.
Seed capital was provided by Adams Street Partners, LVP Life Science Ventures, PathoCapital, Goudy Park, Beecken Petty O'Keefe and Northwestern University.
$65 million Series A round in 2016, led by New Leaf Venture Partners and including new investors Frazier Healthcare Partners, Longitude Capital and Osage University, along with the seed investors.
$70 million Series B round in 2017, led by Bain Capital Life Sciences and including new investors Adage
Capital, Agent Capital, HBM Healthcare, Nan Fung Life Sciences, Partner Fund
Management and Rock Springs.
Two drugs, duloxetine (Eli Lilly's Cymbalta) and pregabalin (Pfizer's Lyrica), are widely used in the treatment of chronic pain with substantial sales. Cymbalta, originally developed as an antidepressant, has been approved for multiple chronic pain conditions and before facing generic competition achieved peak sales of $5.1 billion in 2013. Lyrica was originally developed for postherpetic neuralgia and painful DPN, then later expanded into fibromyalgia and pain due to spinal cord injury. Pfizer realized revenue of $5.2 billion from Lyrica in 2017.
Aptinyx is focused on targeting and modulating NMDA (N-methyl-D-aspartate) receptors, which are vital to normal and effective function of the brain and nervous system. There are numerous drugs that target NMDA receptors—including ketamine, phencyclidine (PCP) and memantine, in addition to opioids such as methadone—but these have well known and significant limitations and side effects.
Aptinyx has approached NMDA receptors differently, aiming to modulate them rather than turning them completely on or off as agonists and antagonist medications function. The company believes that the mechanism by which its molecules modulate NMDA receptors triggers a cascade of activity that ultimately strengthens the synaptic connections between neural cells, resulting in stronger connections over time between these cells. The communication between neural cells is not only essential to routine function of the nervous system, but also enables the cells of the nervous system to learn, or adapt in response to external stimuli, through a process called synaptic plasticity. Aptinyx believes that this approach holds great promise for alleviating multiple disorders of the brain and nervous system, such as cognitive impairment, PTSD, chronic pain and depression.
Aptinyx pipeline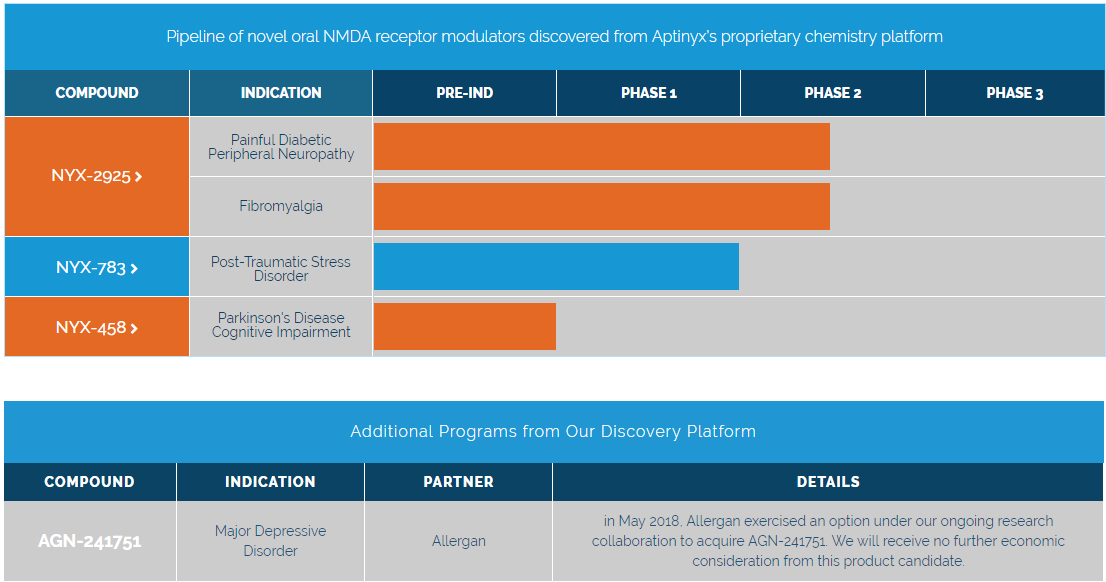 CEO and President Norbert Riedel, PhD, was previously CEO and President of Naurex, prior to which he spent 12 years as chief scientific officer of Baxter International. Dr. Riedel serves on the board of directors of Jazz Pharmaceuticals and the Illinois Biotechnology Industry Organization and is also a member of the Austrian Academy of Sciences. He is an Adjunct Professor at Boston University School of Medicine and an Adjunct Professor of Medicine at Northwestern University's Feinberg School of Medicine.
Chief Scientific Officer Joseph Moskal, PhD, was the founder of Naurex and its chief scientific officer until it was acquired by Allergan. Dr. Moskal is a professor of biomedical engineering at Northwestern University and director of the university's Falk Center for Molecular Therapeutics.
Please email us at [email protected] to see our Case Studies and Testimonials.
Please click here for information on our new trading platform.
Please click here to see our weekly newsletter.