DNA evidence has been used regularly since the 1960s to establish paternity and was a great leap forward from the simple matching of blood types that had been in use for the previous 40 years. DNA was first used successfully in the US as part of a criminal conviction in 1987, when an Orange County, Florida, Circuit Court convicted a man of rape after a match was established between his DNA and traces found on the victim. While the use of DNA evidence to solve crimes has become popularized by TV shows such as CSI, there are numerous companies making commercial advances in the field with meaningful applications in real world settings.
Stony Brook, New York, based Applied DNA Sciences APDN provides technologies that enable supply chain security, anti-counterfeiting and anti-theft technology, product genotyping and DNA mass production for diagnostics and therapeutics. The company's lead product, SigNature DNA, provides secure identity via molecular tagging and other visually-identifiable or machine-readable features. This SigNature DNA tagging can be implemented anywhere during the life cycle or supply chain—from source through manufacturing to branding.
Applied DNA Sciences announced today that SigNature DNA evidence has resulted in over 131 convictions, with sentences of 625 years to date, with many more cases in the pipeline. As the confirmed number of convictions and sentencing duration information are received from law enforcement officers, the company believes that the actual numbers could be significantly higher. SmartDNA Protection Nordic, the longest-serving distributor of Applied DNA's security products, recently was named as a Deloitte Sweden Technology Fast 50 company, recognizing the region's fastest-growing technology companies.
Source: Applied DNA Sciences
Crimes that the company's products have helped to solve include attacks against armored car companies, theft of entire vehicles and their components, ATM burglary and theft of goods from businesses and private residences. One of the robberies in question was solved in part due to the discovery of dye-stained cash found in the criminal's home. This dye contained a unique SigNature DNA tag which definitively connected the stained cash to a cash box that was stolen while ATM machines were being refilled.
We are very active across Europe working with industry and Law Enforcement agencies to help the fight against crime using a well-known, fundamental security principle of 'Detect, Deter, Defend.' The criminals involved range from low-level burglars to highly-organized and violent criminals with global distribution capabilities. Law Enforcement agencies are very satisfied with the high quality and speed of service we provide. We commit to a 10-day turnaround time from receipt of forensic samples to the issuance of an Expert Witness Report, and we always meet or exceed this commitment. For the last 3 years, our average turnaround time has been 7 days, which we believe is best-in-class by a country mile.

– Tony Benson, Managing Director, Europe, Middle East and Africa, Applied DNA Sciences.
We recognize the importance of providing accurate and quick service to Law Enforcement agencies, who are often up against deadlines to release suspects on bail. In some countries, suspects skip bail on a regular basis. The Expert Witness Reports we produce and support in occasional court appearances are detailed, accurate, thoroughly documented and accepted by courts around the world. DNA evidence is often featured on 'Crime Scene Investigation'" programs, and therefore easily explained to the layperson, facilitating its use and strength in conviction.

– Dr. Ira Lansky, Director of Forensics, Applied DNA Sciences.
In addition to its molecular tagging business, Applied DNA Sciences has a life sciences subsidiary called LineaRx that is focused on developing next generation biotherapeutics. LineaRx signed a development agreement in September 2018 with Takis and its Evvivax spinout to jointly develop linear DNA expression vectors for two of Takis/Evvivax's anti-cancer vaccine candidates utilizing LineaRx's technology. Takis and Evvivax are developing DNA based anti-cancer vaccines for the human and animal markets, respectively. Takis was founded in 2009 by a group scientists from IRBM, a Research Center in Italy that was formerly part of the global network of Merck Research Laboratories MRK.
The company also recently unveiled its proprietary designed and built cannabis tracking system, which is intended to support "seed-to-sale" legal cannabis tracking.
The current market valuation of $35 million reflects its modest revenue ($2.7 million in the nine months ended Sept. 20, 2018), but puts the stock at an interesting position on the risk-reward spectrum. Its one that we'll continue to follow closely to see if the company can execute in driving increasing commercial adoption of its products.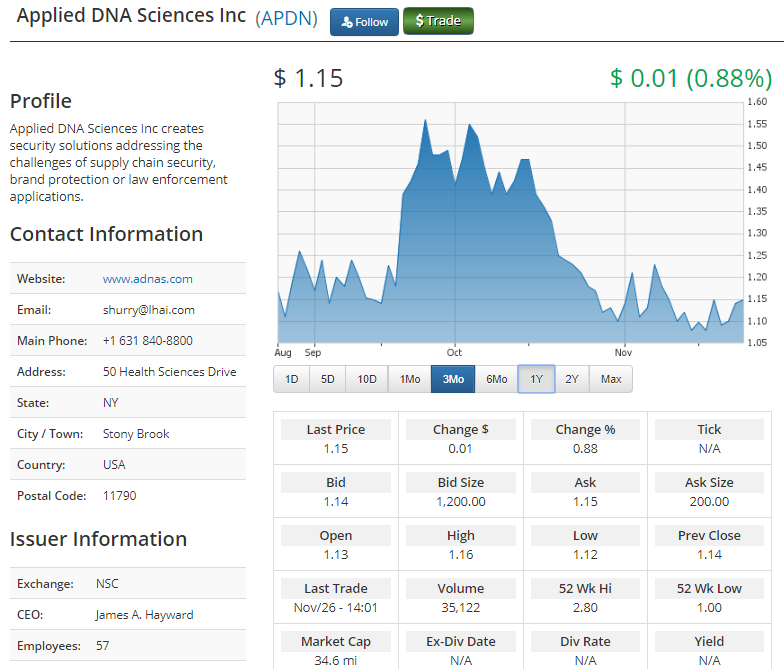 Please email us at [email protected] to see our Case Studies and Testimonials.
Please click here for information on our new trading platform.
Please click here to receive our free daily newsletter.