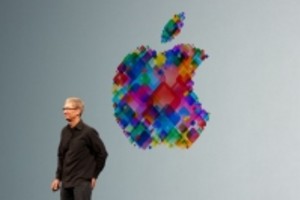 The Equities.com Research Team took on the biggest dog in the bunch this time around, looking at the most valuable company in the world and determining whether Apple's (AAPL) is really all it's cracked up to be. We talked with Equities.com's Head of Quantitative Research Nicholas Bhandari about the results of the research report.
To get the FREE full report on Apple (AAPL) including the full analysis and price target, go to www.equities.com/research
EQ: Ah, this is a meaty one. Looking at Apple's valuation is a really interesting intellectual exercise from a financial analysis standpoint. There's obviously consensus on Apple being a great company on a global basis. But whether it's a good enough company to justify its valuation is an entirely different question. Are you ready to swim against the tide of pro-Apple sentiment to highlight its limitations?
Bhandari: It's strange, because I think what we did shouldn't necessarily swim against the current. Every company should be judged simply on its ability to earn income in the future and the risk associated with said income.
Large investors like Carl Icahn have stated that Apple has a current intrinsic value of close to $200.00 a share, and the general consensus is that the stock is worth close to $140.00, but these are all symptoms of an extremely mild form of market hysteria. Apple has filled a role in Mutual Funds, ETF's and other portfolios for the last few years as the token "market outperformer," and sell side analysts, who are traditionally lagged indicators of stock success, have contributed to this phenomenon.
Apple is an astoundingly strong company, and our analysis confirms this fact, but, when someone is investing in a single company, their analysis has to be more nuanced than that. Despite what most people think, a company can be strong financially and still be a weak investment, there are simply better places to put your money today.
EQ: One major question swirling right now is whether Apple will look to expand its market footprint by purchasing companies, especially now that growth opportunities in its existing market are getting harder and harder to come by. Do you think Apple should continue to think big and look into buying a major player in a new market? Or does the company benefit more from trying to solidify its current market position and use its cash for dividends and buybacks?
Bhandari: It depends on the level and type of integration that Apple embarks on. Any serious vertical integration would likely be shot down by the justice department, so that's essentially out of the questions. Horizontal integration, like they did with Beats music, is more likely. The expansion into other markets will increase revenue, but decrease margins over time in my opinion, this is such a common effect that we actually have a name for it, the conglomerate discount. Eventually a company becomes so large that they simply don't have enough investment opportunities to engage in. When this happens to a tech company, they build up a tremendous amount of cash, can't figure out what to do with it, and then engage in either dividend payouts or share buybacks to appease shareholders. Sound familiar? Apple has hit this stage, and I think it would be best for them to stay in it and consolidate, not expand outwards. The disconnect between their investors and what the company actually is isn't their problem, they could take a note from Amazon and Bezos on that.
EQ: So, if Apple starts a new round of buybacks and dividend increases, is that going to make the stock more attractive to you? Assuming you interpret that as a sign that management is eschewing major horizontal expansion. Or do you really need that share price to come down before you would see this as a good investment?
Bhandari: I would need the share price to come down significantly before I consider it to be a good growth investment, and a little for it to be a solid value investment. The logic here is that the stock has fundamentally changed from a growth company to a value company, but it is still moving and being treated like a growth stock. This will change as the market realizes the fundamental shift in the company strategy, but it's sure taking a long time. The dividend and buyback strategy is strong enough that a small drop in price would make it a good value hold, but to be a growth stock it would need a really significant fall, similar to the one sustained a few years ago.
To get the FREE full report on Apple (AAPL) including the full analysis and price target, go to www.equities.com/research
DISCLOSURE: The views and opinions expressed in this article are those of the authors, and do not represent the views of equities.com. Readers should not consider statements made by the author as formal recommendations and should consult their financial advisor before making any investment decisions. To read our full disclosure, please go to: http://www.equities.com/disclaimer