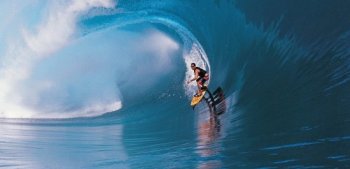 Last month I shared that I saw a fully overbought market and was sitting with a portfolio that had just surged higher. Despite thinking we had a great looking portfolio, my experience told me we had a pullback coming, and in this column I suggested any trading accounts should raise some cash. How quickly fear levels can rise! Over the last couple of days I have put money back to work and reduced our cash holdings from an extraordinary level of over 60% to now only 12%. Yes – I see another wave coming in – maybe even a "high tide".
I try not to get caught up in the noise that day traders thrive on. Instead, I simply use The Magnet® Stock Selection Process to identify the best companies, and use the intermediate swings to trade around positions. I try to buy the dips and sell the rips…not be influenced by what is being said in the media on any given day.
The current conditions look ready- I am set for another wave to take us higher. The sun is coming out- let's see if it shines on our portfolio!
Note: I use my own Magnet® Stock Selection Process to assess companies. I am not an analyst, nor do I make buy or sell recommendations. I always suggest investors do their own research.
By Jordan Kimmel, Chief Investment Officer at Investview, Inc. (INVU). Jordan can be reached jkimmel@investview.com. This email address is being protected from spambots. You need JavaScript enabled to view it. or 732-380-7271
DISCLOSURE: The views and opinions expressed in this article are those of the authors, and do not represent the views of equities.com. Readers should not consider statements made by the author as formal recommendations and should consult their financial advisor before making any investment decisions. To read our full disclosure, please go to: http://www.equities.com/disclaimer