The World Health Organization estimates that there are 47 million people globally suffering from dementia. This number is projected to increase to 75 million by 2030 and to 132 million by 2050. There are nearly 10 million new cases every year, or about one every three seconds. The total global societal cost of dementia in terms of direct medical costs, direct social costs and the costs of informal care was estimated to be $818 billion in 2015, according to Alzheimer's Disease International, and is expected to surpass $1 trillion next year and be a $2 trillion disease by 2030. If global dementia care were a country, it would be the 18th largest economy in the world.
We follow numerous companies who are in the clinic with candidates to treat Alzheimer's - the most common form of dementia, accounting for 60% to 80% of all cases - and other neurodegenerative and neurodevelopmental diseases. Today we examine Anavex Life Sciences (Nasdaq: AVXL), whose lead compound, Anavex 2-73, is undergoing clinical studies in Alzheimer's disease, Parkinson's disease and Rett syndrome, among other indications.

Source: Anavex Life Sciences website

Anavex also has multiple programs at the preclinical stage targeting a variety of cancers as well as acute and neuropathic pain.
Sigma-1 Receptor and Anavex 2-73

Companies developing treatments for Alzheimer's, and the investors who support them, know the grim fates of the companies who have preceded them. Alzheimer's remains an elusive target, and the FDA hasn't approved a new medication for it in 14 years - and all of those are just symptomatic treatments of course, not a cure. There still is no consensus on the disease pathway after decades and billions of dollars of research, and we are encouraged whenever we see a company pursuing a new approach.
Anavex is targeting the Sigma-1 receptor, which is one of a group of intracellular proteins that has been shown to modulate a variety of processes directly related to cell survival and function. Anavex 2-73 is designed to be a true disease treatment for Alzheimer's and other neurodegenerative disorders, rather than merely a symptomatic treatment, by binding to the Sigma-1 receptor and activating it to produce beneficial effects including the reduction of oxidative stress and inflammation, calcium regulation and other processes related to homeostasis - or restoring the body's equilibrium and stability.
The company recently completed a Phase 2a trial of Anavex 2-73 in patients with mild to moderate Alzheimer's disease, showing a favorable safety and bioavailability profile and dose response curve. Secondary endpoints have shown supportive data on exploratory biomarker, cognition and function measures. Preclinical studies of Anavex 2-73 have demonstrated its potential as an actual treatment to halt or reverse the course of Alzheimer's disease through restoration of the body's homeostasis. It has also exhibited anticonvulsant, anti-amnesic, neuroprotective and antidepressant properties in animal models, indicating its potential to treat additional central nervous system disorders, including epilepsy.
---
---
Rett Syndrome and Parkinson's Disease
Anavex 2-73 has Orphan Drug Designation by the FDA for Rett syndrome, a rare genetic disorder that affects the way the brain develops. Most babies - almost exclusively girls - with Rett syndrome seem to develop normally at first, according to the Mayo Clinic, but beginning at about 6 months of age until about 18 months, they start to lose skills they previously had, such as the ability to crawl, walk, communicate or use their hands.
The Michael J. Fox Foundation for Parkinson's Research has awarded Anavex a research grant to fully fund a preclinical study of Anavex 2-73 for the treatment of Parkinson's disease. If successful, the results would justify moving ANAVEX 2-73 into human trials for Parkinson's.

Upcoming Milestones

In its corporate update earlier this month, Anavex highlighted these planned objectives to investors:
Report pharmacokinetic (how the body processes a drug) and pharmacodynamic (how a drug affects the body) data from Alzheimer's Phase 2a clinical trial.
Initiate Phase 2 clinical trial in Rett syndrome.
Initiate Phase 2/3 clinical trial in Alzheimer's disease (6/12-month, randomized, double-blind, placebo-controlled).
Potential for several clinical read-outs in 2018.
Highlighting the novel approach that Anavex has been taking, President and CEO Christopher Missling, PhD, stated, "We look forward to initiating these placebo-controlled clinical trials. The respective trial designs are based on broad genomic and biomarker characterization, pharmacokinetic and pharmacodynamic modeling including data from patients in previous Anavex 2-73 trials, as well as preclinical translational science. To our knowledge, this is the first use of this approach in the design of clinical trials for Alzheimer's disease, Parkinson's disease and Rett syndrome, and marks a shift towards advancing implementation of precision medicine for these and other neurodegenerative and neurodevelopmental diseases."
AVXL Stock

AVXL was uplisted to Nasdaq in October 2015 from the OTCQX, and investors have had a volatile ride as one might expect for any company pursuing Alzheimer's disease. At current prices the stock is valued at about $190 million. The company's reliance on its lead compound Anavex 2-73 is, of course, a double-edged sword, as any speed bumps in the clinic will be treated harshly and immediately by investors. On the flip side, continued clinical progress bodes well for the company's entire platform of neurodegenerative and neurodevelopmental therapeutics. We'll be watching closely for the trial progress that the company indicated two weeks ago we should expect, and, on a personal note, we'll be rooting for this company and every organization involved in the noble fight against Alzheimer's.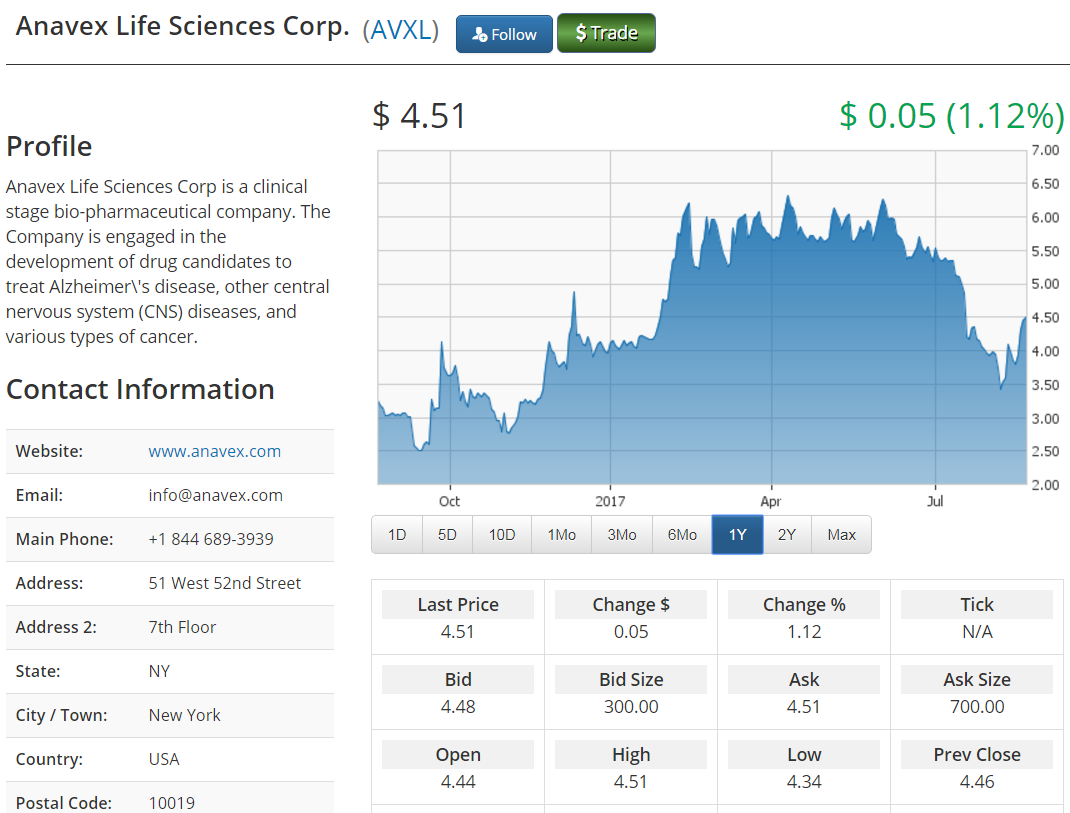 Please email us at content@equities.com to see our Case Studies and Testimonials.
Please click here for information on our new trading platform.
Please click here to subscribe to our complimentary newsletter.
DISCLOSURE: The views and opinions expressed in this article are those of the authors, and do not represent the views of equities.com. Readers should not consider statements made by the author as formal recommendations and should consult their financial advisor before making any investment decisions. To read our full disclosure, please go to: http://www.equities.com/disclaimer