An Interview with Asante Gold for a Discussion on their Kubi Gold Mine and a Disruptive New Drilling Method
Stephen L Kanaval Follow |

This week we spoke with Douglas MacQuarrie, the President and CEO of Asante Gold Corp. () (ASE:CNX)to discuss the company's mining projects and learn about the disruptive new mining technology that could rapidly decrease the company's costs and accelerate their timeline.

Equities: Please tell our readers about your company?

Douglas MacQuarrie: "Asante Gold went public in 2012 with the vision to replicate my previous success in Ghana as a founder and CEO of PMI Gold, which merged with Asanko Gold in 2014. The Obotan Gold project is a 5 million-ounce resource which is now producing 220,000 oz per year as the Asanko/Goldfields mine. PMI shareholders who purchased shares at $0.05 in tough market times in 2008 – had the opportunity to sell at 2400% gains just a few years later in 2011."

Equities: What is the primary project and its prospects?

MacQuarrie: "We have announced the purchase of 100% of the Kubi Mining Lease, which adjoins to the south of AngloGold Ashanti's 66 million-ounce Obuasi Gold Mine, one of the world's greatest orebodies. We are currently sourcing US$20 million in project-backed debt/gold financing or JV funding to complete an exploration decline and resource to reserve drilling with the object of making a near term production decision. We envisage a long life 40,000 to 50,000 oz per year, high grade underground gold mine utilizing direct shipping and toll milling to minimize capital costs and maximize project economic returns."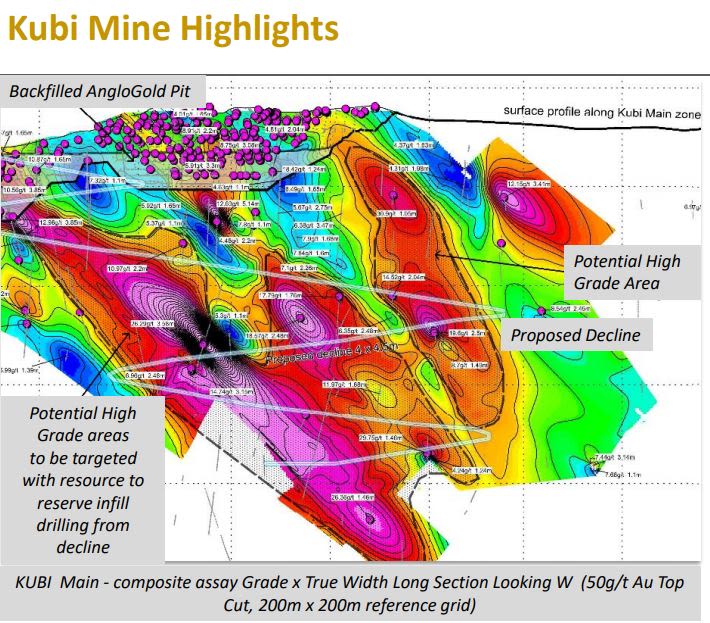 This image is from the company presentation - visible here.
Equities: That is really exciting. What other projects are in the works?
MacQuarrie: "We also hold an option to earn up to 100% of the Keyhole concessions located along strike 35 kilometers southwest of the Asanko Gold Mine, the Betenase project which adjoins to the east of Kubi and south of the Obuasi Mine, and 100% of the Fahiakoba concession located 9 kilometers west of Kubi and adjoining to the north of Perseus Mining's 6.6 million-ounce Edikan Mine. We continue to search for additional high-grade gold acquisitions given our belief that gold in the ground is highly undervalued at this time and highly leveraged to future increases in the gold price."
Equities: What are a few of the milestones you have achieved so far?
MacQuarrie: "We have completed initial drill programs on each of our exploration projects – discovering significant high grade results to 289.5 g/t at Fahiakoba, and to 27.5 g/t at Keyhole. At Betenase, wide zones of geophysical targets remain untested with initial drilling to 3.14 g/t. Each of the projects requires additional drilling programs which unfortunately have been severely limited by the dearth of junior exploration financing in the sector over the last four years."
Equities: And at the Kubi property?
MacQuarrie: "At Kubi, we have proceeded with preliminary engineering for the proposed portal, decline and other underground works to support the underground exploration and resource drilling program as we continue to source development funding."
Equities: We also read your recent press release detailing your efforts to try new mining technology, can you tell us about that?"
MacQuarrie:"Anaconda Mining is working with Memorial University of Newfoundland, which is the center of the offshore drilling industry in Canada, and they hold a lot of expertise on using these very large drill rigs. The Anaconda Mining team has essentially 'shrunk' these large, offshore mining rigs and modified the drill to tap right into the orebody. So, they started working on this with the university and they came up with a prototype that essentially is off the shelf equipment being used in a new application. They are now in the process of commercializing the technique."
Equities: How does this save the company money?
MacQuarrie: "Where it saves a lot of money in mining is due to the fact that you have to do an awful lot of tunneling - you have to do declines, shafts, crosscuts, ladder ways, escape ways - a lot of underground development work, all of which is capital intensive before you access the ore body and have cash flow. With this technique - the drill delivers the gold ore direct to the mill for immediate cash flow."
Equities: And you could actually use this rig at your property?
MacQuarrie: "For Kubi, we believe we need $15 million for our underground conventional development program. With this new method, where you set this drill rig up right on top of your ore body, drill a pilot hole, attach a large drill bit and just start drilling. This technology is much safer for the workers,would cut our capital costs in half, and we'd see immediate cash flow because this rig is in the orebody. Our Kubi ore body seems perfect for this technology."
Equities: That sounds promising. What are some of your goals for the rest of this year?
MacQuarrie: "With gold prices recently bouncing above US$1300, the economic potential of Kubi and the overall gold market have improved. We anticipate raising the necessary funding in this strong tail wind environment. Major gold analyst firms are publishing US$1440 targets for first quarter next year which should facilitate major funds rotating into the gold sector. In addition, we are highly encouraged by a new mining technology which has the potential to significantly lower mining costs and increase Kubi's potential profitability."
Equities: Thanks for your time, Douglas.
DISCLOSURE: The views and opinions expressed in this article are those of the authors, and do not represent the views of equities.com. Readers should not consider statements made by the author as formal recommendations and should consult their financial advisor before making any investment decisions. To read our full disclosure, please go to: http://www.equities.com/disclaimer
Companies