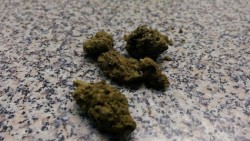 The cannabis industry is certainly a unique industry, and one that has unprecedented potential. The way prohibition is being repealed on a state by state basis is making for an interesting regulatory environment for businesses looking to operate in the space. One reason is that the federal illegality of cannabis means every state with legal medical or adult-use marijuana it's own industry entirely - with it's own laws, regulations, consumer bases, and supply/demand structures. There is also a difficulty in collecting much needed data to make decisions to navigate it. This lack of data and industry metrics in the emerging cannabis industry has resulted in an incomplete picture of the industry for business owners, investors, and lawmakers -- and less public transparency because of it.
Patients suffer from the limiting factors of marijuana prohibition on data for businesses as well. An industry that doesn't fully understand consumer trends can not as easily create a suitable supply for their customers, and in this case many of the customers are legitimate medical patients facing chronic and terminal illness.
For the sake of corporate accountability alone, the lack of industry data poses a serious threat to not just consumers and businesses, but also regulators. The inability of policymakers to understand basic metrics, such as market size and demographic preferences, naturally results in less data-driven policy, and can have negative repercussions on medical marijuana patients and the industry that serves them.
As a dispensary owner myself, I have found the lack of data in the cannabis industry to be a significant obstacle to growth. To fill this void in the industry, I created BlazeNow, a service that would connect cannabis-related businesses, patients and customers through a service similar to Yelp! By utilizing the program, users can locate and rate local dispensaries using a map interface, write reviews, and share aspects of the facility and their experiences on social media. We will also offer free management tools to dispensary owners, such as inventory tracking and social media management, in exchange for their data. This will allow us to have the first-ever real-time view into the national cannabis industry, including trends and estimated market size. We intend to use this data to improve the overall creation, health, and accountability for this new industry.
Jeremy Carr is a contributor for Equities.com, a long-time investor in the marijuana space, and a major proponent for honest business practices across the industry.
DISCLOSURE: The views and opinions expressed in this article are those of the authors, and do not represent the views of equities.com. Readers should not consider statements made by the author as formal recommendations and should consult their financial advisor before making any investment decisions. To read our full disclosure, please go to: http://www.equities.com/disclaimer