It's great to see liars get called out, and I make it no secret that the guys who shorted Amira Foods Foods (ANFI) are on the Equities hit list. If you are new to the story click here, we have been writing about the stock since these rogue cowboys took down a hard working 100-year old business. Today, they get another plank to stand on as shares are moving 25% higher on little news and good volume. Volume was 3x normal in the first hour of trading today.
The short sellers may be on my hit list (because we are small business advocates), but they are certainly in the gun sight of the company. Based on the upcoming litigation, I believe Amira Foods has the firepower to change the way short sellers establish a position on a target company.
We started writing about the stock when it was $4 per share and alerted our followers to the over sold nature of it's valuation. We identified shares being more than 100% undervalued at that time, and still see Amira returning to pre-raid levels. Trading $10.50 today means you have more upside. This is a great 2016 story to watch.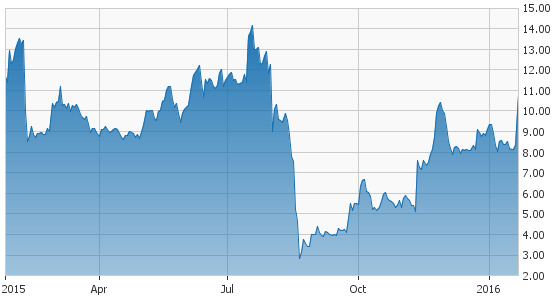 Short selling funds cannot create criminal enterprise when they go after someone. It will not stand in an era when watchdogs, politicos, and social media look to sacrifice ill gotten gains . I mean pay attention to content being created by film studios for new shows like Billions, and the target painted on the back of those Wall-Streeters makes them the villains. Amira Foods is in the right here and the unnamed short selling fund is in the wrong. Whatever money they abscond from the pockets of shareholders will be paid to lawyers or returned in fines.
The company has to make it now on returning the solid revenue numbers to regain price and valuation in a market where multiples are falling. This is the road less traveled in equities these days.
Thieves and Liars always get their day, and when this is all said and done those who did wrong (and you know who you are) will get their day in the sun. For now, they will spend the day covering the short position and trying to figure out how they can explain to counsel why they would still consider shorting this stock on its merits.
DISCLOSURE: The views and opinions expressed in this article are those of the authors, and do not represent the views of equities.com. Readers should not consider statements made by the author as formal recommendations and should consult their financial advisor before making any investment decisions. To read our full disclosure, please go to: http://www.equities.com/disclaimer