Immune thrombocytopenia (ITP) is an autoimmune bleeding disorder characterized by the abnormally low levels of platelets in the blood. According to the National Organization for Rare Disorders, the incidence ITP among adults in the US is estimated to be 3.3 per 100,000 per year, with 9.5 cases per 100,000 prevalent at any time. Although the incidence of ITP increases with age, about 40% of all patients diagnosed with one or another form of ITP are children younger than 10 years of age with the greatest incidence at ages 2 to 4.
ITP is an immune mediated disease in which the primary mechanism is platelet destruction. Antibodies are produced by the immune system and attach themself to the platelets, marking them for destruction. Common symptoms may include bruising, bleeding and fatigue. People suffering with chronic ITP live with an increased risk of bleeding events that may result in serious medical complications or even death. People living with chronic ITP do not know when their platelet counts may drop.
Source: Rigel Pharmaceuticals
Rigel Pharmaceuticals (Nasdaq: RIGL) announced today that the American Journal of Hematology has published positive results from the Phase 3 clinical trial of Tavalisse (fostamatinib disodium hexahydrate), which the FDA approved on April 17, 2018, for the treatment of adults with chronic ITP. The study, "Fostamatinib for the Treatment of Adult Persistent and Chronic Immune Thrombocytopenia: Results of Two Phase 3, Randomized, Placebo-Controlled Trials," is available on the journal website.
Tavalisse is an oral tablet that works by inhibiting the body's spleen tyrosine kinase (SYK) pathway, a key signaling component in the body's immune process that can lead to platelet destruction in ITP patients.
These data demonstrate that Tavalisse offers the potential for a rapid, robust and durable platelet response, which is why we are excited to soon make it available to the population of patients in need of alternate treatment options. Tavalisse is the first approved treatment option that targets the SYK pathway, which is the main pathway involved in platelet destruction in ITP.
– Anne-Marie Duliege, MD, Chief Medical Officer, Rigel Pharmaceuticals.
Rigel is developing a pipeline of novel small molecule drugs to treat immune and hematologic disorders, cancer and rare diseases. Rigel's pioneering research focuses on signaling pathways that are critical to disease mechanisms. The company's clinical partners include BerGenBio, Aclaris, Daiichi Sankyo, Bristol-Myers Squibb and AstraZeneca.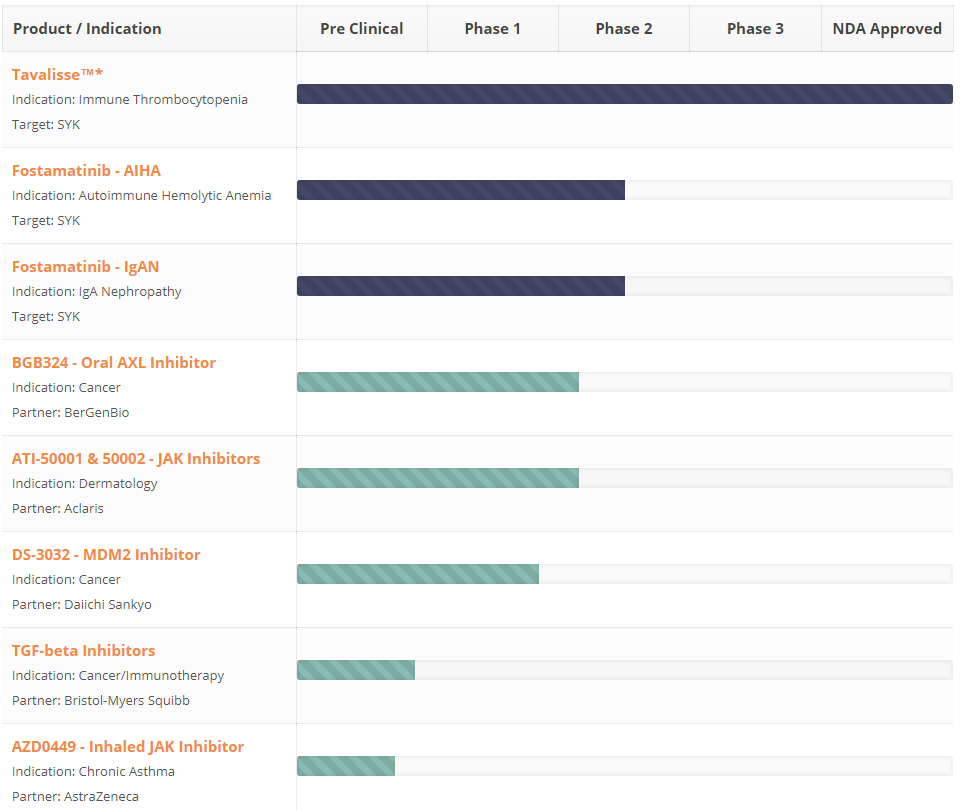 Rigel raised $62 million in gross proceeds in a follow-on offering on April 19, 2018, at $3.90 per share. As of this writing, the stock is trading at $3.67 with a post-money market cap of about $600 million. Though the market may have to wait a bit for the next clinical milestone, we believe the shares may represent good value at these levels.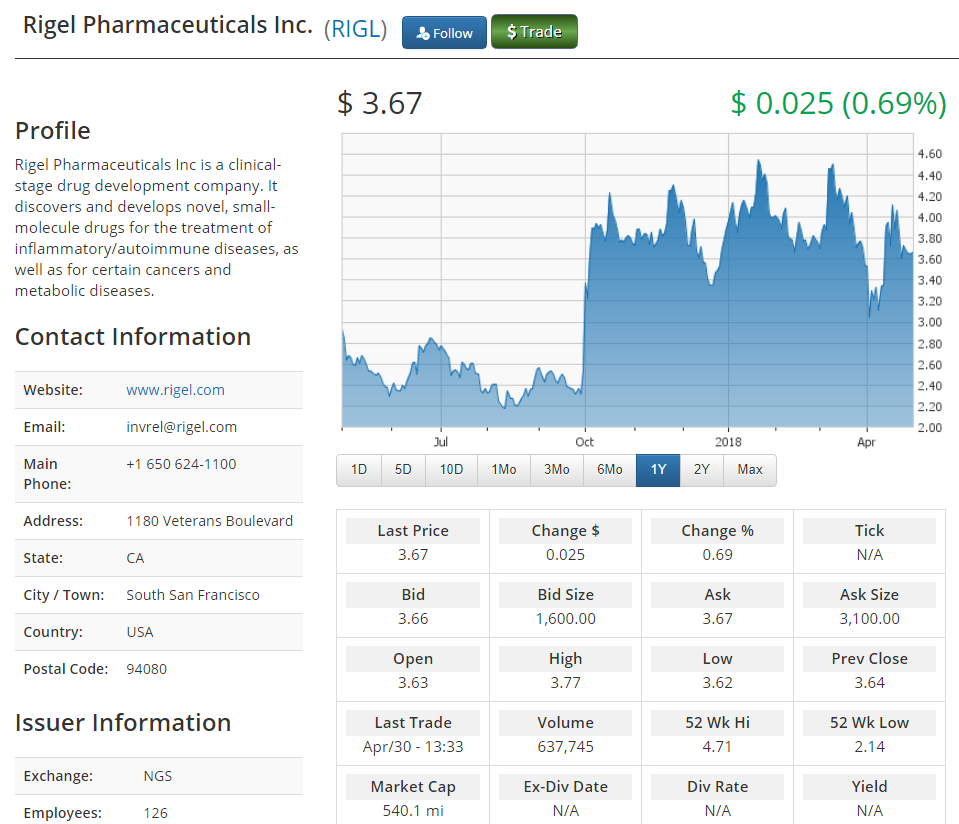 Please email us at [email protected] to see our Case Studies and Testimonials.
Please click here for information on our new trading platform.