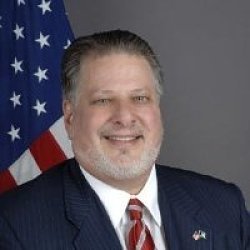 The early mover advantage in the cannabis industry today is unlike that of any opportunity the majority of investors have ever seen in their lifetimes. The absence of big business thus far has left the door wide open for upstarts to establish their footing as the household names of tomorrow as the households of today wait on the sidelines. But while the playing field was left wide open for upstarts, the industry's lack of established players with the resources and know-how did create a period of instability.
Having learned some hard lessons over the past two years, the industry is better positioned now with a firmer foundation of professionalism and discipline that just wasn't there before. Ambassador Ned L. Siegel is a prime example of the caliber of leaders that have come into the cannabis space.
In addition to having over four decades of experience as a successful real estate entrepreneur, he served as U.S. Ambassador of the Commonwealth of the Bahamas, as well as a U.S. Representative to the United Nations, and was appointed to the Board of Directors of the Overseas Private Investment Corporation by President George W. Bush. In January, Siegel was named Chairman of Medbox, Inc. (MDBX), which was at the forefront of the cannabis bull market and subsequent correction, to help guide the company's turnaround in a post-hype environment.
As part of our Future of Cannabis coverage, Equities.com had the privilege to speak with Ambassador Siegel on the cannabis industry's window of opportunity, importance of shareholder communication and transparency, and what it takes to succeed long term in an industry with such compelling growth prospects.
EQ: You have an illustrious background in both business and politics. What are the opportunities in the cannabis space that attracted you to this market?
Amb. Siegel: The allure of this market is that it's very much in the beginnings of becoming a structured industry. It's amazing because it is already a $3 billion-plus industry and really has no brands. That's because there's this still a dichotomy between the federal and state level. On the federal level, marijuana is still on Schedule 1 and illegal, but from a state level, it is regulated accordingly.
But to me, as a real estate developer and as someone who's been in business for 40 years, it's really like building a startup company or a dot-com company. If you know how to finance and focus your company, and you have good management, a good board of governance, and be responsible to your shareholders as a public company to build value, the opportunities have just opened up. You have to take the hype out of this industry and look at real revenues and real metrics like in any other company and that is what's happening. As you see we're in that metamorphosis as well.
EQ: We've seen a lot of promising developments as well as some growing pains along the way in the early stages of the legalized cannabis space. You've navigated through many emerging trends and markets in your experience. Is what we're seeing in the cannabis space like anything you've seen before?
Amb. Siegel: It's very unique. It has the basic principles of any business but the fact that it is still on Schedule 1 while states are providing their own specific regulation makes it a very unique situation. Everybody likes to compare it to Prohibition, but even then it's a little different. As the industry grows and as it ultimately becomes regulated and taxed, banks and other financial institutions will be able to enter this market. Transfer agents won't be afraid to deal with the trading of shares and so on. All of these different factors, even down to how you bank in this industry, makes it very different and unique.
A lot of critics say it's like the Wild West. It's not. You have to really take into account what state you're operating within, their specific rules and regulations, and really pick the market you want to be in. This is true whether it's dispensing, cultivation, edibles, extraction, lighting or some other type of collateral industry. You have so many components that make the business, it's truly an industry that is bursting at the seams.
The problem was that there was a lot of hype, but now that the hype has gone away, people are going to look at the metrics and the revenues of each company to assess the potential of the company. You will hear often that a good majority of the businesses that are out there today will not be around in two or three years for a lot of different reasons. But ultimately, this is going to continue to be a growth industry because it already was an industry and has been for decades. We're now bringing it "from the dark into the light."
EQ: There is a sense that the legitimate cannabis market should be further along than it is right now, but because of some of the stigma, it's not being supported by the traditional resources such as banks, law enforcement, and others like other industries. How much has this issue of past perception been held back the growth of the legitimate industry?
Amb. Siegel: It's actually a political issue at the top level. What you see in individual states is that it's a social issue. It is not a political issue. Many referendums, whether it would be in the medical or recreational marijuana side, are being supported because candidates today cannot win unless they support them in some qualified manner. The stigma of cannabis is something that is being dealt with. I think that we're closer to getting over that hurdle than further away from it. It has to have regulation in a unified manner through the interstate commerce clause and it will. I think that as more and more states approve it—we're at 23 now—it becomes a tipping point when legislators on Capitol Hill will look at it and realize that they have to deal with it on a federal level.
No one can anticipate the timing in that. Senator Bernie Sanders recently put in a bill, and there are other advocates on the Hill looking to push this forward for a variety of reasons. So it will happen. It's a question of timing and the comfortability as the momentum continues.
What's important is when you have more accountable companies with good governance, good management and that provide real products in the industry it helps to take away that stigma.
EQ: Big business, for reasons you mentioned, have kept their hands off the cannabis space. This has to some degree been a disadvantage as well as an advantage for early entrants in this market. There is an opportunity for upstarts to really establish an early foothold. How long do you see this window staying open? How quickly do companies currently in this industry have to act?
Amb. Siegel: This is exactly the opportunity that allows many people, many companies to be in this space. That changes the minute it goes to Schedule 2 and institutional and private equity community can invest because that will change the whole paradigm of the equity markets. When that happens, the entire landscape changes. It's always the question of having a vision over the horizon as to where you understand you are today and where you need to be tomorrow when certain events happen so that you can continue to grow your business in a way that the financial, regulatory, and political environments allow you to do so. If you dont understand all the aspects and potential of the cannabis industry you will be left behind.
EQ: Under its surface, the cannabis industry is actually a gigantic ecosystem with many industries within the industry. You have real estate companies, agricultural companies, technology companies and more. It's very rich ground. How do you approach a market like this when there's so many ways to play it?
Amb. Siegel: Each company has to have its focus on who it wants to be, knowing what its model is, what its strategy is, and how to execute on that strategy. It's important to make sure it has the financial resources to accomplish its goals and that it has the discipline to live within its budgets. We, like anybody else, measure risk. Nothing goes to according to plan and you have to have the flexibility to improvise and adapt. I think everybody needs to really take heed of the fact that there's a tremendous amount of landscape and today it's no different. You really need to have people with boots on the ground in your organization to understand what's going on today in an industry that is still defining itself.
EQ: As you mentioned earlier, in the fluid environment such as the cannabis space, trends and economic realities do shift. Medbox itself is going through its own transition. You know first-hand how crucial it is for companies and management to be nimble and flexible. What are some ways that you've been able to do so that really helped you survive that post-hype environment?
Amb. Siegel: The past year has been a very interesting year for Medbox because we had to deal with a tremendous amount of legacy issues. Without going into detail, we had really three pathways. We have a responsibility to our shareholders to communicate to them and let them know where we were, where we are and where we plan to go. There were the legacy issues dealing with restatements of revenue recognition. We had to deal with class action suits and derivatives, which we have now settled. We had to deal with preferred voting rights. We had to deal with a tremendous amount of legacy issues.
When I came on board, Medbox was a company that dealt a dispensing system. We've moved away from that and began to focus on applying for licenses, bringing in the best operators, having management consulting contracts, and acquiring hard assets. We recently announced that we purchased 320 acres in Pueblo, Colorado where we've received all of our licenses to grow hemp inside seven greenhouses around 38,000 square feet. We'll grow somewhere between 5,000 and 10,000 plants depending upon how large we want to grow those, the initial hemp.
So to answer your question, you have to again be focused on things you know you can execute. If you can't plan out from the beginning to the execution, and you just start and hope you can figure it out, you're not going to be successful. You also have to be very realistic on being able to grow a company based upon the resources and assets that you have, especially in a young industry to make sure that as a public company, you can produce what you say you're going to produce. It's all about trust and consistency so that when you say something, people believe it.
EQ: After the 2014 correction in the cannabis market, a lot of investors probably felt burnt. Do you get a sense that the companies still in this space have learned a lesson in the importance of communicating more transparently shareholders?
Amb. Siegel: It's not just important. It's essential and critical to do so. We have a responsibility to the shareholders because they have given us their trust to operate the company. At Medbox, we have been very careful and have a very strict set of requirements that when we do put out an 8-K or a press release that it's based upon pure facts. We are very sensitive to the fact that we as the new independent Board came in having to deal with what we dealt with, and try to take away the upset and anger from those that were affected. But we also let them know that there are real professionals at the table now running the company. So it's something that is on the forefront of our minds every day, and we make sure with sensitivity to respond and answer the best way we can within the confines of public information or the SEC regulations.
EQ: What advice do you have for investors looking at this market?
Amb. Siegel: I think the important thing that everybody needs to do in this industry is to do their due diligence. Look at the character of the people involved and their history in the company that they are running. So many people want to invest in this industry and think that it is a quick way to make a lot of money. I would say to be careful of anything that looks too good, too fast. It comes down to really good management, trust, credibility and people who know how to run companies and have the experience. You're going to have those that rise to the top and those that are left behind. Again, it is a new industry. It is a growing industry. It is an industry that really doesn't even have brands yet, but it will.
Like in any new opportunity, the ones that survive typically share a common thread. They have good management. They have financial capability and money behind them. They have a great business plan.
There are no secrets to success.
You can read more from our special program The Future of Cannabis here. To find out why Equities.com and Viridian Capital Advisors launched this program, be sure to read What is The Future of Cannabis? This program was made possible by the support of our sponsors. Click here for a full list of our sponsors.
DISCLOSURE: The views and opinions expressed in this article are those of the authors, and do not represent the views of equities.com. Readers should not consider statements made by the author as formal recommendations and should consult their financial advisor before making any investment decisions. To read our full disclosure, please go to: http://www.equities.com/disclaimer