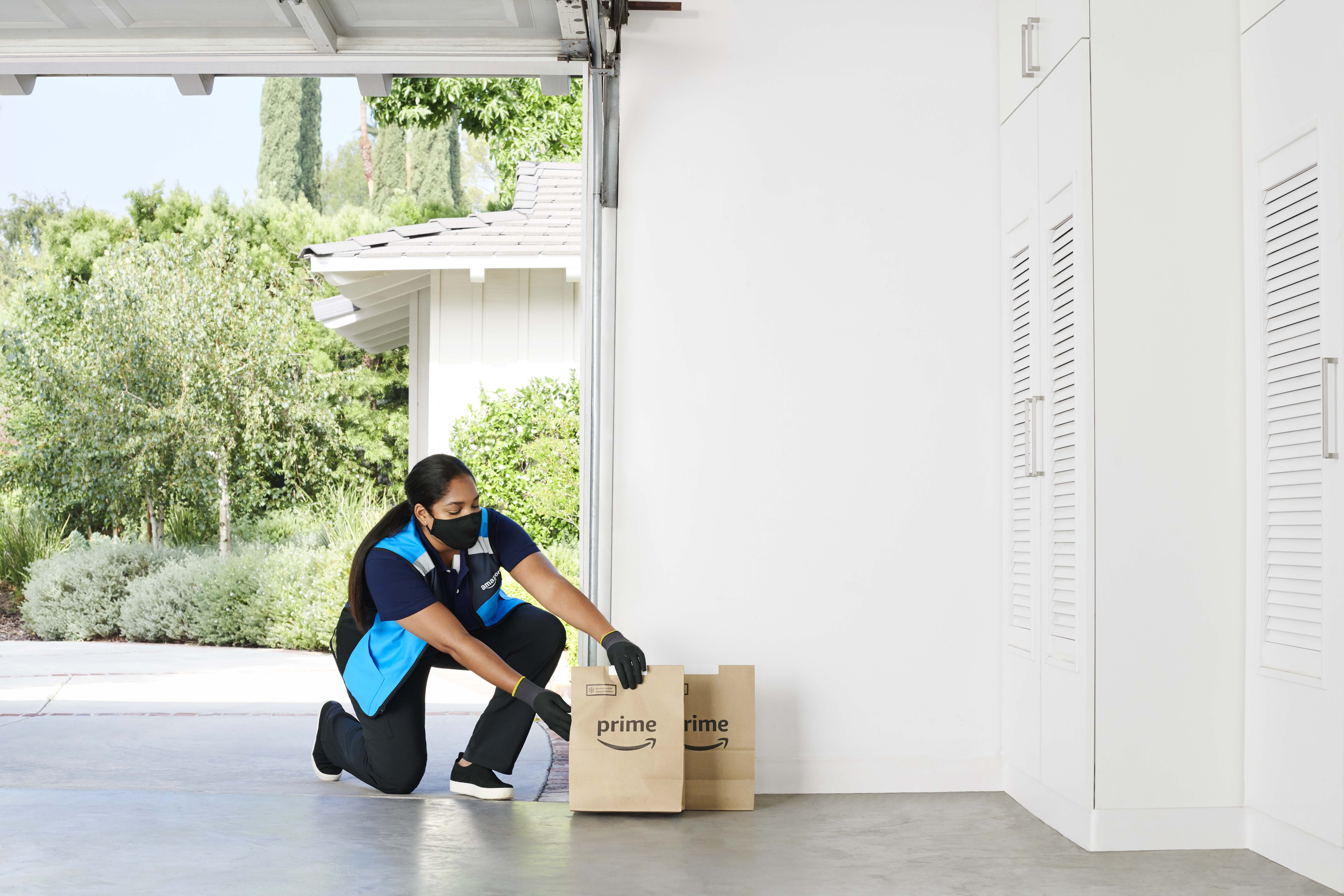 Image source: Amazon.com
Amazon.com Inc's (Nasdaq: AMZN) Prime customers in over 5,000 cities and towns across the US will now be able to have groceries delivered inside their garage.
On Tuesday, the e-commerce giant announced it is expanding its Key by Amazon garage grocery delivery service, which originally launched last November as a pilot program in Chicago, Dallas, Los Angeles, San Francisco and Seattle.
The offering is part of Amazon Key, the company's array of services that enable delivery drivers to leave packages in homes, cars, garages and businesses. Key was initially launched in April 2019 and expanded last year to include grocery delivery.
Key by Amazon enables eligible Prime subscribers with compatible smart locks or smart garage openers to receive grocery deliveries from Amazon Fresh or Whole Foods Market inside their home at no additional cost.
Those who opt in will share temporary access with their delivery person, enabling them to open a door or garage, drop off groceries and then lock up afterward.
In a press release, Pete Gerstberger, head of Key by Amazon, said, "Customers who tried Key In-Garage Grocery Delivery have loved the service, which is why we're expanding it to everywhere Amazon offers grocery delivery."
"As customers look for more convenience in their daily lives, we're excited to deliver another service that not only helps them save time, but provides peace of mind knowing that tonight's dinner is safe in their garage and out of the weather," he stated.
The expansion follows recent survey data that shows the online grocery delivery trend may outlast the COVID-19 pandemic because customers said the service was a time saver.
In a Morning Consult survey commissioned by Amazon, 54% of Americans said convenience was the most important benefit of grocery delivery, and 70% reported that it was beneficial when they do not have time for a trip to the supermarket.
Amazon greatly expanded its footprint in the grocery sector when it acquired Whole Foods in 2017. Besides creating its own grocery stores, like Amazon Go Grocery and Amazon Fresh, the retailing giant has been expanding its online grocery delivery service.
As the COVID-19 pandemic has prompted more customers to try ordering food online, Amazon's e-grocery sales tripled year-over-year in the second quarter of 2020 and continued to accelerate in the second half of last year.
On Tuesday, Stephenie Landry, Amazon's vice president of grocery, said this expansion demonstrates the company's "commitment to continually innovate to make the experience of ordering groceries online even better for customers."
_____
Source: Equities News