We've been following a Seattle-based company called Alpine Immune Sciences ALPN that has been developing immune therapeutics for autoimmune and inflammatory diseases and for cancer. The company announced preclinical data presented today at the Society for Immunotherapy of Cancer (SITC) 33rd Annual Meeting in Washington, DC, supporting the proposed mechanism of action of its ALPN-202 candidate for cancer via activation of the immune system in a differentiated way from current checkpoint therapies. Currently available immuno-oncology treatments appear to only help a small portion of patients, and the company believes that checkpoint inhibition must be accompanied by T-cell costimulation in order for therapies to be effective for a broader patient population.
The preclinical study evaluated the anti-tumor responses of ALPN-202 compared with durvalumab (FDA-approved and marketed as Imfinzi by AstraZeneca AZN for non small cell lung cancer) in mice implanted with human PD-L1 transduced tumors (MC38 colorectal cancer model). Results showed that ALPN-202:
Produced dose-dependent anti-tumor responses, including potent single-dose activity
Induced a greater tumor inflammation gene signature than durvalumab
Induced increased T cell infiltration and T cell-related effector gene signatures compared to durvalumab
Promoted both increased T cell receptor clonality and richness, consistent with ALPN-202's proposed multiple mechanisms of action
ALPN-202 is differentiated from currently approved checkpoint inhibitors by providing T cell costimulation in addition to dual checkpoint antagonism. We believe that the provision of costimulation, such as via CD28, will be critical to improving response rates during checkpoint inhibition. In this way, ALPN-202 could result in superior monotherapy efficacy over single or even dual checkpoint antagonists. We anticipate initiating human clinical trials of ALPN-202 for the treatment of advanced malignancies in the fourth quarter of 2019.

– Stanford Peng, MD, PhD, EVP of Research and Development and Chief Medical Officer, Alpine Immune Sciences.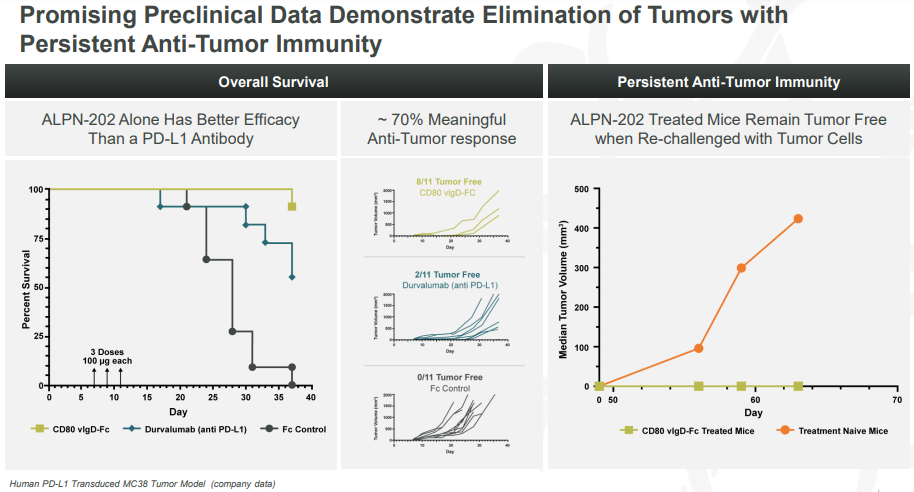 Source: Alpine Immune Sciences
The company was founded in 2015 by former Dendreon CEO Mitchell Gold, MD, who seeded the company with $1.3 million through his investment firm, Alpine BioVentures. Readers may recall that Dendreon achieved FDA success with Provenge (sipuleucel-T), a prostate cancer treatment that was the first approved immunotherapy made from a patient's own immune cells. Though Provenge sales ultimately proved to be disappointing, with Dendreon's assets subsequently acquired by Valeant, Dr. Gold deserves credit for shepherding Provenge through the FDA gauntlet.
We first took notice of Alpine when, in October 2015, it signed a collaboration and license deal with Kite Pharma, now part of Gilead GILD. Alpine received $5 million upfront from Kite and is eligible to receive up to $530 million in research, clinical, and regulatory milestone payments. At the time of the deal, Arie Belldegrun, MD, FACS, Kite's founder and CEO and currently Allogene Therapeutics' ALLO Executive Chairman and co-founder, expressed Kite's belief that Alpine's technology "can be incorporated into engineered T cell therapies to advance CAR and TCR product candidates into multiple tumor types." That deal was subsequently extended in October 2017.
Alpine raised $48 million in Series A financing in 2016, led by OrbiMed Advisors, with participation by Frazier Healthcare Partners and Alpine BioVentures. Alpine became public through a 2017 merger with Nivalis Therapeutics, with the surviving entity continuing as Alpine Immune Sciences, and the company has been making progress toward human clinical trials. In addition to ALPN-202, the company said that its other candidate, ALPN-101, is on track to begin human trials in Q1, 2019, for autoimmune and inflammatory diseases.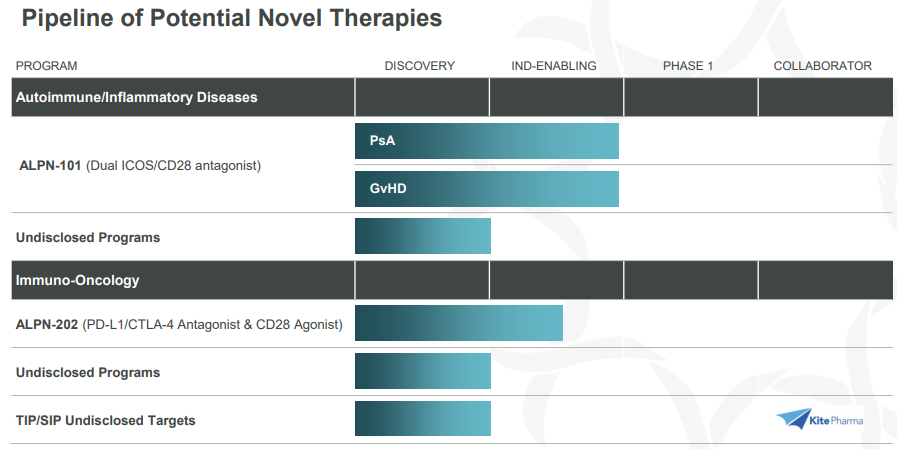 Source: Alpine Immune Sciences
While the current stock price may reflect investors' impatience with the pace of progress, we think Alpine represents a modest risk, at a mere $67 million market capitalization, to participate in the potential upside of a novel multi-pronged approach to cancer therapy. The company has $62 million in cash, equivalents and short term investments, which Alpine says is sufficient to fund operations into 2020. We're encouraged by Dr. Gold's previous success with getting an immunotherapy approved by the FDA, and by the support of investors like OrbiMed and Frazier, and we think Alpine merits the attention of long-term investors who appreciate the risks inherent in early stage biotechnology.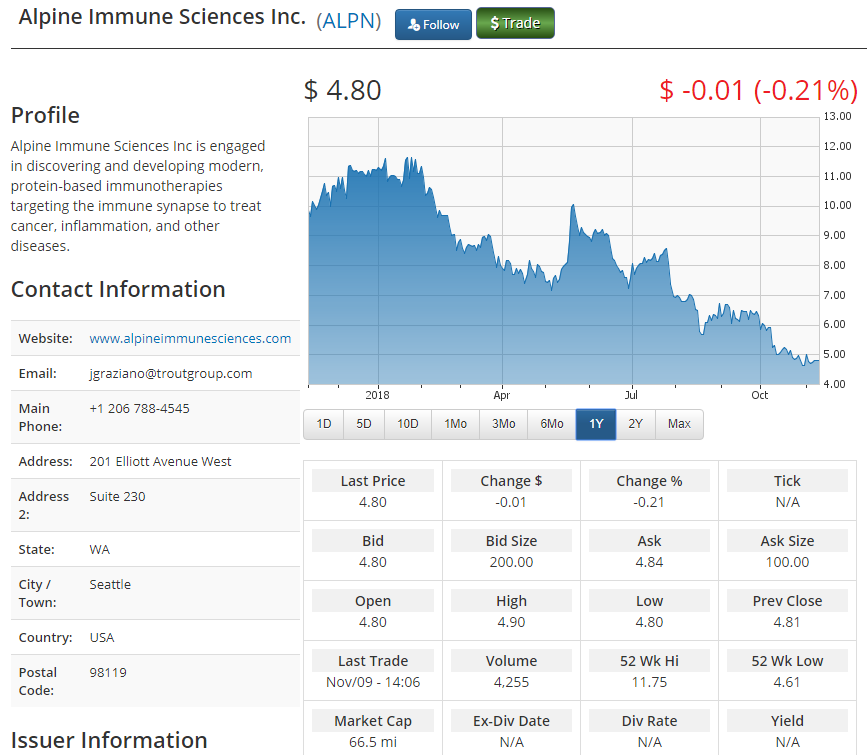 Please email us at [email protected] to see our Case Studies and Testimonials.
Please click here for information on our new trading platform.
Please click here to receive our free daily newsletter.