We discussed Alpine Immune Sciences ALPN previously in this space, when the company announced positive preclinical data for its lead oncology asset, ALPN-202, at the 33rd annual meeting of the Society for Immunotherapy of Cancer (SITC) in November 2018. The company has since released positive data for its lead candidate in autoimmune and inflammatory diseases, ALPN-101, which showed promising efficacy in preclinical models of acute graft versus host disease (GvHD) and hemophagocytic lymphohistiocytosis (HLH), at the American Society of Hematology's 60th annual meeting in December 2018.
This morning, Alpine announced that it has signed an agreement for a private placement of about $25.3 million in gross proceeds via units of common stock and warrants, led by Decheng Capital with participation from existing investors OrbiMed, Frazier Healthcare Partners, Alpine BioVentures and BVF Partners. The company's CEO, Mitchell Gold, MD, is the founder and managing partner of Alpine BioVentures.
While there is no Form 8-K on file yet with the SEC as we go to print, the company disclosed in its press release that it's selling about 4.7 million units at $5.37, with each unit consisting of one share of ALPN common stock and one five-year warrant to buy 0.39 share of common stock at an exercise price of $12.74, about a 115% premium to yesterday's closing price. The price per unit was based in part upon the average of the last five closing prices of ALPN.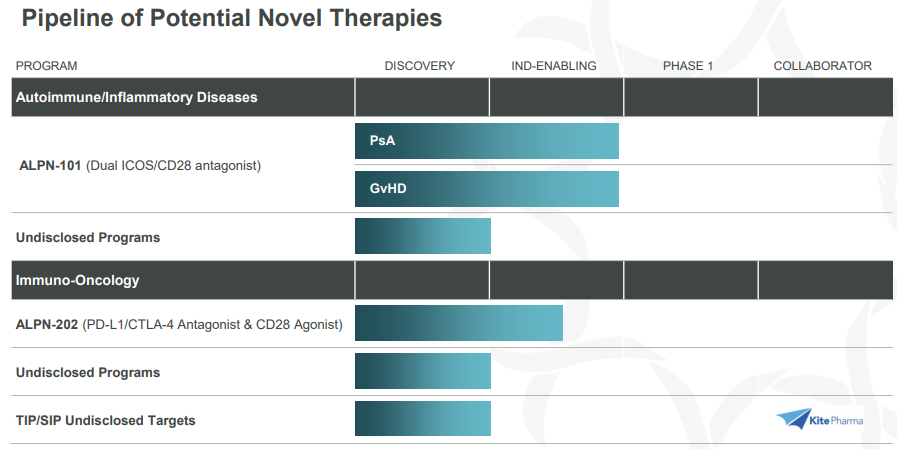 Source: Alpine Immune Sciences
ALPN-101 preclinical data presented at 60th annual ASH meeting
Alpine's lead compound is an antagonist of both ICOS (inducible T-cell costimulator) and CD28, immune system checkpoint molecules that are engineered to reduce pathogenic immune response. ALPN-101 has been shown in preclinical models to significantly improve survival in GvHD. GvHD is a life-threatening disease in which donor T cells attack recipient tissue following an allogeneic stem cell transplant.
Notably, the preclinical data presented at the ASH meeting showed that ALPN-101 enhanced survival and suppressed disease activity in GvHD after administration of only a single dose. The compound also demonstrated superior efficacy to belatacept [marketed as Nulojix by Bristol-Myers Squibb BMY ], a CD28 pathway inhibitor, in survival and disease activity.
I'm excited about the potential of ALPN-101 in GvHD given its dual CD28/ICOS mechanism of action. Early biomarker development could identify patients at risk, specifically early quantification of ICOSL [ICOS ligand] + Plasmacytoid Dendritic Cells frequency may allow for identification of patients at risk of gastrointestinal [manifestations of GvHD] and support ALPN-101 as an early intervention in this patient population.

– Sophie Paczesny, MD PhD, Professor of Immunology and Pediatrics at Indiana University School of Medicine and lead of the Biomarkers Stem Cell Transplantation Program.
Alpine also presented data on ALPN-101 in a preclinical model of HLH, a rare, life-threatening inflammatory disease in which the body produces an excess of activated immune cells including T cells and macrophages. The compound was shown to reduce CD4+ T cell activation and liver inflammation in HLH, while not appearing to affect the activity of viral-specific T cells directed against lymphocytic choriomeningitis virus (LCMV), the virus used to induce the model.
ALPN-101 clearly reduces inflammation in these models, but importantly the activity of viral-specific T cells was preserved, suggesting ALPN-101 may reduce pathogenic, but spare desired, immune responses.

– Kim Nichols, MD, Director of the Cancer Predisposition Division, St. Jude Children's Research Hospital.
Investment issues to consider
ALPN stock has bounced from its Christmas lows and is trading at $5.75 at mid-afternoon today. Even with the recent strength, the stock is still trading at about half its value of a year ago. While it's still at a very early stage of development, the price cut over the past year seems excessive given the promise of the pipeline, and we believe that investors in the latest private placement have found good value at $5.37 per unit. Readers who have followed Alpine since it went public in 2015 will recall that the stock, traded north of $80 in Q3 2015, adjusted for the 4-for-1 split in 2017.
Dr. Gold has successfully managed the FDA gauntlet in his previous life as CEO of Dendreon, whose Provenge (sipuleucel-T), a prostate cancer treatment, was the first approved immunotherapy made from a patient's own immune cells. Although sales of Provenge ultimately disappointed, with Dendreon's assets later swallowed by Valeant, now Bausch Health BHC, we view Dr. Gold's previous regulatory experience purely in a positive light.
We're encouraged also by Alpine's ongoing collaboration with Kite Pharma, now part of Gilead GILD, to develop protein-based cancer immunotherapies targeting the immune synapse, or the space between immune cells. Alpine is eligible to receive up to $530 million in research, clinical, and regulatory milestone payments from Kite, and, when the deal was signed, Arie Belldegrun, MD, FACS, Kite's founder and CEO and currently Allogene Therapeutics' ALLO Executive Chairman, said that Alpine's Transmembrane Immunomodulatory Proteins (TIP) and Secreted Immunomodulatory Protein (SIP) technologies would be "incorporated into engineered T cell therapies to advance CAR and TCR product candidates into multiple tumor types."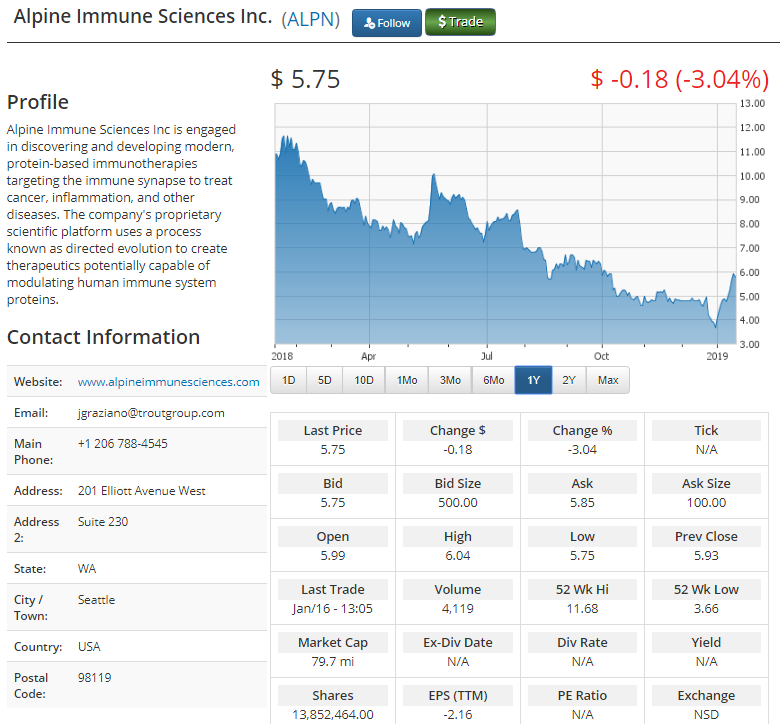 Please email us at [email protected] to see our Case Studies and Testimonials.
Please click here for information on our new trading platform.
Please click here to receive our free daily newsletter.