Eosinophils and mast cells are types of immune cells that are involved in acute and chronic inflammation. They're found in tissues at the internal-external interfaces of the body, in particular at mucosal surfaces, surrounding blood vessels and peripheral nerves. They produce a broad range of compounds that mediate the body's inflammatory response, including vasoactive amines, bioactive lipids, proteases, cytokines and chemokines. As a result, eosinophils and mast cells are key drivers in a number of diseases including gastrointestinal, ophthalmic, dermatologic, respiratory and proliferative diseases.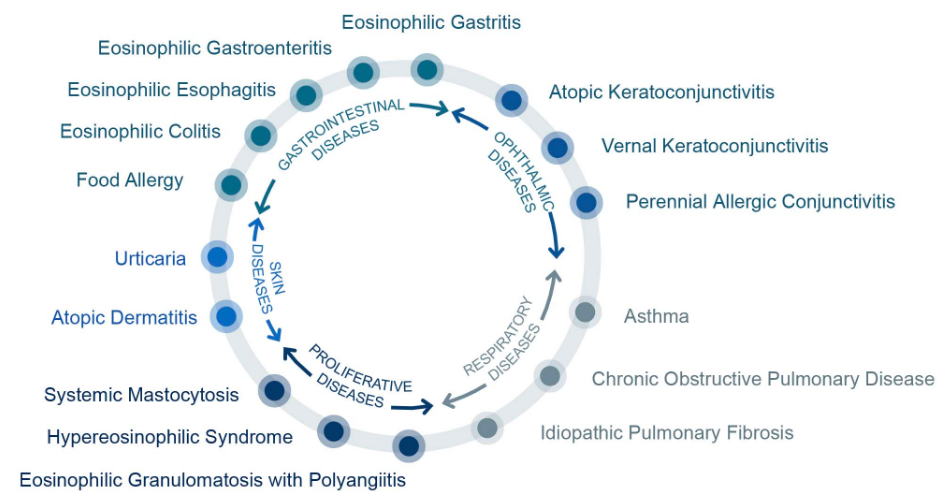 Source: Allakos
Allakos
San Carlos, California, based Allakos (proposed Nasdaq: ALLK), is developing a therapeutic antibody called AK002 that targets a receptor found on the surface of mast cells and eosinophils. This receptor, known as Siglec-8, is part of a family of cell surface receptors called Sialic acid-binding immunoglobulin-type lectins, or Siglecs. Allakos has shown, in preclinical and two Phase 1 studies, that the binding of AK002 to Siglec-8 results in the rapid depletion of eosinophils and inhibition of mast cells. Siglec-8 appears to be an important inhibitory mechanism used by the body to regulate mast cell and eosinophil mediated inflammation, and Allakos believes that it is the only company with a Siglec-8 targeting antibody in clinical development.
Allakos is focused on several gastrointestinal disorders as initial targets for AK002. The company is currently in a Phase 2 study in patients with eosinophilic gastritis (EG) with or without eosinophilic gastroenteritis (EGE). AK002 has received orphan drug designation for EG and EGE from the FDA and expects to report top-line data from the trial in mid-2019.

IPO
The company's initial public offering is expected to price next week via Goldman and Jefferies. Allakos is offering 6 million shares at $15 to $17 per share. At the midpoint of the range, the $96 million deal would give Allakos a post-money market capitalization of $635 million.
In December 2017, Allakos closed on $100 million of Series B financing, led by NEA and additional new investors Redmile, Partner Fund, Rock Springs, LifeSci Venture, Samsara BioCapital and one investor who was undisclosed at the time of the deal (likely Capital Research and Management, based on the Form S-1). Participation from existing investors included Alta Partners, RiverVest Venture, Roche Venture, and 3X5 Partners.
Some of these investors will be buying about one-third of the IPO shares, and NEA will be buying $10 million worth of shares in a private placement concurrent with the IPO.
Robert Alexander, PhD, has been CEO of Allakos since April 2017. He was previously CEO of ZS Pharma where he led the 2014 IPO and 2015 sale of that company to AstraZeneca. Prior to ZS Pharma, Dr. Alexander was a Director at Alta Partners and Executive Chairman and interim CEO of SARcode Bioscience. Before that, he was a Principal in MPM Capital's BioEquities Fund and in the business development group at Genentech.
Henrik Rasmussen, MD, PhD, is the company's Chief Medical Officer. He was previously the CMO at ZS Pharma and the President and CEO of Rasmussen Biotech & Pharma Consulting. Dr. Rasmussen has held the positions of Corporate Vice President, Head of Clinical Development, Medical & Regulatory Affairs at Novo Nordisk, and CMO for Nabi Biopharmaceuticals and GenVec. He was SVP of Clinical Research and Regulatory Affairs at British Biotech and Global Study Director for Cardiovascular Drug Development at Pfizer Central Research. He has published over 150 peer-reviewed papers in the therapeutic areas of nephrology, cardiology, ophthalmology, gastroenterology and diabetes.

Please email us at [email protected] to see our Case Studies and Testimonials.
Please click here for information on our new trading platform.
Please click here to see our weekly newsletter.