Alexion Pharmaceuticals (Nasdaq: ALXN) announced positive results today from its Phase 3 study of ALXN1210 for patients with paroxysmal nocturnal hemoglobinuria (PNH), a rare, life-threatening blood disorder. ALXN1210 demonstrated non-inferiority compared to Solibris, Alexion's approved therapy for PNH. ALXN1210 is a long-acting C5 complement inhibitor candidate, requiring only six administrations per year, versus the 26 infusions required by patients on Solibris.
PNH is an ultra-rare, life-threatening blood disorder in which uncontrolled activation of the complement system (a component of the normal immune system consisting of over 30 proteins), results in chronic hemolysis, destruction of the patient's red blood cells. Chronic hemolysis is the main cause of serious health problems in people with PNH and can lead to blood clots and end organ damage. In healthy individuals, normal red blood cells (RBCs) are protected from complement attack by a shield of terminal complement inhibitor proteins. Patients with PNH lack this protective complement inhibitor shield, leading to hemolysis, thrombosis, end organ damage and impaired health-quality of life.
PNH develops without warning and can occur in men and women of all races, backgrounds and ages. The average age of onset is in the early 30s, and up to 35% of patients with PNH treated with available supportive care don't survive beyond five years from diagnosis.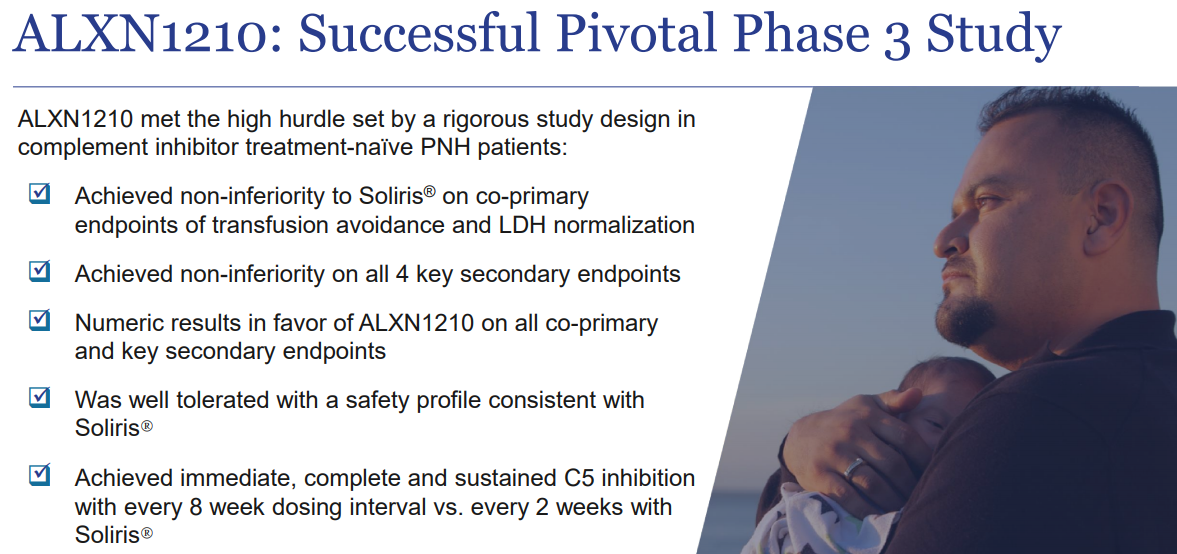 Source: Alexion Pharmaceuticals, March 15, 2018
We are very pleased with these positive data for ALXN1210 in the first and only head-to-head study versus Soliris, and the results reinforce our ambition to establish ALXN1210 as the new standard of care for patients with PNH. The data are also consistent with our hypothesis that immediate, complete, and sustained C5 inhibition is critical for patients with this potentially life-threatening disease. Soliris has established a high bar for efficacy. Achieving non-inferiority on both co-primary and all key secondary endpoints, as well as seeing numeric results in favor of ALXN1210, in such a rigorous study met a very high hurdle. We look forward to regulatory submissions of ALXN1210 in PNH in the U.S., EU, and Japan in the second half of 2018.
– John Orloff, MD, Executive Vice President and Head of Research & Development, Alexion Pharmaceuticals
Having a new treatment option that achieves transfusion avoidance, and provides rapid and sustained normalization of LDH levels when administered 6 times a year could be a meaningful improvement for patients with PNH who currently need 26 infusions per year.
– Jong Wook Lee, MD, Professor of Internal Medicine, Seoul St. Mary's Hospital, The Catholic University of Korea, Seoul, Korea, and an investigator in the ALXN1210 study.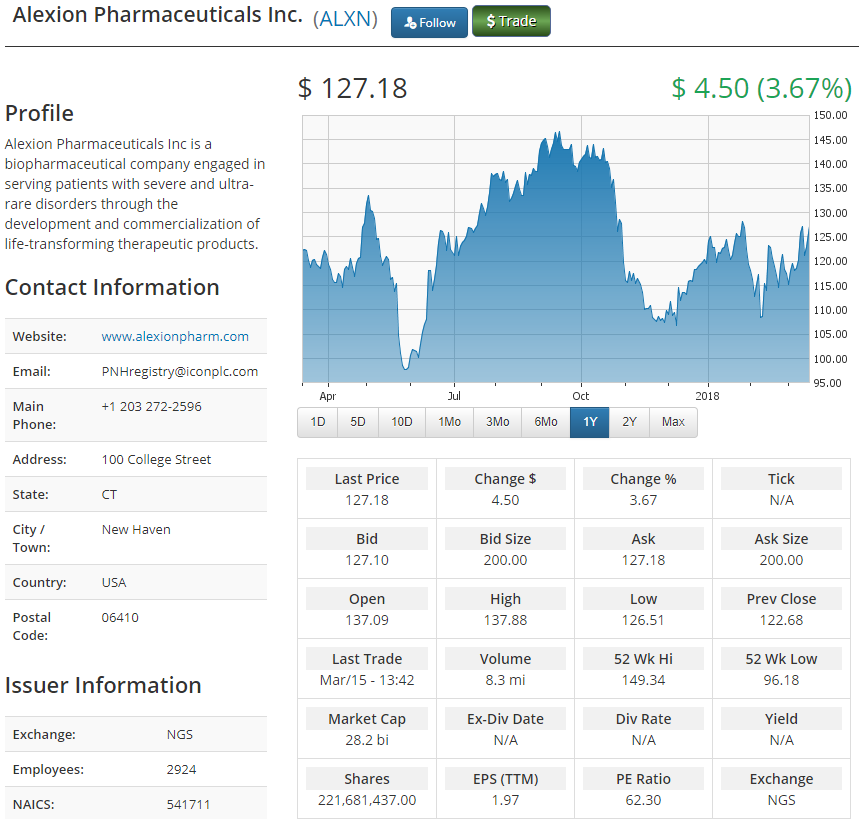 Please email us at content@equities.com to see our Case Studies and Testimonials.
Please click here for information on our new trading platform.