Aleafia Health (TSXV: ALEF), formerly, Canabo Medical, has closed its merger with Aleafia and recommenced trading on the TSX Venture Exchange. The newly combined company applies a patient-first, physician-led and research-driven approach to medical cannabis care.
Aleafia Health's assets now include 23 Canabo medical clinics located across Canada and staffed by licensed physicians who are subject-matter experts in cannabinoid medicine. The company has been an Access to Cannabis for Medical Purposes Regulations (ACMPR) licensed producer since October 2017 with a 7,000 square foot medical cannabis production facility on 76 acres of Ontario farmland. Aleafia Health began cultivation at the facility in February 2018 and expects to complete its first harvest in the next few weeks in preparation of the anticipated receipt of the ACMPR sales and distribution license.
Previously in March 2018, the company raised C$30 million in a private placement of stock and warrants, in part to fund an expansion of this facility. The first phase of this proposed expansion—150,000 square feet—is expected to be completed by the end of 2018. Additionally, with one of the largest, single observational databases, management believes that Aleafia will be a desirable partner by organizations and institutions conducting much-needed research into the effects and benefits of medical cannabis across a wide range of chronic illnesses.

Source: Aleafia Health
Our colleagues at Canabo Medical Clinics have worked tirelessly and passionately to develop a clinic model that delivers the highest standard of patient care. We look forward to a long and meaningful partnership as we go forward as a united organization where increasingly sophisticated strains of medically authorized cannabis can be an alternative to the opioids that have wreaked such havoc on Canadian families.
– Raf Souccar, President and CEO of Aleafia Health Inc.
Education of both the medical community and the general public is a key priority for Aleafia. The company has developed and implemented a proprietary training program for all its staff to help those with chronic medical conditions that have failed traditional first, second and often third-line approaches. This training program extends to partner clinics with which Aleafia also works. This mixture of in-house clinics and corporate partners enables Aleafia to deliver its services to the maximum number of patients with optimal administrative efficiency.
Our patients are only seen on a referral basis, which ensures that their circle of care remains unbroken and that all members of their medical team are involved in ensuring positive patient outcomes.
– Dr. Daniel Schecter, Executive Director and Co-founder, Canabo Medical Clinic.
According to the company, Aleafia Health's 23 clinics support over 24,000 active medical cannabis patients and receive upwards of 2,000 physician patient referrals per month.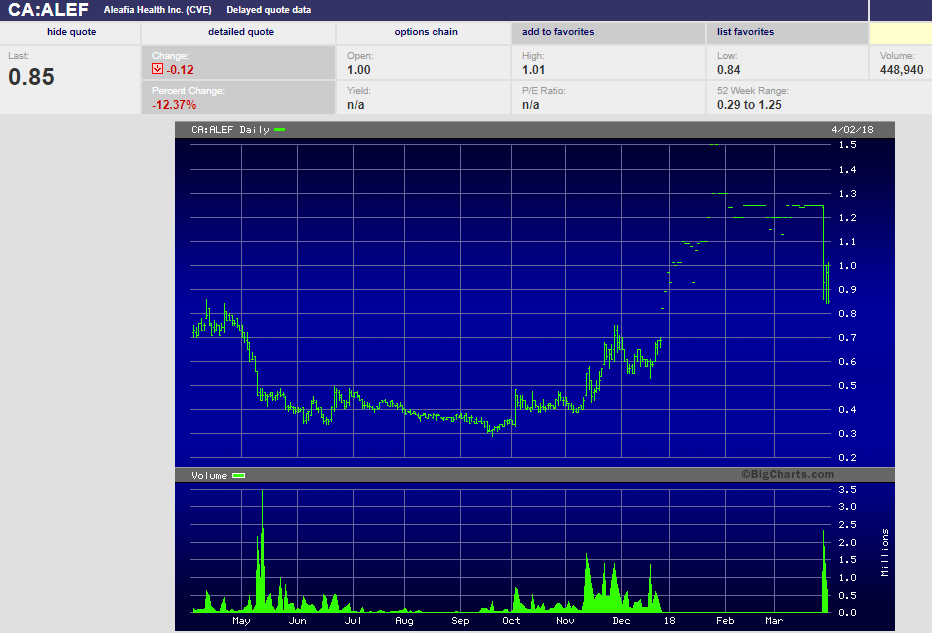 Source: BigCharts from MarketWatch
Please email us at [email protected] to see our Case Studies and Testimonials.
Please click here for information on our new trading platform.