According to the CDC, 30 million people or 15% of US adults are estimated to have chronic kidney disease (CKD). Remarkably, 48% of those with severely reduced kidney function (but not on dialysis) are not aware of having CKD. Moreover, 96% of people with mildly reduced kidney function are not aware of it at all. The National Kidney Foundation calls CKD the most under-recognized public health crisis in the country, responsible for over $100 billion in annual Medicare costs. Each year, Medicare spends $87,000 per dialysis patient and $32,500 for a transplant patient.
Akebia Therapeutics (Nasdaq: AKBA) is developing novel therapeutics based on hypoxia-inducible factor (HIF) biology. HIF is the primary regulator of the production of red blood cells as well as other important metabolic functions. The company raised $89 million in gross proceeds today in a follow-on offering, selling 8.5 million shares at $10.50 for a post-money valuation of $589 million. The company is no stranger to the equity capital markets, with the latest offering being its fifth common stock issuance beginning with a 2014 IPO and including this week's deal. Akebia has now raised over $405 million in gross proceeds via equity offerings with Morgan Stanley as sole or joint bookrunner on all of them.
The company is making progress in the clinic, with its lead product candidate, vadadustat, in a Phase 3 trial as an oral therapy candidate to treat anemia due to CKD, a condition suffered by approximately 5.7 million of individuals with CKD, according to Akebia. Anemia from CKD is currently treated by injectable recombinant human erythropoiesis-stimulating agents, or injectable ESAs, such as Epogen and Aranesp (by Amgen, AMGN), or with iron supplementation or red blood cell transfusion. Akebia estimates that, based on publicly available information on ESA sales and third-party market data, global sales of injectable ESAs for all uses were approximately $7.0 billion in 2016, with the vast majority of these sales for the treatment of anemia due to CKD.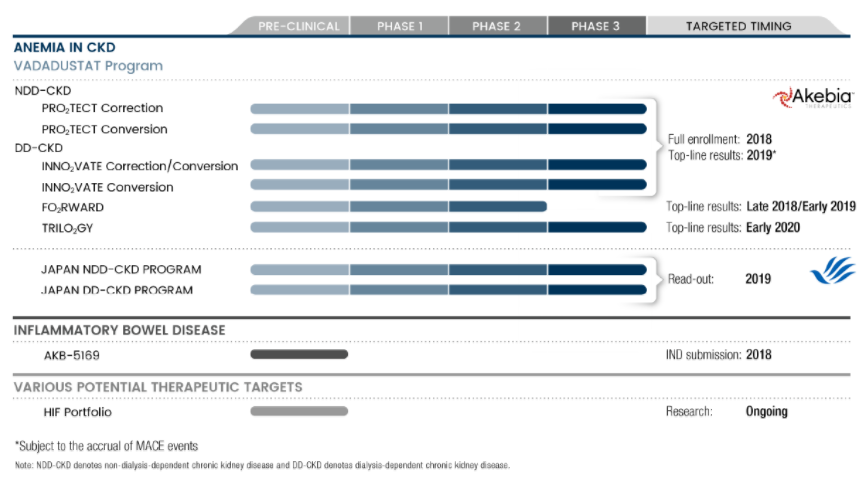 Soure: Akebia Therapeutics
Anemia, whose prevalence increases as CKD progresses, is a condition characterized by abnormally low levels of hemoglobin in red blood cells. Low hemoglobin levels mean that cells in the body do not get enough oxygen. Akebia's vadadustat exploits the same mechanism of action used by the body to adapt naturally to lower oxygen availability associated with a moderate increase in altitude. At higher altitudes, the body responds to lower oxygen availability with increased production of HIF, which coordinates the interdependent processes of iron mobilization and erythropoietin production to increase red blood cell production and, ultimately, improve oxygen delivery.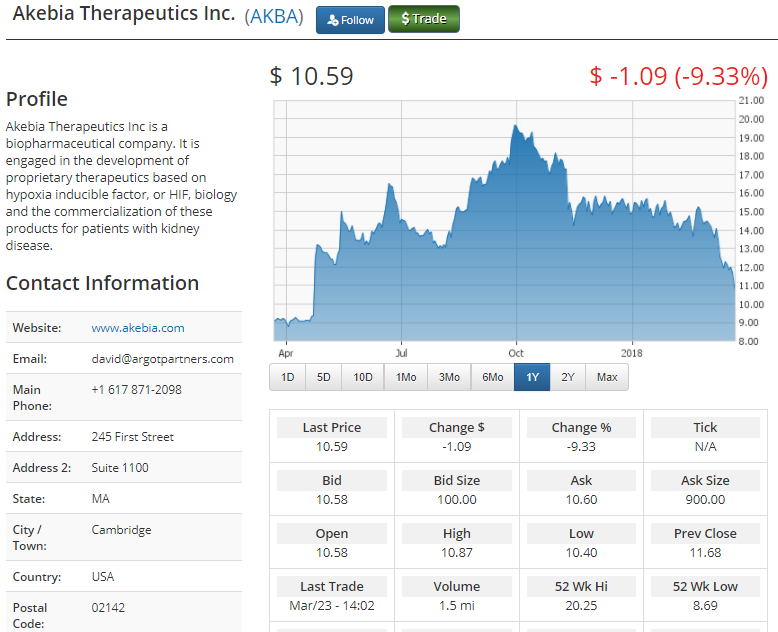 Please email us at [email protected] to see our Case Studies and Testimonials.
Please click here for information on our new trading platform.