Hypertriglyceridemia: High Levels of Blood Triglycerides

Triglycerides are the most common type of fat in the human body.
They are found in food, and the body makes them naturally. According to the American Heart Association,
hypertriglyceridemia—high
levels of blood triglycerides—are often associated with people who have:
High cholesterol
Heart problems
Diabetes
Other weight-related issues
The Mayo Clinic defines triglyceride levels as follows:
Normal — Less than 150 milligrams per deciliter (mg/dL)
Borderline high — 150 to 199 mg/dL
High — 200 to 499 mg/dL
Very high — 500 mg/dL or above
The National Center for Health Statistics, part of the CDC, states that 25.1% of adults 20 years old and older had elevated triglyceride levels of at least 150 mg/dL.
Akcea Therapeutics and Ionis Pharmaceuticals Show Success with Phase 2 Hypertriglyceridemia Candidate
Akcea and Ionis announced today positive topline results from their Phase 2 study of AKCEA-APOCIII-LRx in the treatment of patients with hypertriglyceridemia who are at risk for or have established cardiovascular disease. The study met the primary endpoint of significant triglyceride lowering and multiple secondary endpoints with a favorable safety and tolerability profile.

Topline results of the Phase 2 study showed:
Statistically significant dose-dependent reductions in fasting triglycerides compared to placebo at all dose levels

At the highest once monthly dose of 50 mg, more than 90% of patients achieved serum triglycerides of ? 150 mg/dL, compared to less than 5% of patients in the placebo group
Mean triglyceride levels of patients at baseline was 285 mg/dL

Significant reductions in multiple additional risk factors, including apolipoprotein C-III (apoC-III), very low-density lipoprotein (VLDL-C) and remnant cholesterol, compared to placebo.
Statistically significant increases in high-density lipoprotein cholesterol (HDL-C, the "good" cholesterol) compared to placebo at all dose levels.
The multicenter, randomized, double-blind, placebo-controlled, dose-ranging study included 114 patients with a clinical diagnosis of cardiovascular disease or who are at high risk of disease. Participants were administered AKCEA-APOCIII-LRx or placebo via subcutaneous injection for at least six months with some patients being treated up to a year. Weekly, bi-weekly, and monthly dosing was explored in four cohorts with doses ranging from 10 mg to 50 mg of total monthly dose.
Positive Results Driving Akcea to Pursue AKCEA-APOCIII-LRx in FCS

Familial chylomicronemia syndrome (FCS) is a serious disease that prevents the body from breaking down fats. FCS causes chronic symptoms and can lead to potentially fatal pancreatitis.
Based on the positive results from this study, we plan to rapidly pursue development of AKCEA- APOCIII-LRx for familial chylomicronemia syndrome or FCS. Because we were able to achieve substantial triglyceride lowering with this investigational medicine, we are also considering developing it for other rare and common diseases associated with elevated triglycerides.

– Louis O'Dea, MD, Chief Medical Officer, Akcea Therapeutics
Antisense Drugs
Antisense drugs prevent the translation of a specific targeted protein. AKCEA-APOCIII-LRx is a ligand conjugated antisense (LICA) drug designed to reduce the production of apoC-III, a protein produced in the liver that plays a central role in the regulation of serum triglycerides. Genetically reduced levels of apoC-III are correlated to lower levels of triglycerides and lower risk of cardiovascular disease.
Pipeline

Akcea has four clinical programs targeting cardiometabolic lipid disorders. Volanesorsen was approved in Europe for FCS in 2019, but was rejected by the FDA in 2018 despite a 12-8 recommendation by the FDA's Endocrinologic and Metabolic Drugs Advisory Committee.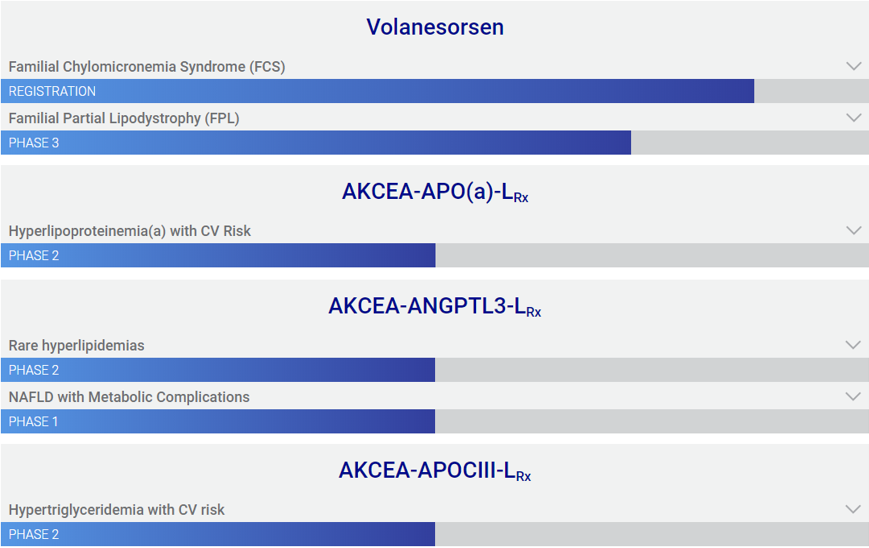 The company also has a preclinical program studying the treatment of transthyretin amyloidosis (ATTR), a progressive condition in which abnormal deposits of a protein called amyloid build up in the body's organs and tissues, particularly in the peripheral and autonomic nervous system.
Akcea Is Majority-Owned by Ionis Pharmaceuticals
Ionis Pharmaceuticals, a leader in antisense technology and RNA-targeted therapeutics, spun out Akcea in a 2017 IPO that raised $144 million in gross proceeds at a post-money valuation of $532 million. Ionis owns about 75% of Akcea.
At $19.09 per share in late afternoon Wednesday trading, Akcea stock is about 47% below its 52-week high, which it saw in February 2019. We're encouraged by the strong Phase 2 results in hypertriglyceridemia and look forward to seeing continued progress in the clinic.
Edward Kim is Managing Editor of Equities.com.
_____
Source: Equities News