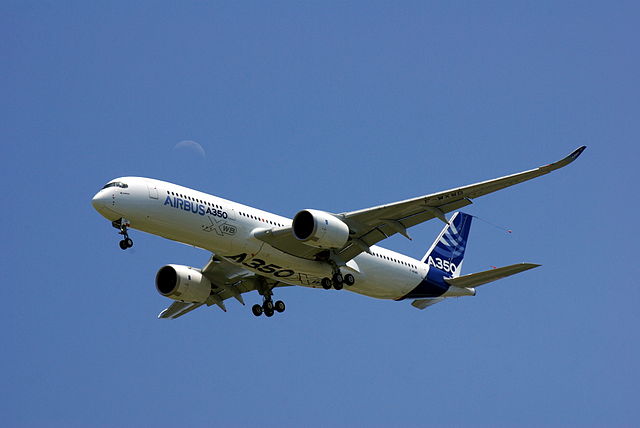 Boeing's (BA) 787 Dreamliner has been the prevailing topic in news from the commercial airline industry, but on Friday, it was the company's arch-rival Airbus SAS's turn to take the spotlight with the inaugural test flight of its new long-range A350 wide-body aircraft.
Manned by two pilots and four engineers, the plane took off from Airbus's headquarters in Toulouse, France, for a four hour flight that took the crew over the Pyrenees Mountains that mark the country's border with Spain. The timing of the event, which took place before an audience of some 12,000 onlookers including journalists and company employees, was by no means random, as the Paris Air Show begins next week.
The flight marks the beginning of a testing process that the company hopes will eventuate with certification of the new plane within 14 months.
Boeing has traditionally been the dominant manufacturer of commercial airplanes, and has the two best-selling twin-aisle models for commercial flights, with the new Dreamliner, as well as its older 777, which the company is also in the process of revamping and upgrading in the form of the 777X.
As for Airbus, today's flight of the A350-900 is the precursor to a larger A350-1000 model due out in 2017, and a smaller A350-800 model. While Boeing's 777X will seat over 400 passengers and the different versions of the 787 Dreamliner hold anywhere from 210 to 320, the A350 will accommodate 270 to 350 people.
The competition between the two companies has been heating up in recent months. Airbus has been developing the A350 for some 6 years at a cost of $14 billion, and the company likely wanted to seize the opening it was given by its rival with the extended list of malfunctions that marred months of test flights of the much-hyped Dreamliner, culminating in two incidents within a week in which the plane's engine overheated an filled the cockpit with smoke back in January.
Boeing, however, recovered quickly and somewhat impressively, fixing the Dreamliner's various problems and resuming deliveries within months of the planes being grounded by regulators at home and abroad. Still, the company had to sell its first batch of Dreamliners at greatly reduced cost, partly as a result of the high-profile malfunctions.
Still, prospective customers will surely be impressed if Airbus can debut its product without any malfunctions, something the company seems prepared to do. Last March, Airbus scored a major victory in penning a deal worth as much as $20 billion with Indonesia's Lion Air for 200 A320 jets, a deal that came on the heels of an 82-plane sale to Turkish Airlines.
DISCLOSURE: The views and opinions expressed in this article are those of the authors, and do not represent the views of equities.com. Readers should not consider statements made by the author as formal recommendations and should consult their financial advisor before making any investment decisions. To read our full disclosure, please go to: http://www.equities.com/disclaimer