Aimmune Therapeutics Gets FDA Approval for First Peanut Allergy Treatment
Edward Kim Follow |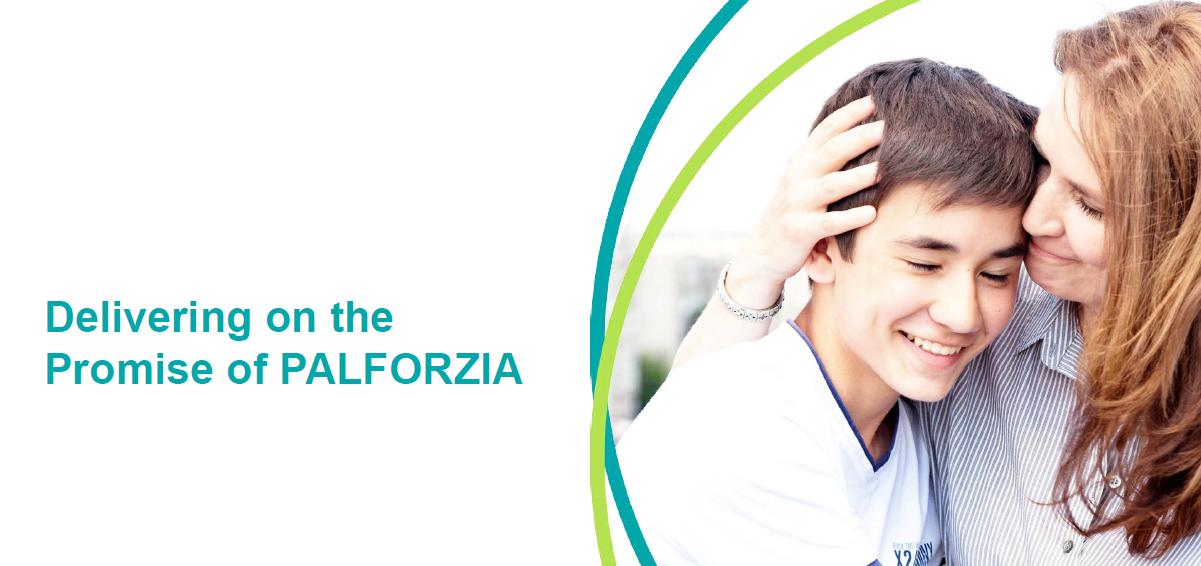 Image: Aimmune Therapeutics
According to a study published in October 2018 in the American Journal of Managed Care, peanut allergies affect about 1.2% of the US population and about 2.5% of the pediatric population. This translates into 3.9 million people, of whom 1.8 million are children younger than 18 years old. There are numerous studies which point to an even higher incidence among children, with one study estimating that as many as 8% of children may be affected.
Peanut allergies are the most common food allergy in children, affecting about 25% of those with a food allergy, and are a leading cause of allergy-related death in children.
Researchers at the Mayo Clinic reported in an April 2018 paper published in Pediatric Allergy and Immunology that the number of emergency room visits by children suffering allergic reactions to food has tripled from 2005 to 2014. Peanuts were the leading cause, and such allergies have tripled since 2001.
In people with peanut allergies, the immune system mistakenly identifies even small amounts of peanut as harmful. Symptoms may range from skin reactions, such as hives, redness or swelling, to digestive discomfort or more dangerous reactions, such as constriction of the throat and airways, and loss of adequate blood flow to vital organs. Antihistamines and epinephrine can be used to treat allergic reactions, but severe reactions can be fatal even with appropriate, prompt treatment.

Aimmune Therapeutics Gets FDA Approval for PALFORZIA as First Treatment for Peanut Allergy
The FDA granted approval to Aimmune Therapeutics for PALFORZIA, [Peanut (Arachis hypogaea) Allergen Powder-dnfp] for the mitigation of allergic reactions, including anaphylaxis, that may occur with accidental exposure to peanut. PALFORZIA is approved for use in patients with a confirmed diagnosis of peanut allergy. Initial dose escalation may be administered to patients aged four through 17 years. Up-dosing and maintenance may be continued in patients four years of age and older (see below). We note that the drug is for mitigation of symptoms only and is not indicated or approved for the emergency treatment of allergic reactions, including anaphylaxis.
This is a defining moment for the peanut allergy community and for Aimmune Therapeutics, and we are excited to bring the first FDA-approved treatment for peanut allergy to patients and their families. Our commercial field team is ready to begin engaging with allergists to help them prepare to safely incorporate PALFORZIA into their practices and, with approval in hand, our payer team can also immediately begin work to secure formulary access to PALFORZIA. We view this approval as just the beginning for Aimmune, and it underscores our continued commitment to bringing innovative treatments to people with potentially life-threatening food allergies.

- Jayson Dallas, M.D., President and CEO of Aimmune Therapeutics.

Clinical Trial Data Showed 67% of PALFORZIA Recipients Tolerated a 600mg Dose of Peanut Protein
The effectiveness of PALFORZIA is supported by a randomized, double-blind, placebo-controlled study conducted in the US, Canada and Europe in approximately 500 peanut-allergic individuals. Results showed that 67.2% of PALFORZIA recipients tolerated a 600 mg dose of peanut protein (twice the daily maintenance dose of Palforzia), compared to 4.0% of placebo recipients.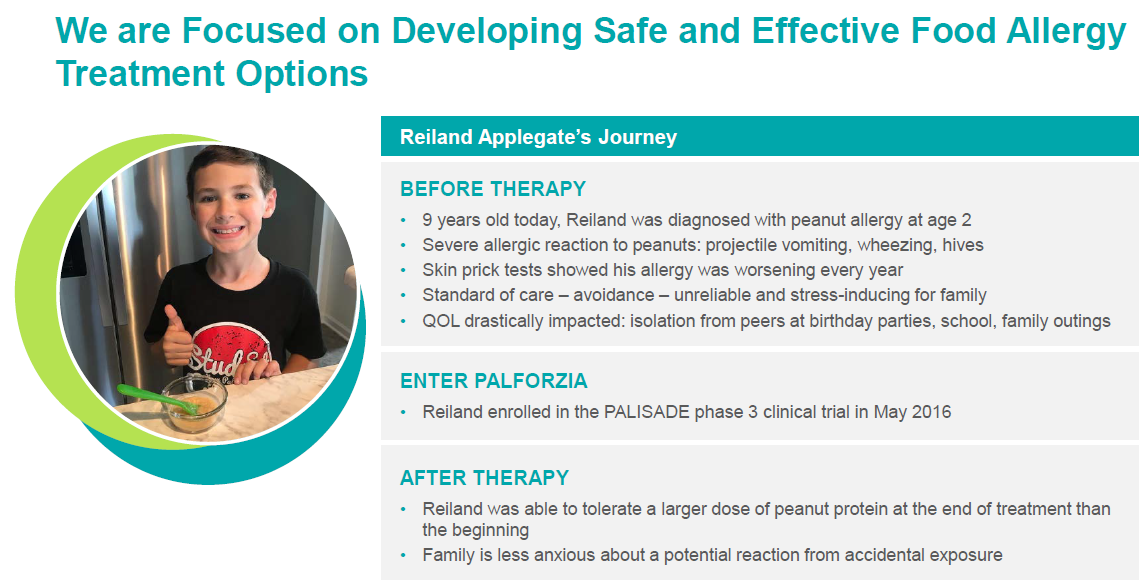 Source: Aimmune Therapeutics
PALFORZIA Must Be Used in Conjunction with Strict Peanut Avoidance
It's critical to note that the drug is not intended as an emergency treatment. Rather, it is a mitigation treatment that consists of three phases:
Trade Commission-FREE with Tradier Brokerage
Initial Dose Escalation—This is a given on a single day under supervision of a healthcare professional in a healthcare setting with the ability to manage potentially severe allergic reactions, including anaphylaxis

.

Up-Dosing—

11 increasing dose levels occurring over several months, with the first dose at each level administered under supervision of a healthcare professional as above.

Maintenance—After all Up-Dosing levels are completed, a patient may begin the daily maintenance dose.
PALFORZIA is an oral powder made from peanuts and packaged in pull-apart color-coded capsules for Initial Dose Escalation and Up-Dosing, and in a sachet for Maintenance treatment. The powder is intended to be mixed with a small amount of semisolid food—such as applesauce, yogurt or pudding.
Because there is no cure, allergic individuals must strictly avoid exposure to prevent severe and potentially life-threatening reactions. Even with strict avoidance, inadvertent exposures can and do occur. When used in conjunction with peanut avoidance, Palforzia provides an FDA-approved treatment option to help reduce the risk of these allergic reactions in children with peanut allergy.

- Peter Marks, MD, PhD, Director, FDA's Center for Biologics Evaluation and Research

PALFORZIA is Available Only Through a Risk Evaluation and Mitigation Strategy (REMS)

The safety of PALFORZIA was assessed in two double-blind, placebo-controlled studies in approximately 700 peanut-allergic individuals. The most commonly reported side effects were abdominal pain, vomiting, nausea, tingling in the mouth, itching (including in the mouth and ears), cough, runny nose, throat irritation and tightness, hives, wheezing and shortness of breath and anaphylaxis. PALFORZIA should not be administered to those with uncontrolled asthma.

To mitigate the risk of anaphylaxis associated with PALFORZIA, the FDA is requiring a Risk Evaluation and Mitigation Strategy (REMS) with this approval, which includes elements to assure safe use. The drug will only be available through specially certified healthcare providers, health care settings and pharmacies to patients who are enrolled in the REMS program.
The FDA is requiring that healthcare providers who prescribe PALFORZIA, and healthcare settings that dispense and administer Palforzia - are educated on the risk of anaphylaxis associated with its use. In addition, the Initial Dose Escalation phase and first dose of each Up-Dosing level must only be administered to patients in a certified healthcare setting equipped to monitor patients and to identify and manage anaphylaxis. Patients or their parents or caregivers must also be counseled on the need for the patients to have injectable epinephrine available for immediate use at all times, the need for continued dietary peanut avoidance, and how to recognize the signs and symptoms of anaphylaxis.
Aimmune Therapeutics Was Founded Specifically To Attack Food Allergies
Aimmune Therapeutics was founded in 2011, directly in response to a united call to action by leading stakeholders in food allergy. The company raised $184 million in gross proceeds in its August 2015 IPO via BofA Merrill Lynch, Credit Suisse and Piper Jaffray, valuing the company at $675 million. Shares were priced at $16 on the initial public offering, and Aimmune subsequently raised an additional $202 million in gross proceeds at $32 per share in March 2018. Investors who bought shares in the second deal are just seeing the stock get back to break even nearly two years later.
According to Investor's Business Daily, Credit Suisse analyst Evan Seigerman sees the potential for $1.2 billion in peak sales for PALFORZIA, though he believes that it may take awhile to get there. "The new modality and infrastructure needs at clinics could slow payer coverage," said Seigerman in his note to clients. "This view is in line with recent comments from management suggesting that it could take up to six quarters to get 'good formulary coverage,' something we view as essential for a successful drug launch."
We're encouraged by the market opportunity that Aimmune Therapeutics has in front of it, and based on conversations with several close friends who are parents of children with peanut allergies, 100% of them will be lining up for PALFORZIA.
Edward Kim is Managing Editor of Equities.com.

_____
Sources: Equities News
DISCLOSURE: The views and opinions expressed in this article are those of the authors, and do not necessarily represent the views of equities.com. Readers should not consider statements made by the author as formal recommendations and should consult their financial advisor before making any investment decisions. To read our full disclosure, please go to: http://www.equities.com/disclaimer. The author of this article, or a firm that employs the author, is a holder of the following securities mentioned in this article : None
| Symbol | Last Price | Change | % Change |
| --- | --- | --- | --- |
| AAPL | | | |
| AMZN | | | |
| HD | | | |
| JPM | | | |
| IBM | | | |
| BA | | | |
| WMT | | | |
| DIS | | | |
| GOOG | | | |
| XOM | | | |
| BRK.A | | | |
| FB | | | |
| JNJ | | | |
| WFC | | | |
| T | | | |
| NFLX | | | |
| TSLA | | | |
| V | | | |
| UNH | | | |
| PG | | | |