~ Data published in peer-reviewed journal support AgeX's stem cell therapeutic approach to metabolic diseases such as Type II diabetes and obesity ~
Over 30 million adults in the US have diabetes, according to the CDC, and 25% of these don't know they have it. The number of diabetes diagnoses has tripled in the past 20 years, and the condition is the leading cause of kidney failure, amputations of the lower limbs and blindness. Diabetes is the seventh leading cause of death in the US. About 90% of diabetes patients have type 2 diabetes, or what was once known as adult onset diabetes. Children and teens are increasingly being diagnosed with type 2 diabetes, in which the body doesn't process insulin properly and blood sugar consequently rises above normal levels. March 2018 research from the American Diabetes Association estimates the cost of diagnosed diabetes to have risen to $327 billion in 2017 from $245 billion in 2012, when the cost was last examined.
The CDC defines obesity as the condition in which one's body mass index [ BMI = (weight in kilograms) ÷ (height in meters)2 ] is above 30.0. A BMI between 18.5 and 25.0 is considered to be the range for normal weight. Over 93 million US adults were obese by this measure in 2016, making them more vulnerable than those of normal weight to conditions including heart disease, stroke, type 2 diabetes and certain cancers. The CDC estimates the annual medical cost of obesity in the US was $147 billion in 2008 US$, or about $171 billion adjusted for inflation, and that a person with obesity spends over $1,400 more per year on healthcare than someone of normal weight.
AgeX Therapeutics
We've been following Alameda, California, based AgeX Therapeutics AGE since it was spun out of BioTime BTX in November 2018. AgeX is developing therapeutics for a broad range of age-related degenerative diseases based on an emerging understanding of the clockwork mechanisms of human aging. AgeX's "PureStem" and "UniverCyte" manufacturing and immunotolerance technologies are designed to generate highly defined, off-the-shelf pluripotent stem cell-derived young cells of any type. The company has two preclinical cell therapy programs in tissue ischemia and Type II diabetes, and preclinical programs using its proprietary "Induced Tissue Regeneration" platform that are intended to restore regenerative potential in a wide array of aged tissues and to promote scarless tissue repair.
Source: AgeX Therapeutics
AgeX announced today the publication of data relating to its cell therapy product candidate AgeX-BAT1 for Type II diabetes and obesity in the peer-reviewed scientific journal, Stem Cell Research & Therapy. The paper, "Clonal Derivation of White and Brown Adipocyte Progenitor Cell Lines from Human Pluripotent Stem Cells," was authored by a team led by Michael D. West, PhD, founder and CEO of AgeX. The data demonstrate that AgeX's PureStem cell therapy manufacturing platform was successful in generating highly purified cells with precise anatomical identity, and most importantly, capable of potently expressing definitive markers of brown adipose tissue (BAT) cells, also known as "brown" or "good" fat. The activity of BAT declines notably as a function of age, and this loss may contribute to metabolic disturbances seen in type 2 diabetes and obesity as well as a heightened cardiovascular risk. The paper also provides evidence that AgeX's PureStem technology enables reliable re-derivation of scalable lots of desired cells.
In keeping with AgeX's mandate to use regenerative biology to reverse the degenerative aspects of aging, AgeX-BAT1 will address one of the insidious age-related metabolic imbalances responsible for age-related weight gain as well as other serious age-related conditions such as Type II diabetes and its ensuing cardiovascular risk. It is estimated that 30 million U.S. adults have diabetes, the overwhelming majority of the cases being Type II, and that number is rapidly on the rise as a result of the aging demographic. AgeX-BAT1 could potentially provide an important and novel therapeutic strategy for managing the epidemic of metabolic imbalances such as Type II diabetes in aging.

– Michael D. West, PhD, Founder and CEO, AgeX Therapeutics.
Few medical conditions are as prevalent as age-related metabolic imbalances, which carry along with them serious risks, including diabetes, cardiovascular disease, blindness, amputations and cancer. Whilst dieting and exercise are beneficial, most people find them difficult to adhere to. To meet this high unmet medical need, we need new approaches, such as AgeX-BAT1.

– Dr. Annalisa Jenkins, MBBS, FRCP, member of the Board of Directors, AgeX Therapeutics.
Investment issues to consider
Dr. West is the former CEO of BioTime, and moved to head AgeX after the spinout. VP of New Technology Aubrey de Grey, PhD, is the Chief Science Officer of SENS Research Foundation. Chairman of the Board Gregory Bailey, MD, is the CEO of Juvenescence, a life science and biotech company developing therapies to increase healthy human longevity. Dr. Jenkins was formerly President and CEO of Dimension Therapeutics; Head of Global Research and Development and EVP of Global Development and Medical, Merck Serono MRK; and SVP and Head of Global Medical Affairs, Bristol Myers-Squibb BMY.
Age-X was spun out to BioTime shareholders on Nov. 28, 2018, in the ratio of one share of AGE for every 10 BTX shares owned. There was strong interest out of the gate, with the stock flirting with the $6 level, but it's since settled back down to $3.85 in mid-afternoon today on the NYSE American, giving the company a current market capitalization of $138 million. About 46% of the company is owned by Juvenescence, with BioTime owning 4.8%. The company presented this morning at the final day of the Biotech Showcase conference in San Francisco.
The company's pipeline is still in the preclinical stage, so it's too early to make any accurate assessments. The disease markets that AgeX is pursuing, however, are enormous with, as Dr. Jenkins stated, a "high unmet medical need," and we think the company is worth watching closely for that reason alone.

Source: AgeX Therapeutics.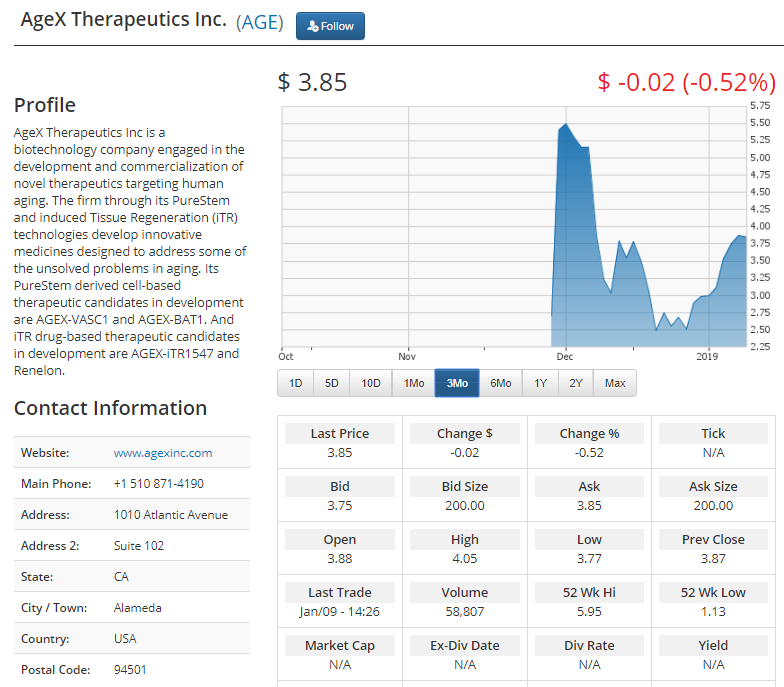 Please email us at [email protected] to see our Case Studies and Testimonials.
Please click here for information on our equity trading platform.
Please click here to receive our free daily newsletter.