Despite remarkable advances by scientists worldwide, cancer remains a debilitating and too often deadly outcome for those afflicted. The National Cancer Institute estimates that over 1.7 million new cases of cancer will be diagnosed in the US this year, and nearly 610,000 people will die from the disease. Cancer is the second leading cause of death globally, according to the World Health Organization, responsible for an estimated 9.6 million deaths around the world—about one out of every six deaths.
Lexington, Masschusetts, based Agenus AGEN has been developing therapies that engage the body's immune system to fight cancer. The company is focused on approaches using antibody therapeutics, proprietary cancer vaccine platforms and adoptive cell therapies. Agenus announced today that it has closed on its partnership agreement with Gilead GILD concerning the development and commercialization of up to five novel immuno-oncology therapies. Under the terms of the deal, which was announced in December 2018, Agenus received $150 million upfront—$120 million cash payment + $30 million equity investment and is eligible to receive up to $1.7 billion in potential future fees and milestones.
Gilead received worldwide exclusive rights to AGEN1423, a bispecific antibody, and an exclusive option to license two additional programs: AGEN1223, a bispecific antibody, and AGEN2373, a CD137 agonist. CD137 is an immune system checkpoint regulator that is highly upregulated in activated T cells and NK (natural killer) cells. Agenus is responsible for developing the option programs up to predetermined decision points, at which time Gilead may acquire exclusive rights to these programs. Agenus will have the right to opt-in to shared development and commercialization in the US for one of the programs, while Gilead has right of first negotiation for two additional, undisclosed preclinical programs.
Recent advances in immuno-oncology have produced unprecedented benefit to patients; however, many people with cancer still require more effective treatment options. Our collaboration with Agenus gives us access to novel and differentiated immune modulating antibodies that will complement our growing oncology portfolio and cell therapy business. We look forward to partnering with the Agenus team.

– John McHutchison, AO, MD, Chief Scientific Officer and Head of Research and Development, Gilead Sciences.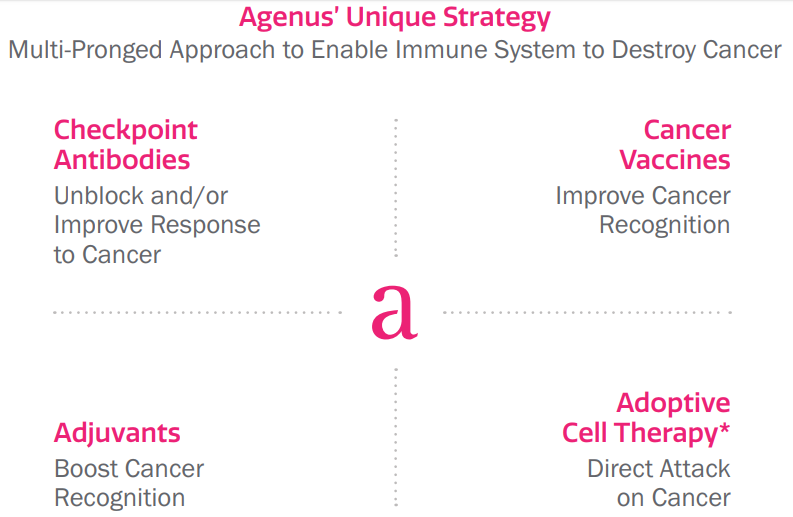 Source: Agenus
Agenus has a pipeline targeting multiple mechanisms to fight cancer with both single agent and combination therapies:
Vaccines to train the immune system to recognize cancers
Priming agents (CTLA-4, CD137) to expand and mobilize immune cells
Immune checkpoints to accelerate immune attack and block immune resistance
Tumor microenvironment conditioners (TMEs) and bispecific antibodies to create inroads and remove barriers
The company has collaborations with Incyte INCY, Merck Sharpe & Dohme MRK, Recepta Biopharma and, now, Gilead.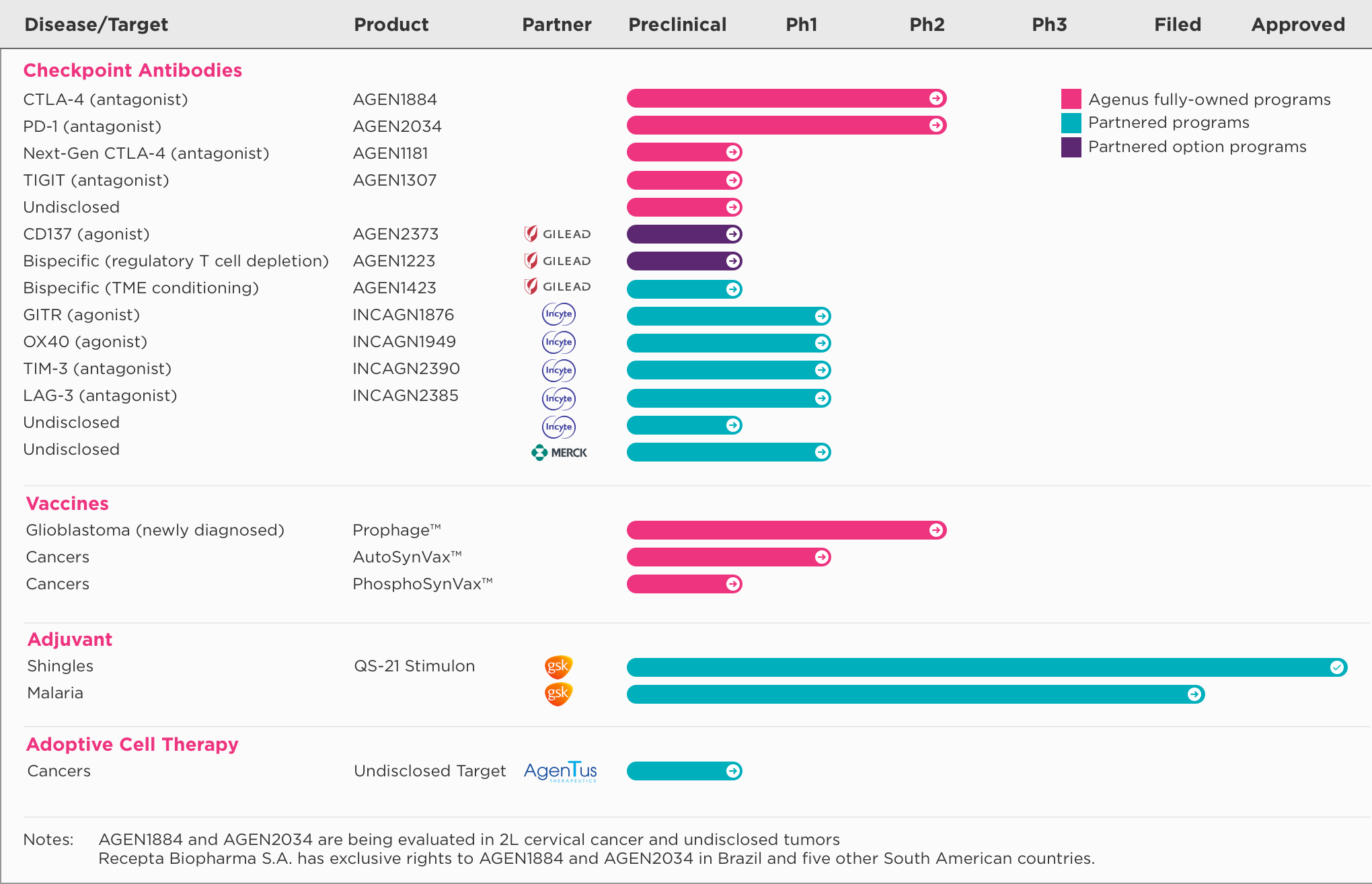 Gilead is an ideal partner for Agenus for the rapid advancement of our pipeline. By year end, our discovery platforms will have resulted in six INDs in 2018 and 13 INDs by the 1H2019. Gilead's established global presence and commitment to disruptive therapies, combined with our track-record in building a broad pipeline in I-O, has the potential to yield breakthrough I-O treatments for patients with cancer.

– Garo Armen, PhD, Chairman and CEO, Agenus.
Investment issues to consider
Long-time followers of biotechnology may recall when Agenus was founded in 1994 and went public in 2000. The company is still led by founder Garo Armen, PhD, and has financed itself across 25 years of existence with equity, debt and partnerships as it pursues its therapeutic solutions. The company has an accumulated deficit of $1.1 billion through Q3 2018, showing just $46.2 million in cash as of September 30, 2018. The company had stated previoulsy that this balance, plus the $40 million it raised from a single investor in October 2018, "will be sufficient to satisfy our liquidity requirements into the second quarter of 2019."
While there's never a bad time for money, the $150 milIon from Gilead in this deal comes at a most welcome time indeed for Agenus and extends the operating runway into 2020 based in the current burn rate. Even with the stock's appreciation since the deal announcement last month, the stock is trading at just $3.49 per share, for a market capitalization of about $419 million. While the company is clearly getting discounted for its lack of commercial success to date, we think this is a notably light valuation given the breadth and depth of the pipeline, and we're encouraged also by the pedigree of the companies with which Agenus has partnered.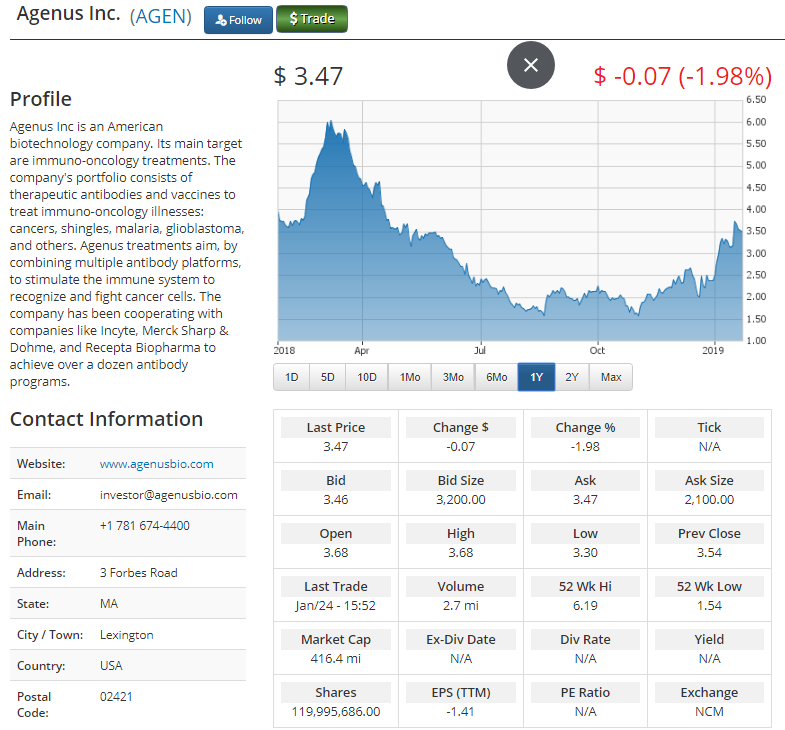 Please email us at [email protected] to see our Case Studies and Testimonials.
Please click here for information on our trading platform.
Please click here to see our daily newsletter.
DISCLOSURE: