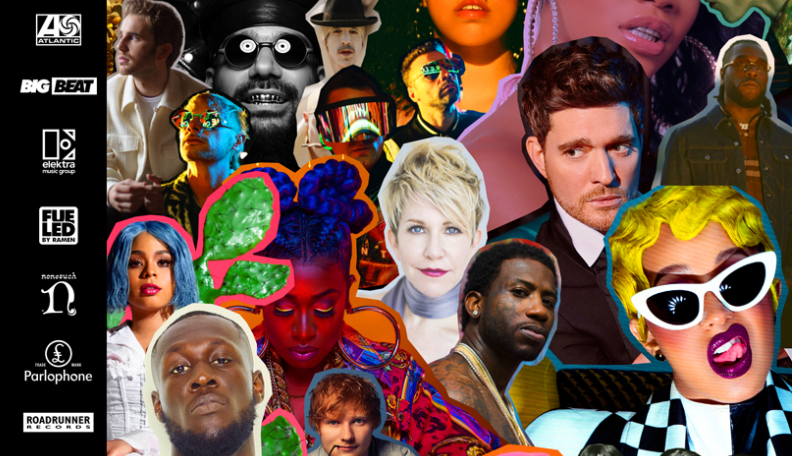 Image source: sec.gov
After spending the past eight years as a private company, Warner Music Group, the U.S. company controlled by British billionaire, Len Blavatnik, is going public.
Warner Music's top labels include the namesake, Warner Records, as well as Atlantic Records, Elektra Records and Parlophone Records. Under these record labels, the company facilitates the recording and distribution of music worldwide for hit artists like Madonna, Cardi B, Lizzo, and Ed Sheeran among many others.
Warner Music's Staying Power
According to the prospectus, the company's music publishing business generated $643 million in revenue in fiscal 2019, which accounted for 14% of total revenues. Warner Music describes itself as a "global music entertainment company," nurturing some of the best talent in the industry. Not only does the company develop an artist's musical ability, but it places that music in the most relevant channels. Moreover, Warner Music generally signs pop talent, which indexes better in the streaming platforms where it earns its bread and butter.
As it details in its prospectus, due to digital streaming, music is now ubiquitous. Thus, from the perspective of an artist, there is a lot of competition just to be heard. Warner Music has consistently identified, marketed and built long-term careers. While some popular artists come to global notoriety without a record label—Chance the Rapper and Macklemore come to mind—most artists depend on music labels, and Warner has proven to be one of the best.
Music is now more readily available to consumers, and this means music companies like Warner have more platforms to make money from its artists. Thanks to the growth of the smartphone, global consumers spend 18 hours listening to music each week. The U.S. music industry alone generated $22 billion in global revenue in 2019, according to SelectUSA.gov. On-demand streaming (both audio and video) is on pace to exceed one trillion streams in the United States in 2019, according to Nielsen.
With this backdrop in mind, Warner Music is the third-largest music company by market share and has grown significantly since Blavatnik's Access Industries took the company private in 2011 for $3.3 billion in cash. Under Access's leadership, Warner Music adapted to the digitizing of music by expanding its artist and repertoire services (A&R), which essentially means talent scouting the next superstar. The company's A&R team is key to the company's bottom line as Warner continuously needs new talent to create culture-defining music. To help with this process, the company acquired Sodatone in 2018, "an advanced A&R tool that uses streaming, social and touring data to help track early predictors of success." To further control the conversation around their music artists, Warner Music Group acquired UPROXX in August 2018. The pop culture news site reaches 40 million people and acts as a marketing platform for Warner Music's artists.
Under Access's guidance, Warner was one of the first to embrace the new digital world by signing major streaming partnerships with Apple, Youtube, Peloton, Soundcloud and Tencent Music Entertainment Group. Warner now depends on Apple and Spotify as these two digital streaming platforms account for 27% of total revenues.
Coming off a record quarter
The company's revenues for the three months ending on December 31, 2019, were $1.256 billion, a 4% increase from the same period the year prior. Warner netted $122 million in income in the fourth quarter, nearly a 40% increase from the same quarter a year ago. The company's recorded music revenue reached $1.084 billion in the quarter, including $589 million from streaming — a 17% increase over last year.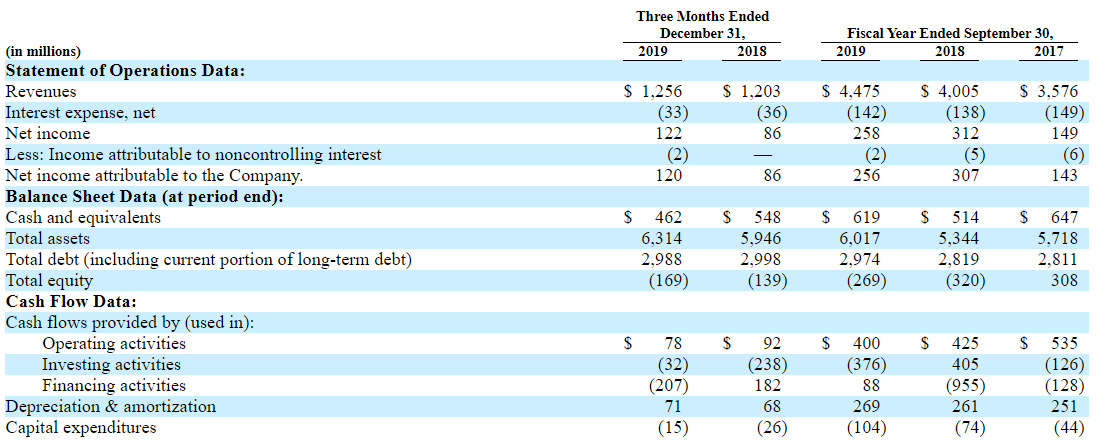 Image source: Sec.gov
It was the highest quarterly revenue Warner reported in 16 years as a stand-alone company (Warner Music broke off from Time Warner in 2004). For the company's fiscal year ended September 30, 2019, revenues were $4.48 billion compared to $4.01 billion the year prior and $3.58 billion in 2017. One area of concern for the investors is that Warner Music is highly leveraged. The company's total consolidated debt is $2.988 billion.
Returning to the public markets following these recent quarterly highs is smart, but another reason Blavatnik and company might be even more inclined to go public now is a recent sale in the industry.
The Universal-Tencent Deal
On December 31,2019, Warner's rival, Universal Music, sold 10% of its stake to Tencent Holdings for $3.3 billion. The sale caused Warner to consider its total valuation. "We are in the process of evaluating what impact Tencent's investment in Universal [Music Group] has on current valuation," Warner Music's executive Vice President & Chief Financial Officer Eric Levin told Billboard.
In comparative terms, Warner Music is now likely to be worth much more than the $3.3 billion Blavatnik paid for it nine years ago. In a Reuters article from May 6, 2011, the acquisition was described as a way for Access to refocus the company toward digital streaming away from the rigorous scrutiny of the public markets. While speculation is rampant on the valuation and how much Warner Music will raise, it seems probable that Blavatnik has done quite well on his investment.
After the offering, Warner Music will be a controlled company, and proceeds from the sale will go to current shareholders, not Warner Music.
_____
Equities Contributor: Stephen L. Kanaval
Source: Equities News