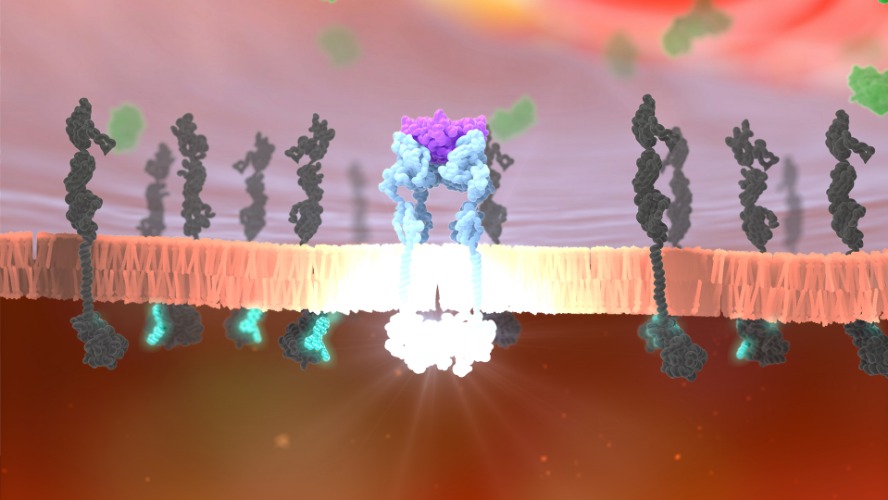 Diabetic retinopathy is the most common cause of vision loss for people with diabetes. The CDC estimates that over 30 million people in the US have diabetes, with nearly a quarter of this patient population undiagnosed or unaware of the condition. About one-third of all diabetic patients over the age of 40 show signs of diabetic retinopathy, a condition in which excess blood sugar can cause blockage in the vessels that supply oxygen to the retina. The eye attempts to grow new blood vessels in response, but these new vessels often don't develop properly and can leak into the retina—a condition known as diabetic macular edema—causing progressively distorted and diminished vision. On a global scale, 140 million of the approximately 380 million diabetics are estimated to suffer from diabetic retinopathy.
Source: American Academy of Ophthalmology
Aerpio Pharmaceuticals
Cincinnati-based Aerpio Pharmaceuticals ARPO is developing compounds that activate Tie2 to treat ocular diseases and diabetic complications. Tie2—Tunica interna endothelial cell kinase 2—is critical to the maintenance of vascular stability, and Aerpio's lead compound, AKB-9778, is designed to inhibit an important down-regulator of Tie 2 called VE-PTP, or vascular endothelial protein tyrosine phosphatase. A decrease in Tie2 activity in the body contributes to vascular instability in many diseases including diabetes. Aerpio announced today the completion of patient dosing in its Phase 2b clinical trial designed to assess the efficacy and safety of AKB-9778 in patients with moderate to severe non-proliferative diabetic retinopathy.
Source: Aerpio Pharmaceuticals
The study, called "TIME-2b," will evaluate AKB-9778 in 167 diabetic retinopathy patients, who will randomly receive 48 weeks of treatment with one of the following:
15 mg AKB-9778 once daily + placebo once daily
15 mg AKB-9778 twice daily
Placebo twice daily
The primary endpoint of the study is the percentage of patients who improve by two or more steps in diabetic retinopathy severity score (DRSS), an 11-step scale of diabetic eye disease progression. Previous data from Aerpio's 144-patient Phase 2a trial showed the potential of AKB-9778 to slow down or possibly reverse the damage to blood vessels caused by diabetes, and to potentially improve kidney function.
We are pleased to announce completion of patient dosing in our 48-week Phase 2b trial, TIME-2b. We now expect to announce top-line results in March 2019, earlier than our previous guidance of the second quarter of 2019.

The data obtained in our TIME-2 Phase 2a study were very encouraging, not only in demonstrating improvement in diabetic retinopathy, but also showing, in a post-hoc analysis, improvement of kidney function. We believe AKB-9778 has the potential to provide patients with diabetes a significant treatment option, spanning multiple diabetic complications.

– Stephen Hoffman, MD, PhD, CEO, Aerpio Pharmaceuticals.
Aerpio is also investigating AKB-9778 to reduce intraocular pressure in patients with primary open-angle glaucoma, the most common form of glaucoma in which the eye's drainage canals become slowly clogged over time. A second eye-related program is called AKB-1536, a monoclonal antibody targeting wet age-related macular degeneration and diabetic macular edema.
Beyond ophthalmology
The company has developed AKB-4924, an investigational HIF-1 alpha stabilizer, for the treatment of inflammatory bowel disease (IBD). HIF-1 alpha (hypoxia-inducible factor-1 alpha) is the key regulator of the body's response to hypoxia, or low oxygen levels. Aerpio's compound has been shown to stabilize HIF-1 alpha with anti-inflammatory and mucosal wound healing effects in animal models of IBD. Aerpio licensed AKB-4924 to Gossamer Bio—one of several companies with IPO filings sitting at the SEC during the federal government shutdown—in June 2018. Aerpio received $20 million from Gossamer up front and is eligible to receive up to $400 million in potential development, regulatory and commercial milestone payments, in addition to high single digit to mid-teen percentage in royalties. Gossamer is responsible for the remaining development, regulatory and commercialization expenses for AKB-4924, known as GB004 now at Gossamer.
Investment issues to consider
Readers may recall that Aerpio was spun out of Akebia Therapeutics AKBA in 2012 to continue development of AKB-9778 and AKB-4924 for multiple diseases. Aerpio was subsequently merged in March 2017 into a special purpose acquisition company (SPAC) called Zeta Acquisition Corp II, a deal that was accompanied by a $40 million private placement. The company began trading on the OTCQB in August 2017 and uplisted to Nasdaq in June 2018, along with a public offering of about $52 million in gross proceeds.
ARPO is currently trading at $2.95 on the Nasdaq Capital Market, having risen sharply from its December trough of $1.56. Even with the recent run, market capitalization stands at a modest $120 million, which seems light for a company with a Phase 2 candidate in the diabetic retinopathy market. It may be that an insufficient number of investors lack familiarity with the company given the absence of a traditional IPO and the associated marketing, but we think Aerpio is worth investors' attention right now with several clinical events expected in Q1 2019. We expect to see the initiation of a Phase 1b study in primary open-angle glaucoma in addition to the top-line data from the Phase 2b diabetic retinopathy study. Further, Gossamer Bio is expected to initiate a Phase 1b study in ulcerative colitis.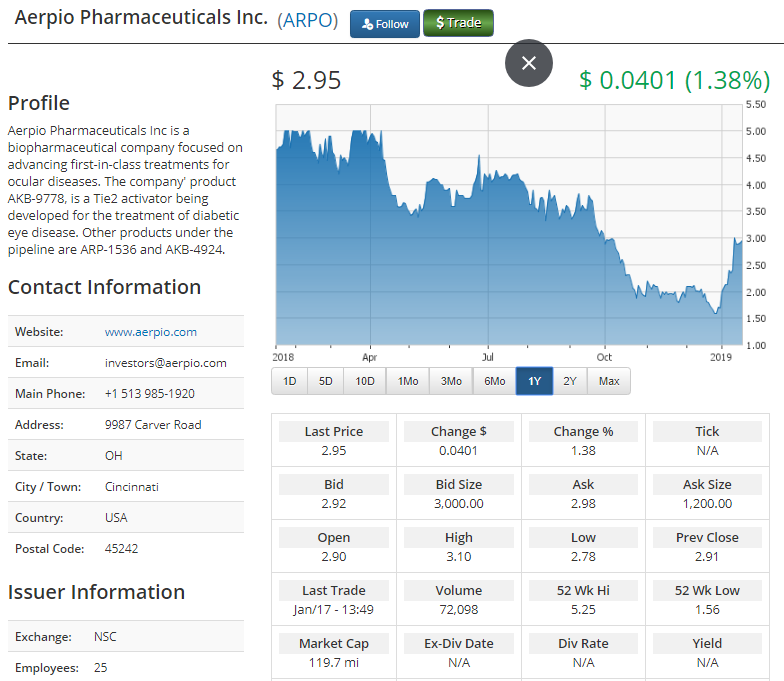 Please email us at [email protected] to see our Case Studies and Testimonials.
Please click here for information on Tradier, our equity trading platform.
Please click here to receive our free daily newsletter.