The FDA relies on 50 different committees and panels in order to obtain independent expert advice on scientific, technical and policy matters. The Anesthetic and Analgesic Drug Products Advisory Committee meets at least four times per year, devoting an entire day—frequently to just one product candidate—to discuss the merits and risks of marketed and investigational human drug products for use in anesthesiology and surgery settings.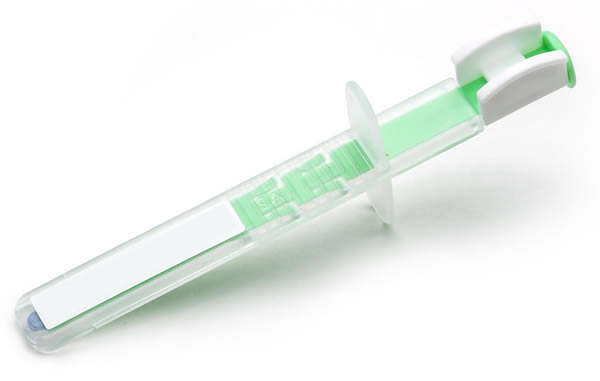 This committee met on Friday to discuss AcelRx Pharmaceuticals' ACRX Dsuvia (sublingual sufentanil). The company announced after Friday's market close that the committee voted 10-3 in favor of recommending approval for the management of moderate-to-severe acute pain in medically supervised settings for adult patients. Dsuvia is a 30 mcg sufentanil tablet in a pre-filled applicator designed for sublingual administration by a healthcare professional that AcelRx has developed to address challenges with existing treatment options and to provide an easy-to-administer dosage form for rapid relief as early as 15 minutes.

The key PDUFA date for investors is November 3, 2018. We are optimistic about AcelRx's chances of getting the nod from the FDA on Dsuvia by then for three reasons:
In June 2018, this product was approved for marketing in Europe under the brand name Dsuveo for the same indication for which it is being considered in the US. Additionally, a lower dosage form is already sold in France, the UK, the Netherlands, Italy, Belgium, Ireland and Portugal by Grünenthal Group, AcelRx's licensee in Europe. Zalviso, as it's marketed, is a 15 mcg sublingual sufentanil tablet system—half the amount of sufentanil delivered by Dsuvio—that was first approved by the European Commission in 2015.
The FDA tends to listen to these independent advisory committees, who have no other ax to grind other than to weight the merits and risks. According to a report by McKinsey, the FDA approved 88% of the original new drug applications (NDAs) or biologics license applications (BLAs) that were endorsed by its advisory committees.
There were four specific questions that were discussed during the advisory committee meeting, according to the draft released by the FDA before the meeting, and the 10-3 vote shows that the committee was satisfied by the discussion. The questions concerned:

Adequacy of data
Safety profile
Risks associated with dropped sufentanil tablets and accidental exposure
Concerns about whether or not the benefits to patients
are expected to outweigh public health risks related to abuse, misuse and accidental exposure of sufentanil, an opioid medication that is a more potent analgesic than fentanyl.
We are pleased with the Advisory Committee's recommendation to approve DSUVIA as a treatment in medically supervised settings for adults experiencing moderate-to-severe acute pain. We look forward to continued collaboration with the FDA on the application as we believe DSUVIA represents an important non-invasive acute pain management option with potential to significantly improve the current standard of care.

– Dr. Pamela Palmer, Co-Founder and Chief Medical Officer, AcelRx.
In two clinical trials, Dsuvia was shown to be well-tolerated and demonstrated efficacy across a range of patient ages and sizes (as measured by body mass index, BMI) as a non-invasive analgesic for the management of moderate-to-severe acute pain. AcelRx estimates that the market potential of Dsuvia in the US to be approximately $1.1 billion.
The availability of a single-dose, non-invasive opioid, like DSUVIA, could significantly improve my ability to effectively, efficiently and safely alleviate acute pain experienced by my patients. It is my hope that the FDA consider the recommendation of the Advisory Committee and the current need for additional non-invasive opioid analgesic options on behalf of patients and healthcare providers in medically supervised settings.

– David Leiman, MD, Clinical Assistant Professor of Surgery, University of Texas at Houston, and Director, HD Research Corp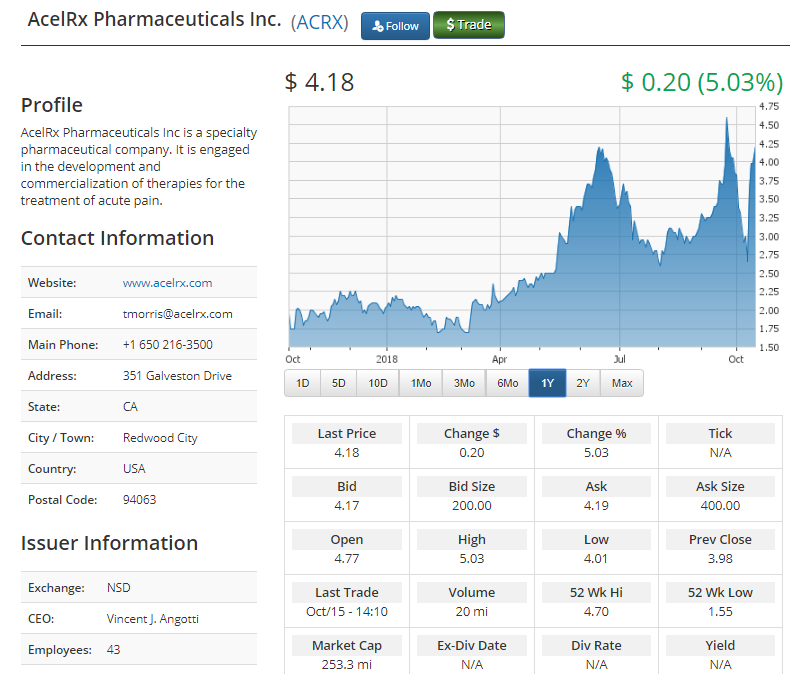 Please email us at [email protected] to see our Case Studies and Testimonials.
Please click here for information on our new trading platform.
Please click here to see our daily newsletter.