Abpro (Proposed NASDAQ: ABP), based in Woburn, Massachusetts, filed its S-1 this week for a $60 million IPO ($69 million including greenshoe) to fund its development of antibody therapeutics for immuno-oncology, ophthalmology and autoimmunity, both independently and through collaborations with global pharmaceutical and research institutions, including Medimmune (wholly-owned by AstraZeneca), Memorial Sloan Kettering Cancer Center and the NIH.
The company's two lead product candidates, ABP-100 and ABP-201, feature its next generation tetravalent antibody format called TetraBi, which binds to two different targets with two distinct binding sites per target. ABP-100 is designed to redirect a patient's immune system to fight cancer by engaging T cells through co-targeting human epidermal growth factor receptor 2 (HER2) and cluster of differentiation 3 (CD3) T-cell co-receptor. Abpro plans initially to develop ABP-100 for difficult to treat HER2+ solid tumors, focusing on orphan indications. According to the S-1 filing, ABP-100 demonstrated strong and, in some cases, curative anti-tumor activity in mouse models of HER2+ breast, ovarian, and gastric cancer, including models that are resistant to Herceptin (marketed by Roche's Genentech). Abpro is developing ABP-100 in in collaboration with Memorial Sloan Kettering.
ABP-201 is designed to block blood vessel formation and normalize damaged vessels through co-targeting vascular endothelial growth factor (VEGF) and angiopoietin-2 (ANG-2). Abpro plans to develop ABP-201 to treat vascular diseases of the eye, focusing on diabetic macular edema. The company is developing ABP-201 in collaboration with Medimmune. Abpro has exclusive licenses with worldwide commercialization rights to ABP-100 and ABP-201 and expects to initiate human clinical trials for both in 2019.
TetraBi Antibody Format for T-cell Engagement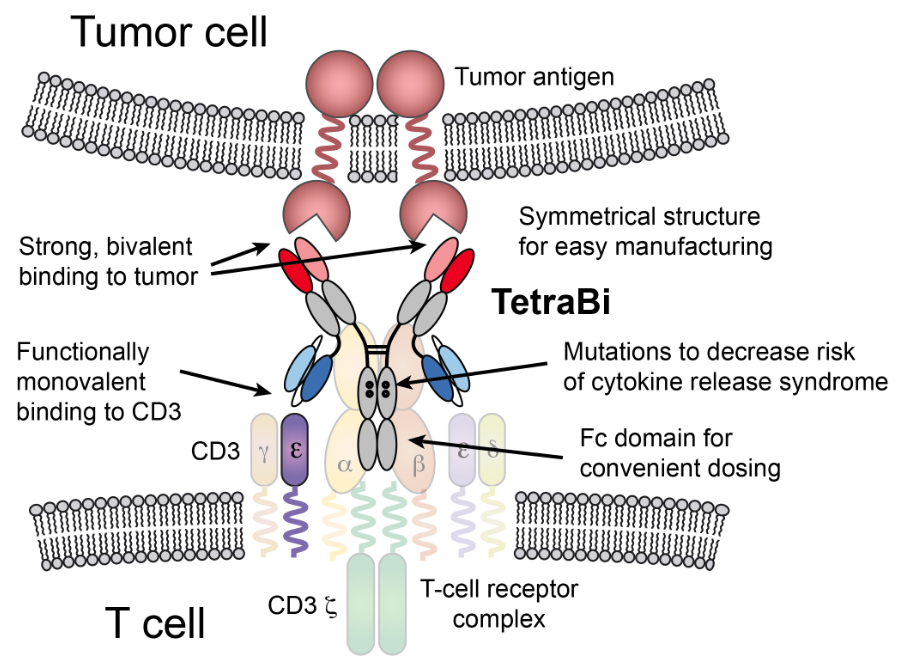 Source: Abpro
Abpro believes that its TetraBi antibody format offers several significant advantages over other bispecific antibody formats and other approaches to T cell-based therapy, including:
Enhanced potency through bivalent binding to tumor cells
Enhanced safety through functionally monovalent binding to CD3.
Better dosing through inclusion of a fragment crystallizable (Fc) region, which binds to specific proteins, ensuring that each antibody generates an appropriate immune response for a given antigen, and also to various cell receptors, mediating different physiological effects.
Controlled immune effector function through Fc engineering.
Lower immunogenicity.
Streamlined manufacturing.
0
Source: Abpro
Ian Chan, Abpro's co-founder, Chairman and CEO, owns 43.7% of the company, followed by Orion Investment (18.1%), Apex Partners (7.1%) and Healthcare Industry Co. (6.1%). The S-1 indicates that some of the company's existing stockholders have indicated an interest in participating in this IPO.
Please email us at [email protected] to see our Case Studies and Testimonials.
Please click here for information on our new trading platform.