Abpro Files for $60 Million IPO to Develop Antibody Therapeutics for Cancer and Vascular Eye Diseases
Edward Kim Follow |

Abpro (Proposed NASDAQ: ABP), based in Woburn, Massachusetts, filed its S-1 this week for a $60 million IPO ($69 million including greenshoe) to fund its development of antibody therapeutics for immuno-oncology, ophthalmology and autoimmunity, both independently and through collaborations with global pharmaceutical and research institutions, including Medimmune (wholly-owned by AstraZeneca), Memorial Sloan Kettering Cancer Center and the NIH.

The company's two lead product candidates, ABP-100 and ABP-201, feature its next generation tetravalent antibody format called TetraBi, which binds to two different targets with two distinct binding sites per target. ABP-100 is designed to redirect a patient's immune system to fight cancer by engaging T cells through co-targeting human epidermal growth factor receptor 2 (HER2) and cluster of differentiation 3 (CD3) T-cell co-receptor. Abpro plans initially to develop ABP-100 for difficult to treat HER2+ solid tumors, focusing on orphan indications. According to the S-1 filing, ABP-100 demonstrated strong and, in some cases, curative anti-tumor activity in mouse models of HER2+ breast, ovarian, and gastric cancer, including models that are resistant to Herceptin (marketed by Roche's Genentech). Abpro is developing ABP-100 in in collaboration with Memorial Sloan Kettering.

ABP-201 is designed to block blood vessel formation and normalize damaged vessels through co-targeting vascular endothelial growth factor (VEGF) and angiopoietin-2 (ANG-2). Abpro plans to develop ABP-201 to treat vascular diseases of the eye, focusing on diabetic macular edema. The company is developing ABP-201 in collaboration with Medimmune. Abpro has exclusive licenses with worldwide commercialization rights to ABP-100 and ABP-201 and expects to initiate human clinical trials for both in 2019.

TetraBi Antibody Format for T-cell Engagement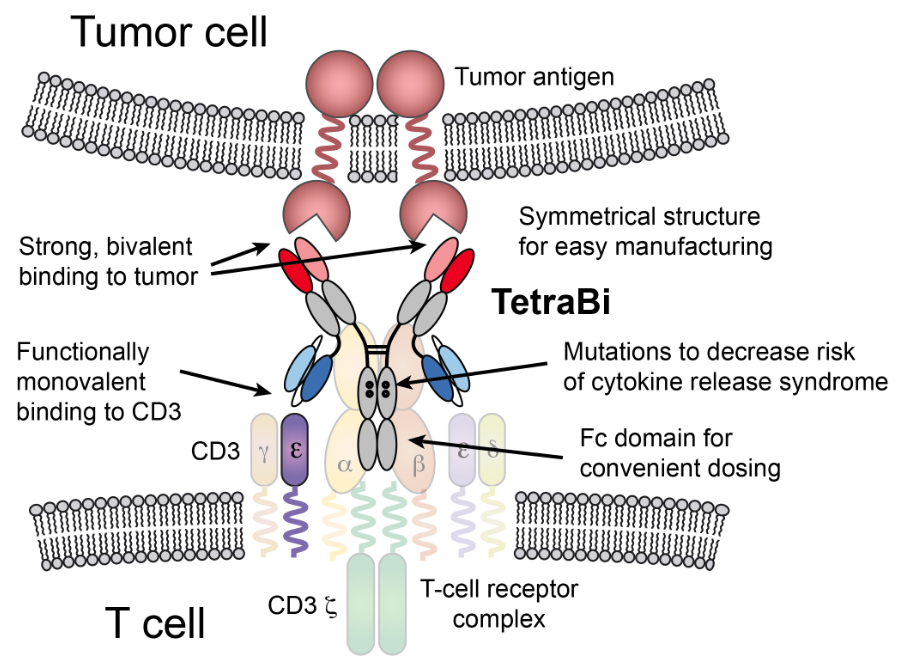 Source: Abpro

Abpro believes that its TetraBi antibody format offers several significant advantages over other bispecific antibody formats and other approaches to T cell-based therapy, including:

Enhanced potency through bivalent binding to tumor cells
Enhanced safety through functionally monovalent binding to CD3.
Better dosing through inclusion of a fragment crystallizable (Fc) region, which binds to specific proteins, ensuring that each antibody generates an appropriate immune response for a given antigen, and also to various cell receptors, mediating different physiological effects.
Controlled immune effector function through Fc engineering.
Lower immunogenicity.
Streamlined manufacturing.
0
Source: Abpro

Ian Chan, Abpro's co-founder, Chairman and CEO, owns 43.7% of the company, followed by Orion Investment (18.1%), Apex Partners (7.1%) and Healthcare Industry Co. (6.1%). The S-1 indicates that some of the company's existing stockholders have indicated an interest in participating in this IPO.
Please email us at content@equities.com to see our Case Studies and Testimonials.

Please click here for information on our new trading platform.
Please click here to see our weekly newsletter.
DISCLOSURE: The views and opinions expressed in this article are those of the authors, and do not represent the views of equities.com. Readers should not consider statements made by the author as formal recommendations and should consult their financial advisor before making any investment decisions. To read our full disclosure, please go to: http://www.equities.com/disclaimer
Companies