AbbVie ABBV and Calico, backed by Alphabet GOOGL, today announced an extension of their 2014 collaboration to discover, develop and bring to market new therapies for patients with age-related diseases, including neurodegeneration and cancer. The companies have already invested $750 million each to the collaboration, which has now been extended for an additional three years. Since 2014, the collaboration between the two companies has produced more than two dozen early-stage programs addressing disease states across oncology and neuroscience and yielded new insights into the biology of aging.
Under the terms of the extension, each company commits to contribute an additional $500 million to the venture. Calico will be responsible for research and early development until 2022 and will advance collaboration projects through Phase 2a clinical studies through 2027. AbbVie will continue to support Calico in its early research and development and, after completion of Phase 2a studies, will have the option to manage late-stage development and commercial activities. Both parties will share costs and profits equally.

Source: Calico
We've built a successful collaboration – both scientifically and culturally – that is advancing cutting-edge science. Calico has attracted an outstanding team of world-class scientists and the extension of this collaboration allows us to further build on the research we've done to identify transformative treatment options for patients with age-related diseases.
– Michael Severino, MD, executive vice president, research and development, chief scientific officer, AbbVie.
Calico is led by Arthur D. Levinson, PhD, former Genentech chairman and CEO and has over 150 employees at its research and development facility in South San Francisco Bay. Calico pursues discovery-stage research and development, while AbbVie provides scientific and clinical development support and will lend its commercial expertise to lead future development and commercialization activities.
David Botstein, PhD, Calico's Chief Scientific Officer, has been recognized by numerous entities for his work in genetics. He's the Anthony B. Evnin Professor of Genomics at Princeton University, where he was previously the director of the Lewis-Sigler Institute from 2003-2013. Among his awards are the Eli Lilly Award (1978), the Genetics Society Medal (1988), the American Society for Human Genetics Allen Award (1989), the Rosenstiel Award (1992), the Gruber Prize in Genetics (2003), the Albany Medical Center Prize (2010), the Dan David Prize (2012) and the Breakthrough Prize in Life Sciences (2013).
Cynthia Kenyon, PhD, Vice President of Aging Research at Calico, is an expert on the molecular biology and genetics of aging and life extension. In 1993, she discovered that a single-gene mutation could double the lifespan of healthy, fertile roundworms, demonstrating that, contrary to popular belief, aging does not "just happen" in a completely haphazard way. Instead, the rate of aging is subject to genetic control. Dr. Kenyon was named one of the "15 most amazing women in science today" by Business Insider in 2015.
Our collaboration with AbbVie has fully met our high expectations. Our initial agreement created a unique partnership and this extension will accelerate further our efforts to understand the science of aging to advance novel therapies for patients.
– Arthur D. Levinson, PhD, Founder and CEO, Calico.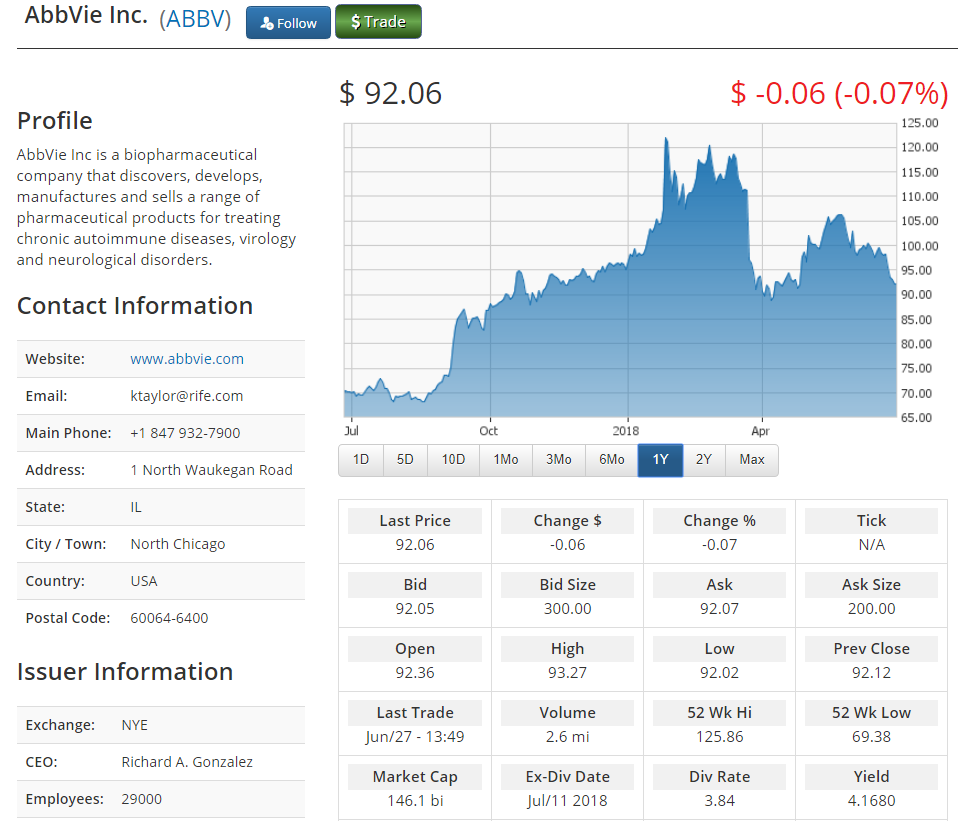 Please email us at [email protected] to see our Case Studies and Testimonials.
Please click here for information on our new trading platform.
Please click here to see our weekly newsletter.